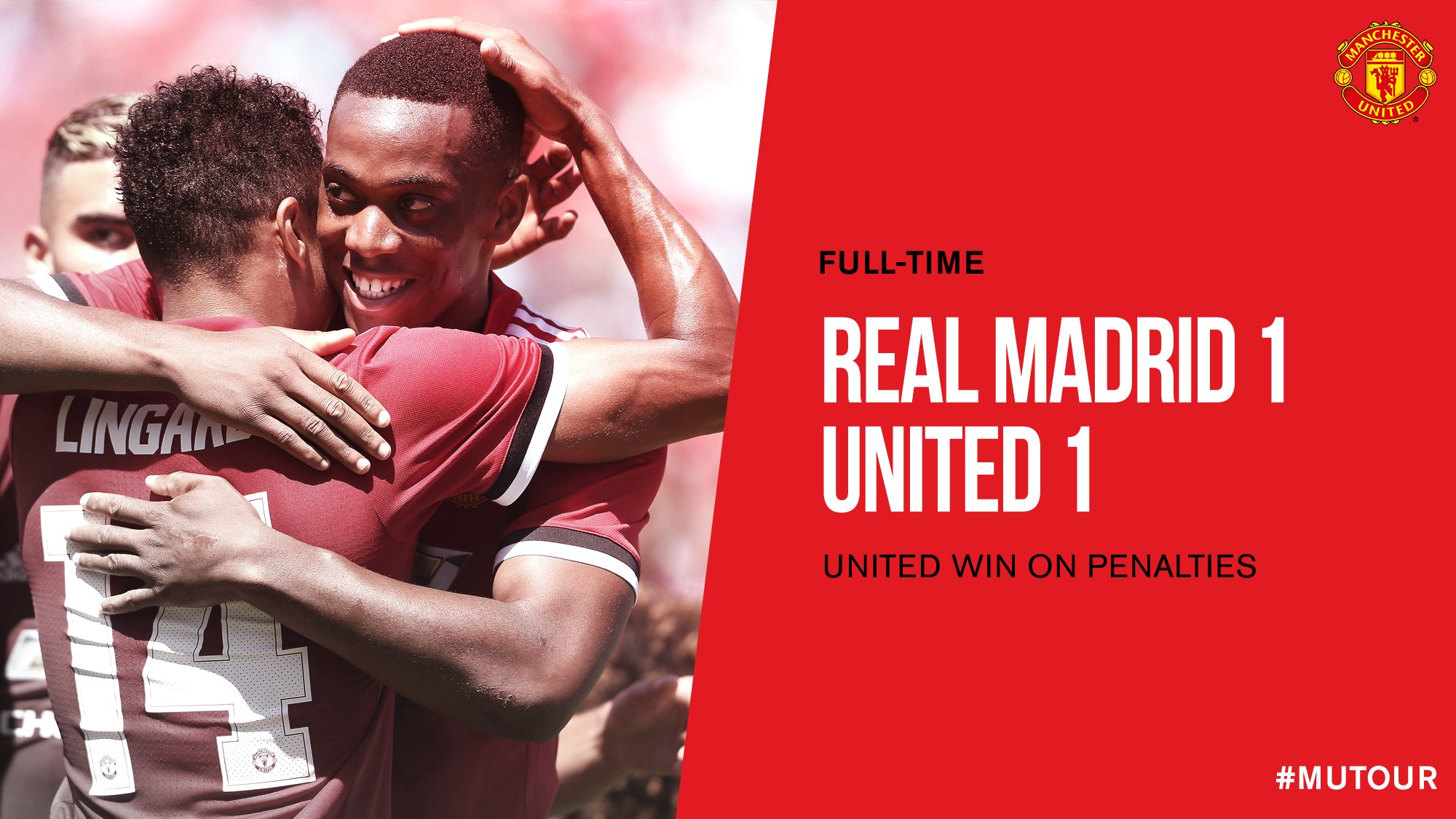 After 90 minutes the score was tied 1-1 and what came after was a sight for sore eyes, but United still came out victorious and took 2 of the 3 points on offer.
The first half was started well by Manchester United with the reds being the better side. But as the half progressed, Real Madrid slowly started feeling their way into the game and looked the dominant team and most likely to break the deadlock. United were finding it hard to break down the Madrid defence and midfield until the young Frenchman, Antony Martial stepped up to show that it wasn't impossible…
The entire attacking move was started by Fellaini who's perseverance proved to be vital as he played the ball to Anthony Martial. Driving at the Madrid defence with immense speed and agility, Martial managed to dribble his way through, leaving the defenders for dust. He played the ball to Jesse Lingard who was left with a tap-in to put the Red Devils ahead in the fixture, a brilliant way to end the first half.
The second half was pretty boring to be honest, with United creating barely any chances and being really poor in their finishing. In the 68th minute our new signing, Victor Lindelof fouled Hernandez in the box and gave away a penalty. Casemiro scored from the spot to bring Madrid level.
The game ended up being decided on penalties and I'm not too sure what to say. I honestly think that it was the worst penalty shootout I've ever seen in my life. Out of 10 penalties, only 3 ended up in the back of the net (missed by Martial, McTominay and Lindelof for United and scored by Mkhitaryan and Blind).
Overall the performance by the reds was not good enough. The second half team fielded by Madrid entailed players from their B team and U19s and yet our first team with all our big players (Pogba, Lukaku, Martial and Mkhitaryan) lost 1-0 to them. Although we won, we should be disappointed with the performances out there and Real Madrid were just as bad! When hearing that United were going to play Real Madrid everyone was expecting a thrilling contest, but what we got was quite the opposite.
Nonetheless, a win in the penalty shootout means that we take two points from the game and will hope to add another 3 to our 5 when we face Barcelona at 00:30 on Thursday morning BST. Let's hope that this game DOES live up to its high expectations and we ARE in for a good match.