Manchester United have been having a great run under Ole Gunnar Solskjaer. We have gone from an incompetent team sitting in sixth to a team resolutely sitting in fourth, aiming for third. With every passing game, Solskjaer's claim for the permanent job gets stronger and stronger. With Ole at the wheel, we should be aiming at challenging for the title next season.
To do that, we need some upgrading in the summer. Some of the positions that need bolstering, in my opinion, are centre back, right wing, right back, and defensive midfield. Of late, United have been linked to Borussia Dortmund right winger – Jadon Sancho. The deal is meant to cost us around £100m with PSG also set to be interested in the Englishman. Lets start from the beginning.
Image Source: Planet Football
Who is Jadon Sancho?
Jadon Sancho is an English footballer who plays for Borussia Dortmund. He is 18 years old, 19 this March, and joined the German side in 2017 from Manchester City after winning the u19 World Cup with England the same year. He is primarily a right winger but can also play on the left wing. Sancho was a shining light in City's academy and when Pep decided to sell him, it caused quite a stir among football fans. Since moving to Germany, he has been amazing. His partnership with Reus has led him to score 9 goals and provide 14 assists in 32 appearances. All this at the age of just 18 makes him the most exciting teenager in world football at the moment. 
So should United sign him? Let's see.
Pros:
1.) He's the best teenage player
People can argue that Vinicius Junior and Kai Havertz have similar stats at about the same age but I feel Sancho is a much more complete player overall when compared to the others. Also, Ole Gunnar is amazing with the influx of young academy talents in our team at the moment, with the likes of Greenwood (17), Gomes (18), Chong (19) making our team's future even more exciting. 
At the age of 18 he has won the u19 World Cup with England and is now top of the Bundesliga ahead of the dominant Bayern Munich. He even has a goal and assist against Athletico Madrid in the Champions League. 
2.) We need a right winger
Manchester United have not had a proper right winger in ages. We signed Mkhitaryan in 2016 and he did not have a good time at United to say the least. He was then swapped to Arsenal for Sanchez who is another left winger. Since then, we have experimented with Martial, Rashford, Lukaku, Mata, Lingard, and now Dalot on the right wing, with none of them really working. While our left flank is usually buzzing with Luke Shaw's overlapping runs and Martial's dribbling, our right flank is often dry. Antonio Valencia/Ashley Young at fullback and Mata on the right often leaves us vulnerable there. Lingard has been doing a good job there but he isn't a traditional winger. He is more of a false 9 who involves Rashford and Lukaku in the game.
3.) He brings in chemistry!
Jadon Sancho is very good friends with Marcus Rashford, Jesse Lingard, and Angel Gomes. This brings with it a sense of understanding between the players, which eventually shows in their game as well. And when dynamic forwards like Sancho and Rashford complement each other, the frontline will automatically become more devastating.
He also seems like a player who is rather chirpy and extroverted so would fit in perfectly with the likes of Pogba and Lingard. Although this isn't strictly a footballing reason, it is very important for players to gel with each other. Alexis Sanchez was reportedly alone training and has very few friends at the club which is very visible in his game. The only goals and assists he has scored in the last few months have been with his friend, Lukaku.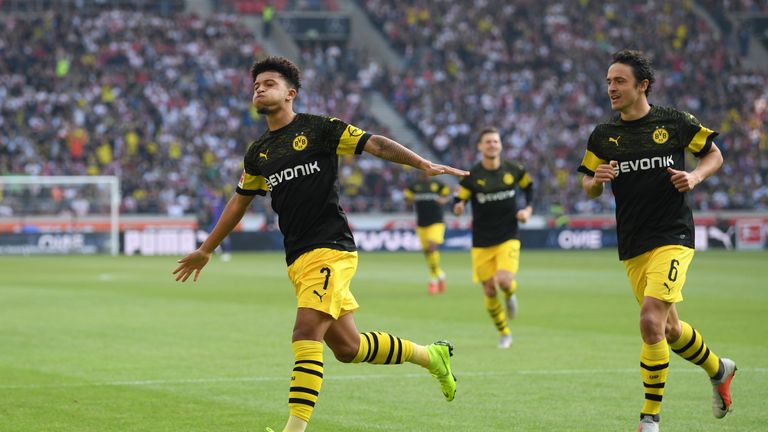 Image Source: Sky Sports
Cons:
1.) The price tag is too high
While Jadon Sancho is an exciting prospect, Dortmund want around £100m for him. Along with that, if PSG and United get into a bidding war, the price may go up to £150m. We must not forget that right wing is only one of our priorities this season. We may need an additional £100m to sign Koulibaly from Napoli and the Glazers are highly unlikely to cough up £200 – £300m in one window. And there are other cheaper options available out there like Nicolas Pepe who is slightly more experienced and easily less expensive. But all the good centre back options are expensive, like Koulibaly, De Ligt, Skriniar, etc.
2.) Redundancy

Signing Jadon Sancho as a right winger would make a lot of sense if we didn't have any options on the right. However, we do have one option there – Tahith Chong! They're almost the same age and though he hasn't had an explosive start like Sancho did, he shows great promise. In this case, we'd ideally sign a more experienced right winger and alternate him with Chong so that he is eased into the game.
After all, Jadon Sancho was also a promising player in City's academy and all he wanted was a chance. Dortmund gave him that opportunity and he is setting Dortmund alight now. Chong can be that player and under Ole Gunnar Solskjaer, who is sure to give him that chance.
3.) Inexperience
While the saying is that if you're good enough, you're old enough, somethings only come with experience. We can not have an 18 year old on our flanks with another 18 year old as his backup. Dortmund have a an extremely young squad and it is showing over the course of the season. They have been knocked out of the Champions League by Spurs, and their lead at the top of the table is quickly reducing. Manchester United through its history has been vastly known not just for its academy but also its balance. For every Wayne Rooney, there was a Van Nistelrooy, for every Paul Scholes there was a Roy Keane. Every youngster needs a player to look up to and learn from in training. Sancho will have no such person at Manchester United at the moment.
So, that was my take on the Jadon Sancho rumours to United. Every coin has a flip side and so does this potential transfer. If Solskjaer becomes the permanent manager, which seems extremely likely now, it will be interesting to see how he handles his first summer transfer window. Whatever his wish-list is, the Glazers need to back him and a repeat of the Mourinho situation will be grave incompetence on the part of our board. So that is all for this time. What are your thoughts on the Jadon Sancho transfer rumours?