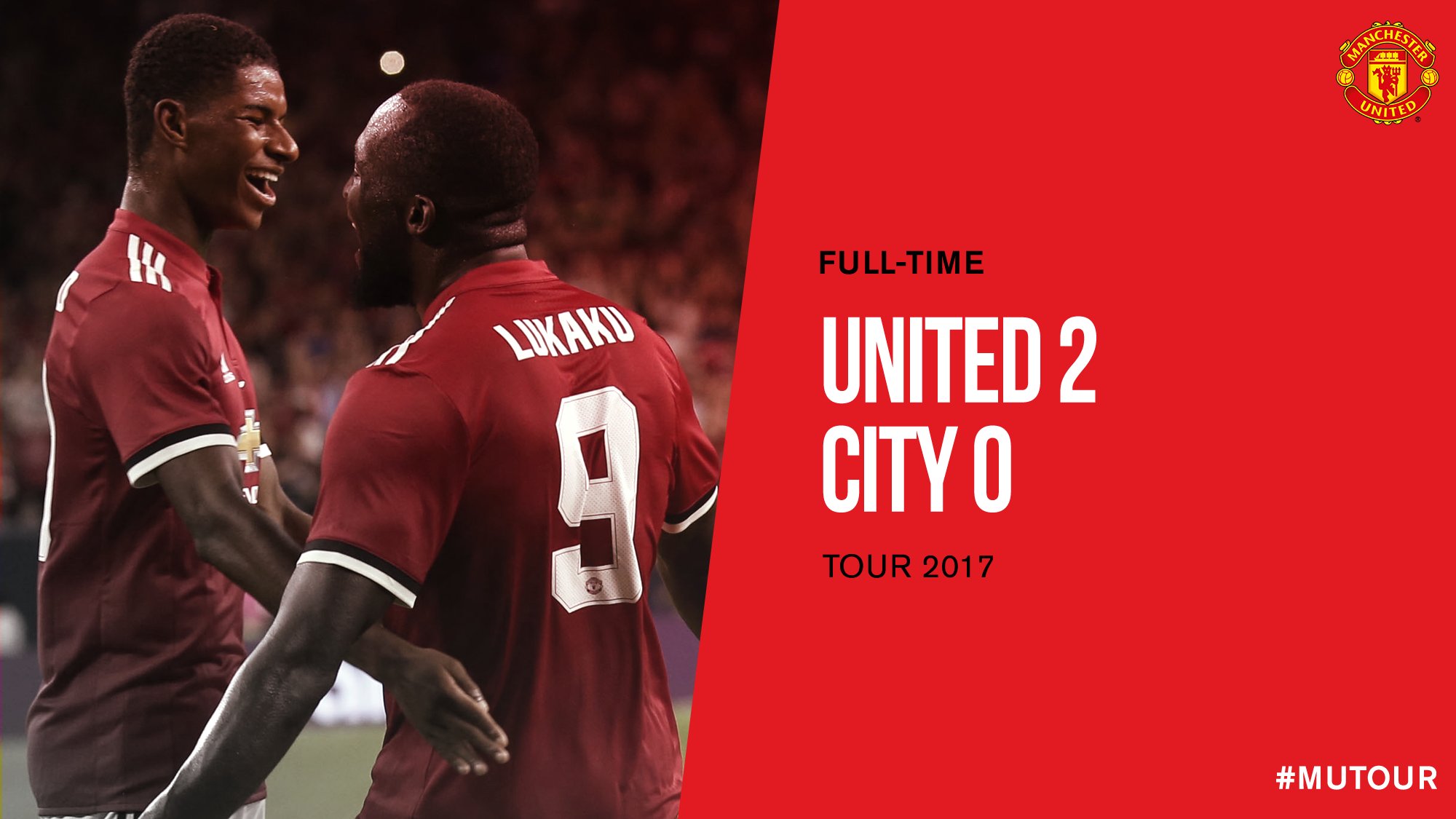 What a result! The first Manchester Derby on foreign soil and the reds have come out on top!
A brilliant first half saw United take the lead by Romelu Lukaku taking the ball around Ederson and putting the ball in the back of the net. The goal was assisted by a typical Pogba through ball from the halfway line and once Lukaku started running, the defence had no chance. 
Within a minute from when City kicked off, United doubled their lead. A ball from Mkhitaryan was met by Marcus Rashford who shot across the goal and managed to get on the scoresheet in another Manchester Derby. 
The first half was amazing to watch. Although we weren't particularly dominant in the game, every player gave 100% and it was amazing to see. It's never just a friendly when we're up against our (not-so-noisy) neighbours.
The second half was much the same, both teams had good spells and looked threatening at times but neither converted their chances. Manchester United did look like the more likely to score and were playing the better football but we were unable to add to our lead.
Overall, a 2-0 win over our local rivals is something which we should be proud of. Although it's a pre season fixture, it's still something to celebrate. After a really poor performance against Real Salt Lake where we just about edged a 2-1 victory, today's performance was on a different level. The players were all showing the passion and hunger we like to see in Manchester United players.
Pogba played the whole 90 minutes and was clearly enjoying himself. His linkup play with the forwards looked very promising and he is certainly going to have a much better campaign this season. As for our defence today, they all played very well. Chris Smalling in the first half was exceptional and Lindelof looks to be settling in very well. It's going to be tough for Mourinho to choose who to play in the next match after today as every player showed their quality.
Our next match is on Sunday at 10pm BST where we will face Real Madrid. Let's hope we can have a similar performance and see more great football!