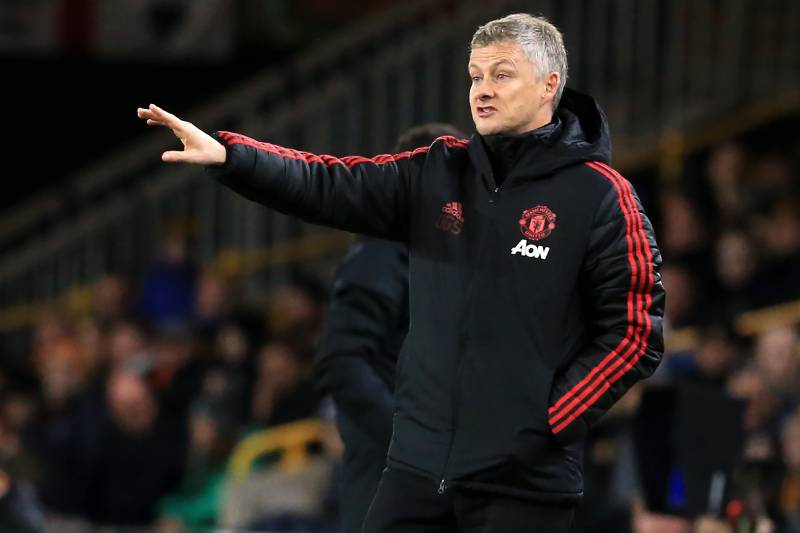 How can Ole's Red Devils find a rare victory against a Spanish side?
Image from Irish News 
Manchester United will face Sevilla in the semi-finals of the Europa League, and with both teams on a good run, it'll be exciting to see how they line-up for the clash. Julen Loptegui is known for instilling his orthodox style in the squad and making them play in patterns through pass triangles, which can create a problem for a side like United.
To start off with records, Sevilla have been on an excellent form since the restart, and have secured a Champions League spot for themselves as a courtesy of 4th position in the league table. Loptegui loves to line up his men in classic 4-3-3 with an anchor and two central midfielders, as it allows the team to create from the back with a deep-lying midfielder and create passing triangles easily.
The most valuable players for Sevilla have been Ocampos and Banega. While Ocampos operates on wings and loves to cut inside and shoot, Banega links up the play and creates chances with his pinpoint passing abilities. 
Understanding Sevilla's Offense:

The 4-3-3 of Sevilla switch to 3-4-3 or 4-1-4-1 depending on scenarios. The 3-4-3 comes into play when they have to build from the back. Defensive midfielder drops in between defenders, full-backs are liberated, and the team pushes forward in spaces created by movements and inviting pressure upon themselves.
As seen, defensive-mid drops back and full-backs become wide midfielders
(Image from Total Football Analysis)
The above formation, as seen, creates multiple passing networks for implanting Loptegui's passing framework. The full-backs further create triangles with a central midfielder and a forward, which creates space on the field that can be exploited by runners in the team to carry the ball and drill opposition defence easily. This system takes a lot of time and effort to be implemented in team, but once it works, the team becomes a perfect game building machinery, as seen below –
Green patches show space created as a result of system. Also notice the passing triangle at right flank
(Image from Total Football Analysis)
Once they get the ball moving in this system and players rush to cover space, either wingers swap their position with midfielders, or full-backs perform an overlapping run for support, in which case central midfielder hold the defensive flank. This picture depicts it more clearly –
Full-back performs an overlapping run to support winger. Both Reguilon and Navas are excellent at it
(Image from Total Football Analysis)

Their full-backs are not only good at overlapping runs, but also put in decent crosses, and this can be seen from stats as they share 13 goal contributions among themselves in the league. Moreover, Sevilla are under-performing their xG, which indicates that if not let down by poor finishing, they could have very well thrown down Atletico Madrid from 3rd spot this year itself.
Now that attacking is covered, how do Sevilla defend? And how can United exploit their attacking as well as defending capabilities? Let's find out -. 
 Sevilla in Defending mode –
When it comes to defending, Sevilla believes in aggressive defending but they don't put a lot of pressure as their system doesn't allow them to leave position. Once they are out of position, the system collapses rapidly, and results can be devastating. Let us witness it through visuals in two different scenarios –
Sevilla go for player to player marking and pressing as soon as they get opportunity to press
(Image from Total Football Analysis)
 
Pressing from player to player allows Sevilla to ensure that all routes are covered and there is no room for any attacker to receive the ball or progress forward with it. But how do Sevilla defend when other teams keep the possession and keep rotating ball for opening? They can't keep pressing, right? This is where Sevilla decide to switch their formation to 5-4-1 and form a low or medium block, as seen below –
Sevilla defending with a 5-4-1 with lone striker ahead to kick start a counter-attack when needed
(Image from Total Football Analysis)

This system also works in benefit of Sevilla, thanks to the players like Ever Banega who are apt at performing under press and slicing that killer through ball for full-backs, wingers, or striker to kick-start counter attack. Something like this – 
Ever Banega is going to be a huge problem for United due to his press-resistant nature
(Image from Total Football Analysis)

Owing to above nature of Sevilla system, Manchester United will have to be extra careful and go with extra caution in game. Now, I'll list some points where I feel United can be vulnerable, and I'll also list how United can have an upper hand in the game –
Potential threats for Manchester United –
Ocampos is going to be a huge trouble. The winger has scored 14 and assisted 3 in the league, and primarily operates on right-wing. His strength is dribbling, and that's going to make Brandon Williams' life difficult. Will have to be extra-cautious at this point.

Full-backs Reguilon and Navas will test our defence thoroughly, and knowing Loptegui's system, you never know who cuts in or slices a lofted ball. So, defence has to do something about full-backs too.

Ever Banega. That's it. That word itself should make United cautious. Manchester United are very fond of pressing high, and this man will love it. He'll wait for players to get out of position to press him, and then quickly put a lofted ball in their left space, creating attacking chances for his team.
Now, how do United deal with these all these threats, where do their advantages lie, and how can they line-up? Here's the solid answer to all your questions –
Decoding the system –
Perfect possible lineup for match against Sevilla
(Image from buildlineup)
Ole should probably go with a 3-4-1-2 because it neutralizes all Sevilla strengths. Their full-backs will have problem with overlapping runs due to Wan-Bissaka and Williams high up the pitch, and even if they cross them, our 3 solid centre backs are sufficient to deal with all threats. Maguire helps with duels, Lindelof will deal with line breaking passes and being a marker for striker, and Bailly gets the freedom to deal with individual players.

Matic will drop behind as his patience and game intelligence are an asset when it comes to breaking counter attacks and then quickly starting ones ourselves. This neutralizes Sevilla's system without much difficulty.

Pogba will be a deep-lying midfielder who'll play line-breaking passes. His passes will force Sevilla defenders to leave their positions and this is where we can take our chance to move in. If that wasn't enough, Bruno Fernandes with freedom to roam is a monster unleashed who can pull-off passes and shots from anywhere on the field, and this is where Sevilla's shape will get distorted.

As mentioned in Sevilla section,  they often rely on man to man marking. A disadvantage with that system is that if an attacker is good in 1v1 situations, the night gets too long for defender. And guess what? We've got a certain ice-cold Frenchman who's very good at dribbling. He's probably going to be most important player in this game. 
In addition to above points, an added advantage for Manchester United is Mason Greenwood. As the youngster doesn't fit in this formation, he can come on as a substitute when gaffer decides to change formation or needs fresh legs in the game. His shooting ability will be extremely helpful in late moments.
In all, while our regular 4-2-3-1 system can also dominate over Sevilla due to squad quality, the 3-4-1-2 gives us best chances to exploit all weaknesses of Sevilla and progress ahead in the tournament with ease.