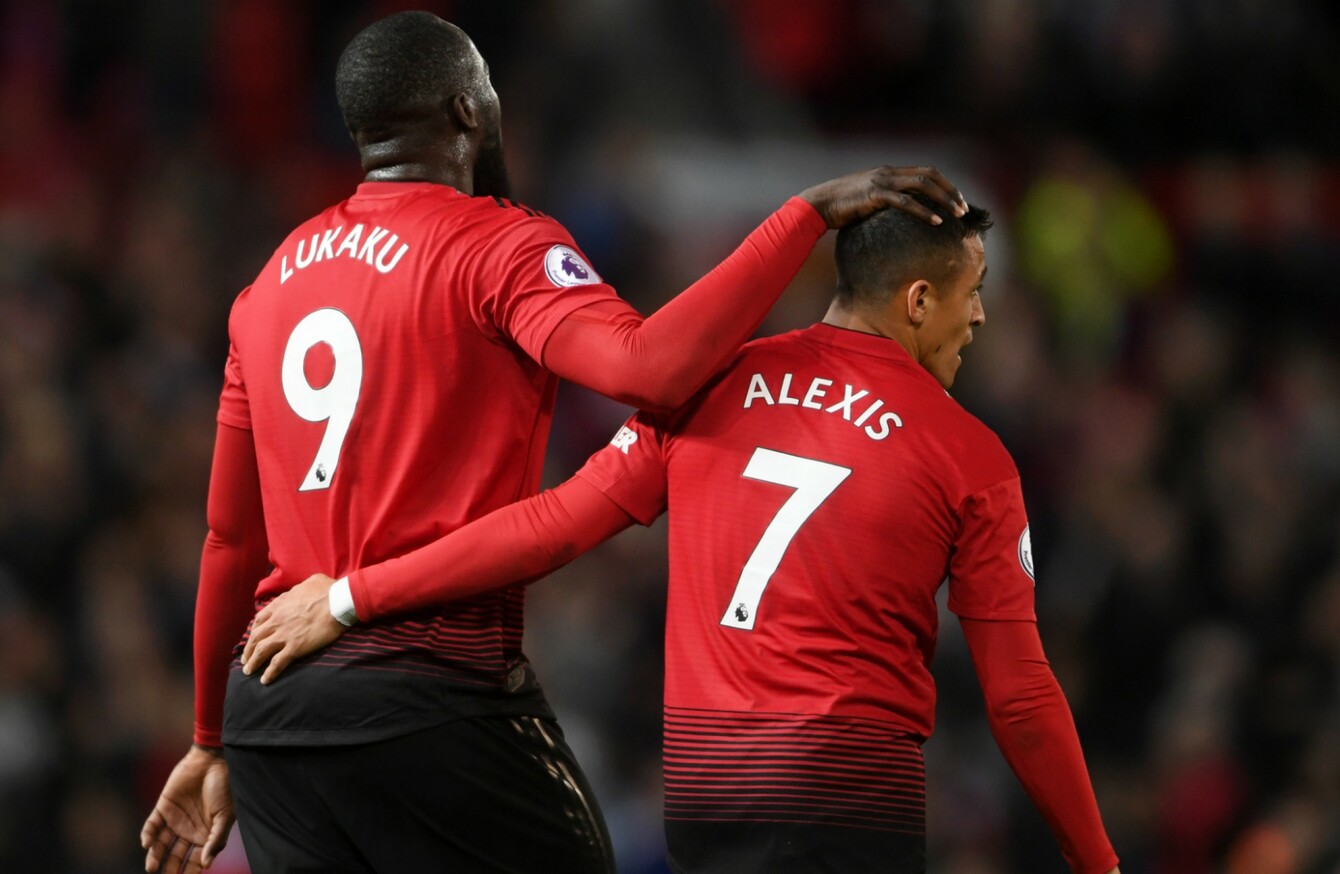 Image from The42
When Ole Gunnar Solskjaer arrived at Manchester United in December 2018 firstly in a caretaker manager capacity and to be then giving the job permanently in March 2019, he has freely discussed the task he has in rebuilding the club saying, "
I had to tear the house down and I had to get players out that weren't here in their minds. We've got players here now who will go that extra yard, that culture I want to set, that's the Man United culture.
"
So far under Solskjaer reign, it has been a period of transition at the club as he shapes the squad he wants and getting the team playing with a style of play that the fans identify with. He has brought in five players with the likes of Bruno Fernandes, Harry Maguire, Aaron Wan-Bissaka, Daniel James and Odion Ighalo who have added an extra dimension to the team.
Whilst we have seen new signings at the club, Solskjaer has been ruthless in terms of the playing squad as he has moved players on who he no longer wants. I remember after our 4-0 defeat against Everton last season, Solskjaer said in an interview with Sky Sports, "'
If you want to play at this club, it has to mean more. I want my team to be the hardest working team in this league. I'm going to be successful here, and there are players there that won't be part of that successful team. I've said this as well, I want them to be the hardest-working team in the league, that's what we were under Sir Alex.
'
I am going to look at the nine players who have been sold or loaned out by Solskjaer and how they have fared since.
Ashley Young (left January 2020)
Ashley Young left Manchester United after nine years at the club to join Inter Milan for a fee of £1.5 million. His time on the pitch was getting less and less over the last few years and especially so this season when Aaron Wan-Bissaka joined filling the right back position and though he could play on the opposite side, the emergence of Brandon Williams bought new competition for him and Luke Shaw.
Young did well for us in his time at United as he won the Premier League, the FA Cup, League Cup and the Europa League.
Since joining Inter Milan, he has impressed manager Antonio Conte and made an assist on his debut game for the club. Initially signing a six month contract, Young is set to extend his stay in Italy.
It was the right decision to let Ashley Young go as he is entering the twilight of his career and he wants to play as much as possible which he was not going to get at United.
Romelu Lukaku (left August 2019)
Romelu Lukaku has made it known that he had decided to leave United back in March 2019 telling
Sky Sports
that he told Solskjaer "
it was time for me to find something else
". Whilst he had a good first season at United under then manager Jose Mourinho scoring 27 goals in 51 appearances, his second season did not quite live up to expectations scoring 15 goals in 45 appearances. With Solskjær emphasising the importance of youth, Lukaku was sold to Inter Milan which has since made way for Mason Greenwood to come through. Though some have questions why United did not get another striker in the summer transfer after allowing Lukaku to leave.
Since joining Inter Milan, Lukaku has rediscovered his form scoring 23 goals in 35 games before the season in Italy was curtailed due to the COVID-19 pandemic. 
Should United have done more to keep Lukaku at the club? I think if a player no longer wants to be a club, then we should move them on. I want players who want to play for United and give everything on the pitch. In the end, it was right for both sides.
Chris Smalling (left August 2019)
The arrival of Harry Maguire from Leicester for £75 million meant that Chris Smalling's game time at United was going to be less frequent compared to the previous season as he had partnered with Victor Lindelof. United have loaned him to Roma for this season and he significantly impressed whilst being in Italy making 28 appearances and scoring 2 goals.
So much so that Roma want to make Smalling's loan deal a permanent transfer at the end of season. Would I want Smalling to leave United, I am very mixed about this. I believe we should have sent out Phil Jones on loan instead but I trust Ole's decision making about who is best for the United squad.
Smalling going out on loan could be a benefit for United if he was not to be sold permanently with his experience of playing in a different league and country helping him become a better player.
Alexis Sanchez (left August 2019)
When Alexis Sanchez arrived at Manchester United in January 2018, there were high hopes for him and he would add that extra level to the squad. On paper, this transfer deal looked good but sadly it has not quite worked out for Sanchez as his form dipped significantly during the 18 months he has been at Old Trafford and with injuries as well, we have seen him netted 5 goals in 45 appearances.
With his reported £500,000 a week wages at the club, which had been causing some concern as other United players had been asking for significant increases in wages when discussing contract renewals.
Solskjær looked to move on the Chilean forward with Inter Milan taking him on loan this season. Though he was hoping to find form again, an injury in October has seen him on the sidelines scoring just one goal and providing three assists in 15 outings he played.
Solskjær had said in a press conference back in February that Sanchez will return in the summer "
and prove you all wrong
". Whether this was a bit kidology, I cannot see Sanchez getting back in the starting XI when he returns. He may have to go on loan again next season or a club comes in to buy him but whether they can pay the wages he is currently getting is another question. If Sanchez sees no future for himself at United, then he will have to reduce his wage demands in order to move on.
It was the right decision by United to let Sanchez go on loan as the United fans had lost faith in him and his game time was going to be restricted as it was likely he would have been sitting on the bench more and more.
Marouanne Fellaini (left January 2019)
Bought by then manager David Moyes in 2013, Marouanne Fellaini you could say is not your typical Manchester United player and had never quite got the adoration from the United faithful like other players have.
Before moving to United, Fellaini was recognised as one of the most unplayable players in the Premier League causing opposition teams plenty of problems (he certainly caused United a few problems when he played for Everton). Strong in the air, could hold the play up, could put the ball in the back of the net.
However, things did not start well at United as he struggled to settle in and being played out of his preferred position saw opposition players get the better of him. Jose Mourinho was a big fan of Fellaini and would use him as an enforcer or when United were having to chase goals as his presence in the box could cause mayhem for the opposition. 
His style of play never suited the way United were trying to play. When Solskjær came in, Fellaini saw his playing time decrease as he only played in two of nine games, which were both as a substitute.
United were right to cash in on him as he moved on to China with Shandong Luneng. Since his move, he has scored 13 goals in 34 appearances leading his new club to a fifth placed finish in the Chinese Super League.
In the end United were right to move on Fellaini as other players were ahead of him in the pack.
Ander Herrera (left June 2019)
Ander Herrera was a player loved by the United fans with his combative style and his will to give everything on the pitch and as such was voted the club's player of the year back in 2017. He was a player that both Solskjær and United wanted to keep and it was a surprise when it was announced he would not be renewing his contract with the club.
Herrera said in an interview with
ESPN
back in May on why he left the club, "
When I look back a year ago, my intention was not to leave Manchester United. I had some different opinions with the board but I respect them. I respect them a lot. They do things for Manchester United and I disagree with the people who say they don't. They really suffer when things don't go well and they really fight to bring Manchester United back.
"
After leaving United, Herrera made the move to France joining Ligue 1 side Paris Saint-Germain but was restricted to only 18 appearances this season as he has had to overcome calf, foot and hamstring injuries. He did win his first league title with the club after they were awarded the Ligue 1 title after the season was curtailed due to the COVID-19 pandemic.
Out of the nine players that have been sold by Solskjaer, Herrera is the one I would have wanted United to keep but the club have moved on since then through the emergence of Scott McTominay and the up turn in form of Fred.
Antonio Valencia (left June 2019)
Antonio Valencia spent ten years at Manchester United winning a number of trophies including the Premier League, FA Cup, League Cup and Europa League. Initially when Valencia arrived he was deployed on the right side of midfield but when Louis Van Gaal was appointed as manager, he was switched to right back and right-wing back position. 
During the 2018/19 season, he was appointed club captain after the retirement of Michael Carrick. However, his last few years saw him pick up injuries resulting in less time on the pitch and Ashley taking over at right back. United decided not to take up the option to extend his contract by another year and he left the club having made 339 appearances scoring 25 goals.
After leaving United, Valencia returned to his native Ecuador with the side L.D.U. Quito and they reached the Ecuadorian Serie A play-offs but lost out on penalties. It was right time for Valencia to move on from United having given amazing service to the club for ten years.
Matteo Darmian (left September 2019)
We never quite saw the very best of Matteo Darmian after he joined United back in 2015 from Torino. A right back, he was in and out of the starting eleven as other players such as Antonio Valencia and Ashley Young were ahead of him in the pack. Though he did pick the FA Cup and Europa League in his time with us, I always felt that Darmian was a squad player and never really pushed on.
He left for Parma in September after United accepted a bid of £3.6 million, which was a loss on the £12.7 million we had paid to sign him back in 2015. He has made 17 appearances across all competitions for his new club this season.
I believe United made the right decision to sell Darmian as we had never really seen his true potential during his time at the club.
Marcos Rojo (left January 2020)
Marcos Rojo departure from United on loan back to his boyhood club Estudiantes was hardly surprising given he was not getting in the first team as much with his appearances being restricted to the Europa League and Carabao Cup this season. His no-nonsense style of play was liked by the Old Trafford faithful but there were other defenders ahead of him and so Solskjaer decided to let him go. Since leaving, Rojo has only made one appearance for Estudiantes. It was right to let Rojo leave on loan to give him much needed game time.
Overall, looking at the nine players that have left United under Solskjaer you could say not one of them has been really missed. You could argue the case for keeping Romelu Lukaku due to his goal scoring threat but he wanted to leave the club anyway. Solskjaer is starting to implement his philosophy and the players he wants. In a recent interview with the United We Stand Fanzine, Solskjaer made an interesting comment when it comes to assessing potential players in which he said, "
I'd rather have a hole in the squad than an a***hole. Personality is so important. We're a team in a team environment. You want players to have a bit of ego and edge, but players have to be able to adapt. At the moment we have a good mix of youth and experience.
"
It will be interesting to see who Ole lets go and bring in during the summer transfer window once this Premier League season has concluded.