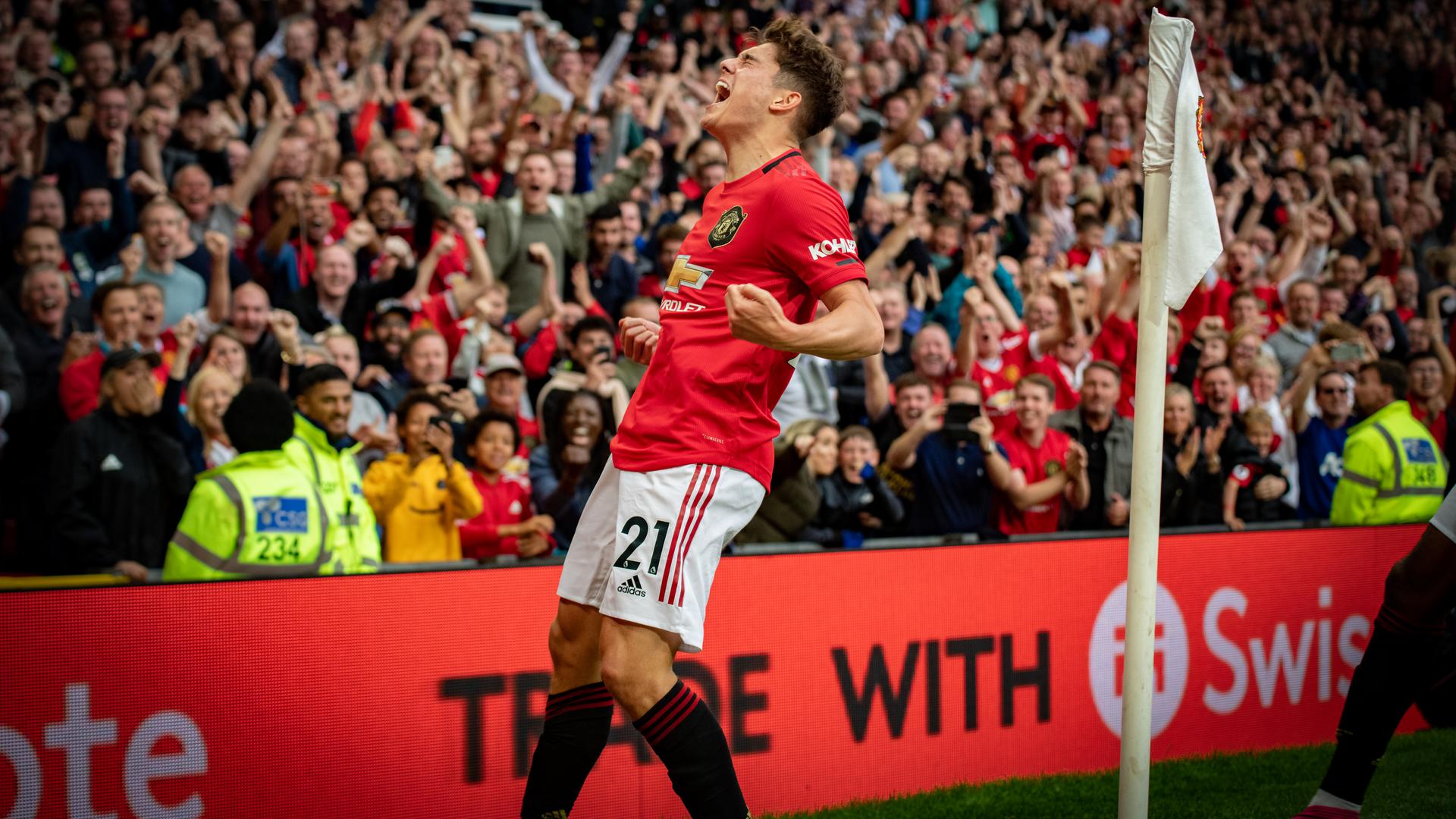 "Dream Debut! He'll never forget that moment"
Dan James celebrates his debut goal for Manchester United
Image from Manchester United
Daniel James joined Manchester United last summer in a £15m move from Swansea as a quick-fix, a patch for the vacant right-wing position, even though him being a left-winger naturally. None of us expected much from the 22-year old Welsh international, assuming all he would be is a squad player considering the amount involved in his move. But oh boy, didn't he light up the Premier League. Dan James' blazing pace became a sight to watch for the first few weeks of the season, tearing apart defenses, scoring scorchers almost as if it was too easy. But as the season proceeded he experienced a sort of burnout in the latter stages and wasn't performing at the standards he had set for himself.   
Early Life
A highly regarded prospect of the Hull City academy side, James joined Swansea City in 2014 for an initial fe
e

of 
£72,000, immediately joining the U-18s. By the 16-17 season, he had become an integral part of the U-23s side who gained promotion to the PDL Division 1. Following his impressive displays in the development squad, James was included in the first-team squad for the first time in Jan'16. His progress was deemed sufficient for him to be offered a new 3-yr contract the following week. On 30th Jun'17, Dan James was loaned out to Shrewsbury Town for the 17-18 season but his loan was terminated by mutual consent on 31st Aug'17 after he failed to force his way into the starting XI.
Senior Career
Dan James finally got his debut in Feb'18 and scored in Swansea's 8-1 rout over Notts County in FA Cup, while making his league debut for Swansea in Aug'18. James became a regular and one of the standout performers under Graham Potter, opening talks for a new contract, but he was interested in a move to Leeds United. A 
structured £10 million fee
 was agreed between the two clubs and with personal terms agreed, medicals and photoshoots done, and everyone waiting for his announcement, Dan James looked set to make the switch to Elland Road. But it wasn't to happen for him as Swansea failed to sign the deal before the deadline.
James caused a lot of problems for Manchester City in the FA Cup tie in 2019
Image from WalesOnline
Take Me Home, United Road
Dan James did get his move the next summer, but to the White Rose's fierce rivals, Manchester United, signing a 5-year contract with the option to extend for a further year. Scoring on his debut against Chelsea as a substitute, James couldn't have had a better start at the Greater Manchester club. He scored 3 goals in his first 4 appearances for United, even winning the Player of the Month award for United in August and convinced everyone that we got a steal, but soon he left us all thinking what happened to him. A sudden drop-off in his performances in 2020 led to much criticism directed towards him and as soon as he had become a fan-favorite, he became an easy target for the shortcomings of the club. 
Did we expect too much from a 21-year old youngster making a step up from a mid-table club in the Championship to one of the biggest football clubs in the world playing in one of the most competitive leagues? Maybe we did, maybe we were wrong in expecting too much from this young man, maybe we were right in doing so as he definitely has the potential to be better and has shown us glimpses of what he's capable of. Who knows what the future holds.
The Future
Daniel James:
"To Play For This Club And To Play So Many Games… I'm Honoured"
[Image Courtesy to SportBible]
Let me reiterate this. Dan James is and could be a phenomenal talent. He has all the attributes to be a great winger, but the problem is, he's too raw. James has electrifying pace, agility, and not only the ability to knock the ball into spaces and make a run, but he can also make intelligent off the ball movements to create spaces for other players and draw out defenders towards himself. But he has been often caught out making the wrong decisions. 
He needs to brush up his technicality and physique as well, as the Premier League is a highly physical league and we've often seen him being easily pushed off the ball by defenders. He still has to understand when to make a cross, how to weigh the cross correctly, and we've seen him do that and that he's capable, but not as much as we would've liked to.
James can make quick recoveries, press high up the pitch to pressure defenders in making a wrong move, as we've seen him do for Swansea and has a decent amount of stamina to move forth and back the pitch, all the attributes required to thrive under the system inculcated by Ole Gunnar Solksjaer and should be improving the squad. 
But it doesn't seem to be happening for him at the moment, while Man Utd fans have turned him into a scapegoat and recently, he was even criticized for his 9-minute display in the
Europa League Semi-Final against Sevilla
even though he didn't do much wrong. 
The
meteoric rise of Mason Greenwood
and
Jadon Sancho's likely arrival
(fingers crossed), he has fallen down the pecking order even further. His performances haven't helped him either. But Ole can now make him understand the role of an impact sub-a role that he can thrive in really well. Work on the technical aspect of your game, like crossing, passing, and most importantly vision, work on your physique, and we've got a Dan James ready to play that Solskjaer role in our squad.
The next season is as important for him as it is for Manchester United, a club rebuilding under an inexperienced manager but one who can lead the club in the right direction. James needs to work hard to cement his position in the squad and he needs to prove his doubters wrong come next season. I believe he can be much better than the performances we've seen of late and we definitely need him to step up his game as we play in the Champions League next season and we'll be needing to rotate the squad almost certainly to be ready for key games. To be a top side, our bench needs to be as good as the First XI and currently, there's a massive drop-off in the quality. Dan James could be a solution to this problem and he can become a really important player for United, and to be honest, 11 goal involvements in his first season is really a decent return.
⚡️ @Daniel_James_97 in 2019/20 so far:

4️⃣ goals
7️⃣ assists pic.twitter.com/k7PCYoJ1ur

— Manchester United (@ManUtd) April 17, 2020
I would love Dan James to up his game and become an important, reliable player for us.

Do you want Dan James to succeed as a player?

Leave your thoughts in the comments.