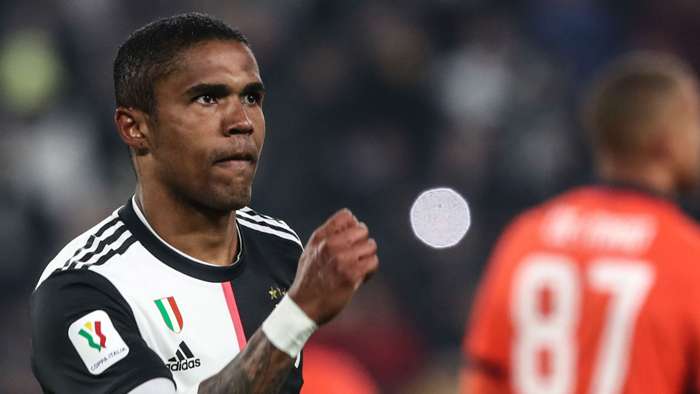 The Brazil international forward linked with a move to Old Trafford
Manchester United are keeping tabs on Jadon Sancho alternatives and one of them has been Brazilian winger Douglas Costa. The Brazil international has been part of clubs like Shakhtar Donetsk and Bayern Munich, has been at Juventus for three years.
United are interested in Juventus winger but have concerns over his fitness as he missed out 21 games this season owing to injuries to his calf, hamstring, a tear in his abductor muscle and more. He was fit for the end of the season but then got injured again which made him miss the last 3-4 weeks of Juventus's campaign as they marched on to win Serie A.
Sky Sport Italia's Gianluca Di Marzio reports that newly-appointed Andrea Pirlo is working to rebuild the team for the future and this could see Costa leave the club this summer. Costa's contract is due to expire in 2022 and Juventus could look to offload him as soon as possible and Pirlo has reportedly told him to find a new club.
Costa would only be signed if the deal for Jadon Sancho falls through and while his stats of ten goals and twenty-one assists in 101 games is far worse than the Englishman's. Former-Arsenal man, Stewart Robson claims this deal would be a great one for both clubs:
He told ESPN FC: "If you're looking for a right-sided player that can come in on to his left foot and get crosses in and get shots away and link up with the front player, he's an excellent player. He hasn't really done anywhere near as well at Juventus as people thought he would."
Ole Gunnar Solskjaer has again emphasized that he needs squad depth next season, if United wish to challenge rivals like Liverpool and City. Speaking to press post United's defeat in Europa League semifinals, he said:
'We need to strengthen the squad depth because it's going to be a long season. We're going to keep pushing and keep demanding more of the players that we have, but still, we're looking to improve and it's a strange one. The league starts very quickly, but then the [transfer] market is open for so long. So we've got to be both good, smart and clever.'
All this is subject to an alternative to Jadon Sancho, who is Manchester United's priority number 1 and if United don't land Sancho and end with Costa it is still a good signing considering that he is an extremely quick and a superb crosser of the ball. Only time will tell if Jadon Sancho chooses to come to Manchester United or Manchester United chooses to sign other players instead of Sancho as Dortmund keep playing hard ball.