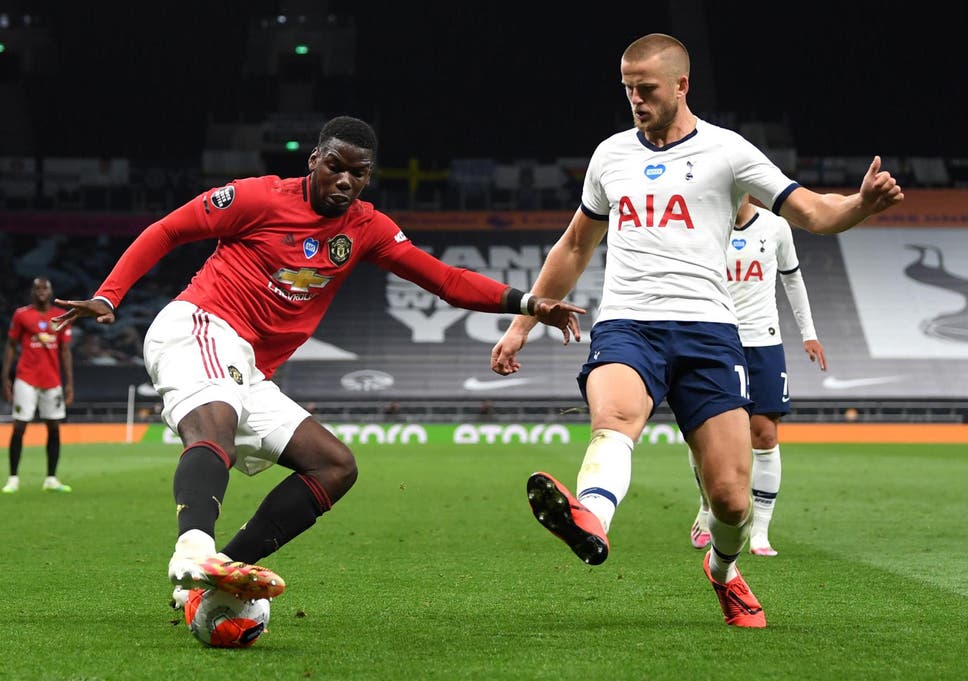 Image from the Independent
Pogba can change a game, but he won't walk into the team
The first big talking point about this game came as the starting line-ups were released, and Paul Pogba's much-hyped return started on the bench. This will have been a clear message to Pogba from Ole Gunnar Solskjaer, to let him know that he has real competition now and he will need to show his best if he is going to secure his place in the first XI.
Saying that, when Pogba did come onto the pitch, there was a marked difference in the quality and variety in United's game. The link-up that he could have with Bruno Fernandes was apparent from their first pass to each other, which, pending a better finish from Martial, could have directly resulted in a goal.
De Gea needs to up his game, Henderson is looming large
After some rather high-profile mistakes during the original part of the season, De Gea's position was one of those that was slowly becoming uncertain. In an
article posted by The United Devils last week
, there was an argument given to his being kept in the starting line-up, but that argument got one step weaker during this game, as he deflected what looked like a straightforward save into his net to put Tottenham 1-0 up.
He will have been relieved to have seen the equaliser go in, but it will certainly serve to up the pressure on his shoulders in the race to be United's number one. This, just days after Dean Henderson put in a good performance to keep yet another clean sheet for Sheffield United.
Martial is not comfortable leading the line
This has been a constant problem for United throughout this season, when at times Martial looks way out of position when starting in centre forward. You would've been forgiven for not realising he was even on the pitch in that first half, as he recorded the joint lowest number of touches in the game with just 9.
Martial is most certainly better placed being a winger, and this is one job that should be top of Solskaer's list when the transfer window opens, as Lukaku's departure still leaves a large striker-shaped hole in our attack. 
Ole needs to sort out our corners
This is another problem that United have to address in the coming weeks and perhaps off-season, as it has been a constant source of weakness for The Red Devils, both offensively and defensively. Firstly, Bruno Fernandes' corners into the Tottenham box were pretty much always cleared easily, without even a hint of danger. 
Secondly, United seem to play a zonal defence, which can often times look rather shaky and there were a couple of moments during this game where there could have been some uncomfortable mistakes made.
Roy Keane is still as passionate for United as ever, and has his own hairdryer
If anyone was watching the game, they HAD to have seen or at least heard of Roy Keane's fiery attack of David de Gea's aforementioned gaff. It was so powerful that even Patrice Evra looked a little bit scared just sitting across from him.
This is one for United fans of old, who remember the passion that Keano put into his performances in a United shirt, well he's still got it that's for sure.
Ben Foster recently spoke on Peter Crouch's podcast
about when Sir Alex Ferguson gave him a rollicking after THAT 4-3 win in the derby over Man City, and this was very much reminiscent of how that hairdryer treatment may have sounded in person. 
All in all, United fans will hope that Keane was right in that Solskjaer needs to show a bit of tough upper lip and remind De Gea of who is waiting in the wings to replace him should he continue to stutter.