Image from the Sun
With the Europa League final done and dusted, we are only one match away from completely immersing ourselves into the summer transfer rumour mill. We all have a decent idea of what is going to happen but if the past is any indication then, as usual, there will be plenty of last-minute moves that will surprise the footballing world.
The latest rumour is that Lukaku has agreed to take a pay cut to force a move to Inter. The big Belgian has spoken about his desire to move to Italy even before the season ended and now it seems like it might finally happen. After two polar opposite seasons for Lukaku, he has come under a lot of criticism for various reasons like missing sitters, his weight, and so on.
I'd still like to give him one more season to prove himself but if he wants out, I'll hold the door open for him. However, his exit adds the additional responsibility of replacing him with a top striker. Here is a list of the strikers that we could replace him with. This list consists of ambitious and realistic targets. Also, this list is not in any order of likelihood. 
Fact file:
Club – Eintracht Frankfurt
Age – 21
Nationality – Serbian
Contract until – June 2023
Luka Jovic is a young, dynamic centre forward in the Bundes Liga. He has been very impressive this season, scoring 27 goals and providing 7 assists in all competition. The rumours say that Real Madrid is after him which obviously makes it tougher for us to sign him. However, being just 21 years of age makes him an amazing prospect and Manchester United should at least make an attempt to sign him this summer. He only recently signed for Frankfurt after they activated a clause in his contract to buy him from Benfica. That will make it tougher for us to buy out his contract but if we are determined enough, we can fund it straight from the Lukaku money. But rumours say that he has already moved out of Frankfurt for a move to Madrid so it will have to be a major hijacking to get the Serbian.
Fact file:
Club – AC Milan
Age – 23
Nationality – Polish
Contract until – June 2023
Krzysztof Piatek is my personal favourite on this list and for several reasons. He has had an absolutely smashing season. He first moved to Genoa where he scored 19 goals and provided 1 assist all by January. Then in the winter transfer window, he made a move to AC Milan where he went on to score 11 goals and provide 1 assist. I feel for someone to change clubs twice in one season and still hit 30 goals, at the age of 23 and having played for no top club before is an extraordinary thing.
While the other top clubs are looking to buy the likes of Icardi and Jovic, we can snap him up for about £70-75m. We can't be sleeping on Piatek because he has everything – aggression, hunger, skill, finishing, etc. Also, the fact that he changed clubs mid-season is an indication that he won't be closed off to a move to United just because he joined Milan 6-7 months ago. AC Milan is also in the Europa league so we won't have to convince him about missing Champions League football next season.
Age – 26
Nationality – Argentine
Contract until – June 2021
Icardi is by far the most popular of the choices. It also makes sense because we could easily include him in the deal while selling Lukaku to them. Icardi has been at loggerheads with the club and has wanted to leave since forever. However, Luciano Spalletti's sacking a couple of days ago changes the dynamics of this move. Icardi's primary rift was with the manager and now that Conte is the new manager, he might want to stay.
I feel getting Icardi now will be tougher because it is uncharacteristic for a new manager to sell the club's most prolific players without giving them a chance not to mention the captain! Icardi, however, has a history of bad behaviour both on and off the pitch. Also, a misbehaving player is the last thing we need at United now. Conte also has had a history of dealing with a troublesome striker and may see this as a new challenge for him.
Fact file:
Club – Atletico Madrid
Age – 28
Nationality – French
Contract until – June 2023
This signing, if it does come, comes two seasons too late. Signing Griezmann now won't make as much sense because at the age of 28 we'll be at a bidding war with Barcelona. He'll cost north of £150m and we can get more valuable players for half the price. Either way, Barcelona have all but confirmed their interest in him and between United and Barca, there's only one winner. The only factor that could attract him to United is Pogba who also looks like he wants out. Either way, Barcelona desperately want another Champions League medal and so does Griezmann to reaffirm himself as a self-appointed "legend".
Fact file:
Club – RB Leipzig
Age – 23
Nationality – German
Contract until – June 2020
Timo Werner has often gone under the radar but he has been an absolute key in the rise of RB Leipzig. He is a great striker and scored 19 goals while providing 10 assists in all competitions. The likes of Liverpool are interested in signing him up and that will be tough to compete with but we will be able to offer him regular first-team football, something Liverpool can not. To be honest, I'm surprised no other top club has snapped him up yet.
Werner won't cost a lot either because his contract expires in 2020 and we should get to him before Leipzig start their contract negotiations. At the ripe age of 23, he'd be a very good investment for the youthful team that Solskjaer wishes to build. Having played in the Champions League and with 24 caps for Germany, he also has a lot of experience.
Age – 28
Nationality – Dutch
Contract until – June 2021
One of the lesser-known players in this list, however, his scoring record speaks for itself. Luuk De Jong scored 32 goals and provided 10 assists in 43 games last season. He plays for PSV Eindhoven in the Eredivisie. His goals ensured that PSV finishes the season with a massive 83 points. Unfortunately, they did not win the league and lost to a strong Ajax side that racked up 86 points. However, to put that into perspective, PSV finished almost 20 points above third-placed Feyenoord. The only drawbacks of signing De Jong are his age and his unsuccessful loan spell at Newcastle back in 2014 where his loan got cancelled 6 months in. Apart from that, the irrelevant but mentally reassuring factor is that United have had a lot of luck and fond memories with Dutch strikers before. We could get him for cheap as well and while he isn't a big name signing, he could slot in very well in our team.
Fact file:
Club – Olympique Lyon
Age – 22
Nationality – French
Contract until – June 2023
Apparently Manchester United have already made contact with Lyon for Moussa Dembele while the French club has refuted these rumours. With Lukaku's likely exit, I expect the rumours to gather more steam. Dembele is a young Frenchman who scored 23 goals and provided 6 assists throughout the season. He scored 15 goals in the League which is as many as Neymar and Falcao and only 3 behind Cavani.
I have a feeling Lyon will play hardball for him because a lot of clubs will be after their players like Memphis, Ndombele, Dembele and Nabil Fekir. Add to that the fact that Lyon will be playing Champions League football next season, we could end up overpaying for him like we always do anyway.
Fact file:
Club – Tottenham Hotspur
Age – 25
Nationality – English
Contract until – June 2024
There is very little I need to say to justify why we should sign him. The English stalwart has been breaking records since he was 21. Kane has scored 20+ goals in all seasons since 14/15 and has scored 30+ goals in three seasons. But do I personally think Kane will join United? No.
Tottenham have reached the finals of the Champions League and there is a fresh sense of belief in and around the club. If they do manage to win it, it'll be an absolutely remarkable achievement for them. It will be tough to price him away because he truly loves Spurs and currently they're better off than United.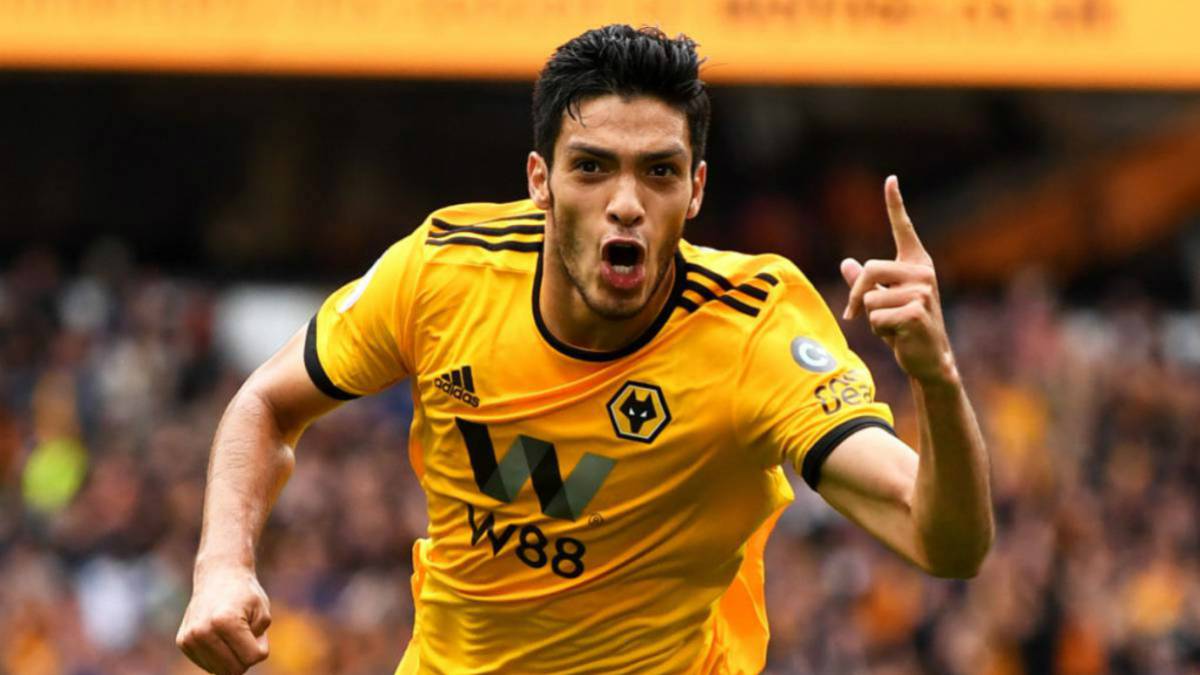 Club – Wolverhampton Wanderers
Age – 28
Nationality – Mexican
Contract until – June 2023
One of the breakthrough stars of the Premier League campaign. Wolves, with Jota and Jimenez up top, terrorized teams in the League. They took points off all top 6 teams throughout the season and finished 7th right after getting promoted from the Championship. Scoring 13 goals and providing 8 assists, he was a major part of this. He is a real presence up front and his game resembles that of Diego Costa's (another striker that I rate highly). I think if not him, we need someone who plays like him and has his attitude. I'm sure he'd be welcome with open hands at United because boy do we love our Mexican strikers!
10.) Richarlison
Fact file:
Club – Everton
Age – 22
Nationality – Brazilian
Contract until – June 2023
Richarlison has lit the Premier League alight the in two seasons that he has been here. The best part is that he might solve our issues at left-wing, right-wing, and centre forward. Richarlison is very dynamic forward and loves taking risks. His age is very suitable for our needs however it might be a pricey signing. Also, Everton is probably done with us signing their best players. If we can get Richarlison for around £60-65m, that'd be a great deal because he has done well with two Premier League clubs already. Though his favourite position is left-wing, he has established himself as a good centre forward and can comfortably play on the right too as he has done for both Everton and Watford. His flexibility is boon for us and Manchester United should definitely consider signing him.