Source: Daily Mail
The 1980's -2000 was the decade of major development in business and a jolly good time for the global economy. Advancements in technology all over the world, and the rise of brilliant minds in far east countries like Japan have played a pivotal role in the economic boom in all major business sectors, even in the commercially developing football leagues in Europe, such as the Premier League and La Liga.
Japan in the 1980's was booming many new industries coming up and new innovations, gizmo's and gadgets were introduced to the world. Many companies were willing to invest in the Silicon Valley's newest competitor and the major Japanese giants like Sony, Toyota, Fuji, Panasonic, Sharp Electronics and Canon were looking to tie up with foreign companies to build and increase the global brand exposure. English football was and still is a popular hub for these companies. One such example is the relationship of Sharp Electronics and Manchester United.
Source: MEN
Sharp was United's first ever shirt sponsor from 1983 – 2000, one of Sharp's lengthiest Sponsorship deals lasting 17 years and during the era when United won 7 Premier League titles, 5 FA Cups, 1 League Cup, One UEFA Cup Winner's Cup (Now known as the UEFA Super Cup) and 1 UEFA Champions League.
After renaming in 1970, Sharp launched the first ever LCD calculator and went on to build, design and manufacture radios, TV sets and other small electronical devices until finally setting its sights on the English footballing market to get global traction and brand exposure with one of the most successful and historic clubs in Europe. In 1983, Sharp signed a deal with English giants Manchester United to make them the club's first shirt sponsor and kick started a new era of global brand endorsements in English football. The deal was for an initial 5-year period for 500,000 pounds. The amount was a big sum back in the day but a rather small sum in today's footballing world as it would technically be as much as Alexis Sanchez's weekly wages including bonuses and other amenities. Sharp had successful promotion with their goods being part of a trophy winning side, which saw global icons hold their products. For example, a grand photo shoot with the likes of Denis Irwin and then manager Ron Atkinson endorsing the Japanese companies range of products likes calculators, radio sets, printers and small generation 1 computers and TV sets.
Due to lack of technological advancements there were not many specialised advertisements and hoardings per say, but Sharp Electronics were printed on their starting kit in the 1982-83 season. A smart move by a marketer, helping people to understand the brand objective and gaining recognition. The company were new in the global market, not many people knew that they were an electronics company. Sharp Electronics made a clear motive from a marketing point of view. Gradually moving on to only Sharp when their brand became recognised in the late 1980's and once they became a household name in England, Sharp decided to endorse their latest product of a Viewcam. This debuted in 1993 on their famous black kit Sharp printed ViewCam until 1997. They switched back to Sharp until 2000 and had a massive increase in shirt sales in the treble season of 1998/99, especially their Champions League winning red kit and the famous Adidas blue kit which was more of a trending fashion statement back in the day with every massive United fan owning the kit worn during the FA Cup final. Sharp was also advertised on the infamous grey kit that was worn during the match against Southampton. However, this coincided with Southampton's home kit, causing too much confusion and so, Sir Alex made them change during half time into their blue and white strips kit.
Source: Squaka
Sharp had competition in the English Premier League with Japanese Electronics company, JVC. JVC was Arsenal's kit sponsor from 1981-1999. Although they came two years before Sharp and were one of the first Japanese companies to invest in English football, Sharp was relatively stronger from a brand positioning and marketability point of view as United won more trophies in that period and Arsenal were a lesser know club back then. Adidas, Arsenal's kit sponsors during that time, produced some exceptional kits, especially their famous yellow JVC kit and their stripped blue kit. Although, we can never judge a book by its cover
Soon after Arsenal's deal with JVC came to an end, one more Japanese company SEGA, were all geared up and ready to invest in Arsenal. However, it didn't go as the video game giant had planned. SEGA had launched its newest console the Dreamcast, one of the 6th generation console. The Japanese forked out a massive 100 million in their marketing budget but, couldn't generate any hype. SEGA signed a deal with Arsenal, putting their latest Dreamcast logo on Arsenal's original home kit and the SEGA logo on their yellow kit. But, SEGA's rival Sony had just launched its own PlayStation 2 console and sales in England were off the charts. There was a lot of demand for the much more advanced console and so, Sony brushed past its competition leaving SEGA into losses. The aftermath caused SEGA to become extinct in the video games market and made it a thing of the history books. SEGA didn't extend their deal with the Gunners and was forced to cancel its contract with other European clubs like Sampdoria. The heavy investment in Arsenal and lack of return on investment, along with lack of sales, forced SEGA to exit the console market thereafter.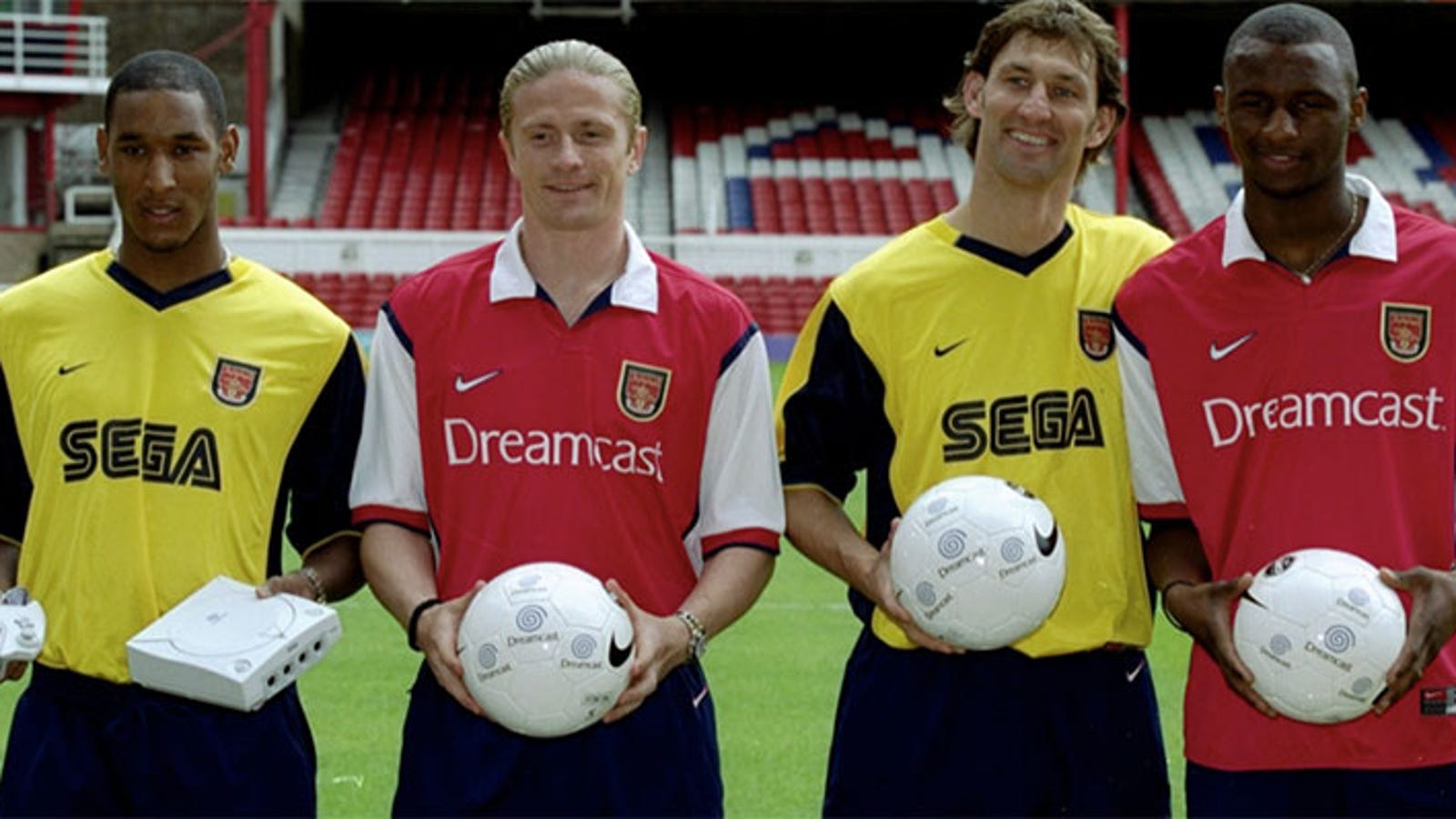 Source: Getty Images
A successful time for Sharp, JVC and an unsuccessful one for SEGA has seen increasing Japanese interest in the English football market, with the likes of Yokohama tyres signing a 200 million pound long term deal with Chelsea becoming their shirt sponsor. This roughly equates to 40 million a year for 5 years in 2015. The deal is the second highest earning per year, only behind Manchester United who are on top with a 53 million a year deal with American car tycoon, Chevrolet.
Nissan, a major Japanese player in the car industry, partnered up with the Premier League and became the official sponsors of Sky Sports Premier League covering all the weekend action, previews, reviews, statistics. It was a masterstroke by the brand, with the partnership meaning that enthusiastic football fans in the UK were rushing to catch the weekends games in their newly launched Nissan vehicle. Source: Sky Sports
There hasn't been a big Japanese player in the Premier in recent times but still the likes of Manchester United have kept faith in small and upcoming Japanese companies like Yanmar, who are the Red Devils Official Tractor partner, yes you heard right! Yanmar have launched a new tractor naming it after United and it is also used to maintain the grounds of Old Trafford.