Well as they say, the only way is up. After such an awful performance on Sunday as Manchester United submitted the title to Manchester City with a 1-0 home defeat to rock bottom side West Brom, Bournemouth host the Red Devils on Wednesday as United aim to nail down second place. Bournemouth are now basically safe from relegation and are ten points clear from 18th place Southampton. United are a point above Liverpool and must return to winning ways to maintain their now dangerous position and simply need to attack with precision and fast pace to cut through the Bournemouth midfield and into the attacking third with ease. 
Jose Mourinho has said that any player that shines against Bournemouth are far more likely to be in the starting XI for the crucial match against Tottenham in the FA Cup semi-final. The likes of Herrera, Mata and Matic all had terrible games despite being given the nod to start the game. It would be nice to give Martial and Rashford starts and allow them to attack the Bournemouth defenders with skill and pace. McTominay and/or Carrick would also be interesting starters as they have not had as much game time this season and offer something different as they are more forward thinking passers. 
I think more United fans would like Mourinho to play Lindelof and Bailly together as they are the partnership of the future. It would also be interesting to get Luke Shaw back into the frame and at least give him a chance to prove his talent. Pogba has to start as well and bounce back with confidence and so should Sanchez, who tried hard but needs to be in more advanced positions and not hinder Pogba's possesion by going so deep for the ball. 
GOALKEEPER: DAVID DE GEA
No real need to explain.
RIGHT BACK: ASHLEY YOUNG
Valencia might be given a rest after a sub par performance. Young is such a versatile player and will do well when he does not have to cut back to cross. 
CENTRE BACKS: ERIC BAILLY AND VICTOR LINDELOF
They need to be paired and tested to see if they fit well together. It should be tried before the FA Cup and the match against Arsenal. They could be something special and why not now?
LEFT BACK: LUKE SHAW
Just give him a chance Mourinho! He may be frozen out of the side recently but he deserves to at least be given some Premier League experience as it poses as a win-win either way. If he is to be sold, then the experience may up the price for his tribunal cost as he is under 24. If he plays well and maintains a place in the squad, he may sign the contract extension and continue to build on his career at Old Trafford. 
HOLDING MIDFIELDERS: SCOTT MCTOMINAY AND NEMANJA MATIC
Matic won't be benched as he has been so influential this season, but Herrera could be. McTominay may be given another chance to shine and be given more experience in Premier League matches. He has the ability to make a mark in this side and progress further. 
ATTACKING TRIO: ANTHONY MARTIAL, PAUL POGBA AND ALEXIS SANCHEZ
Hopefully this trio will work well together and create slick and fast paced play. All three need to sort themselves out and play with professionalism and maturity.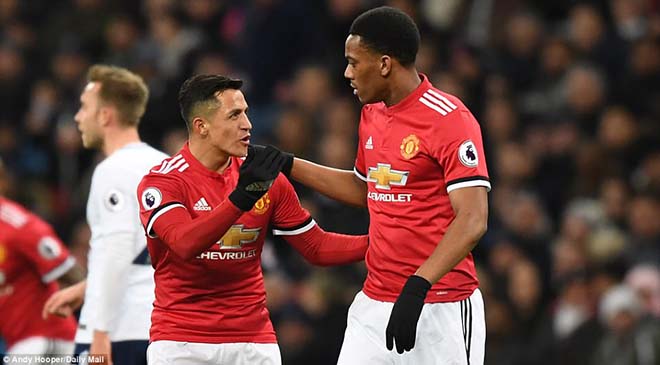 STRIKER: ROMELU LUKAKU
He will also stay in the squad and tried his hardest against West Brom. He allows the other players to flow past him in attacks with his constantly improving hold-up play. He earns his place in this side and should do for the semi final.