Another big win in the Premier League for Manchester United as they overcame Chelsea's 0-1 lead to win the game with goals from Romelu Lukaku and Jesse Lingard. It was a game that Chelsea had a grip on in the first half an hour and were unlucky not to score in the first five minutes with a close range effort from Alvaro Morata hammering the crossbar and then lead when a sweeping counter made by Willian in his own box was finished by the Brazilian, beating De Gea at his near post. However, United responded well and Lukaku earned himself his first goal for Manchester United against the Big Six and his first goal against Chelsea ever. The Belgian provided the assist for substitute Jesse Lingard in the 75th minute as the England international headed home completely unmarked to give United the lead for the first time and what would turn out to be the win. 
PLAYER RATINGS: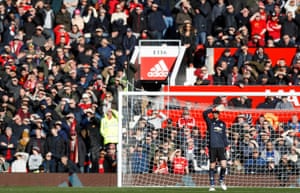 The sun seemed very bright at times in the second half for De Gea
DAVID DE GEA 5/10
Every good player has an off day and lets hope its remains only one day. As stunning as he was against Sevilla he was as nervous yesterday with Willian's powerful strike going through his hands and giving the Blues and he almost gave them further chances after spilling a couple of shots in the second half, struggling with the bright sunlight beaming through during the second half at Old Trafford. No doubt it was not his best performance but he needs to up his game in the coming weeks as Sevilla and Liverpool will be just as deadly. 
ANTONIO VALENCIA 6.5/10
His poor cross started the Chelsea counter for the goal but overall the United captain defended well and did his best to keep Hazard at bay. He was perhaps limited on account of the world class Belgian winger as he knew he could not be caught out in attack but will be vital in the weeks to come.
CHRIS SMALLING 7.5/10 
Whilst he has been criticised of late for his performances he was very good yesterday and even when he did make the odd mistake he got back and made up for them. With Phil Jones out, he will need to maintain this form for a while in order to keep Eric Bailly out of the squad and keep Salah, Mane and Firmino off the score sheet if he maintains his starting position for the trip to Anfield next week.
VICTOR LINDELOF 7.5/10
Likewise the Swede played very well and made up for his errors with good defending and once again his distribution was consistent and sharp. He is growing into the team more and more and can only hope that his development is continued into the game at Selhurst Park. 
ASHLEY YOUNG 6.5/10
Perhaps a little stretched against Willian and Moses whilst defending but provided width and consistent crosses on the attack. Would personally rather see Luke Shaw starting in London this weekend and Jose may choose to rest the former Villa man and allow Shaw to play. 
NEMANJA MATIC 8/10
He was a stalwart defender for the whole game and played outstandingly against his former team. He has been a little shaky in recent weeks but he pulled through yesterday and his form will need to continue for the next few weeks to continue to battle for 2nd and for the Champions League. 
SCOTT MCTOMINAY 8/10
Admittedly he made an error in the goal by letting Willian ghost past him and most players would let that get to them but the young Scot got back on the horse and put in a fantastic display using his strength tactically and kept Eden Hazard in his pocket for the majority of the game doing a man-marking tactic to prevent the Belgian from having more impact on the game. He is a fantastic talent and developing into a good first team player and will feature plenty in the future.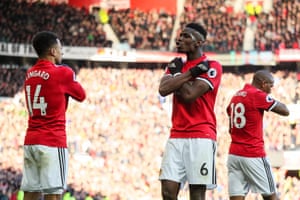 PAUL POGBA 7.5/10
A good return to the starting lineup for the Frenchman and he showed his skill, strength and pace as the game went on. He was perhaps a tad quiet in the first half an hour but became more and more involved as United gained dominance. He will be vital for the big games that United MUST win and will be the main man for United in those games.
ALEXIS SANCHEZ 6.5/10
He was once again struggling to make an impact and really should have opened the scoring but his touch was too loose. He seemed to be lost when Chelsea had the ball and wondered about the heart of midfield looking for something to do. He played the incisive pass to Martial for the opening goal and that was his best moment of the game and will hope to start against Crystal Palace as a way to regain the form he had at Arsenal. 
ANTHONY MARTIAL 6.5/10
Was not his best performance yesterday. He was calm and composed to set Lukaku up for the goal but apart from that was not his sharpest and whilst he has had a great season, Jesse Lingard's substitute impact will be a reminder that his place is not set in this squad and will have to score more goals to retain it. 
ROMELU LUKAKU 9/10
He really stood up yesterday. His hold-up play, a weakness in his game for the last few years, had improved substantially. His touch to set himself up for the goal was sublime and the cross to Lingard was pinpoint accurate. Even in the 93rd minute he showed his power and pace to take on the whole Chelsea back four and get from just outside his own centre-circle to have his shot blocked just outside Chelsea's six yard box. World class performance. 
SUBS
JESSE LINGARD 8/10
He has a knack for scoring when United need him most. Fantastic header from a delightful cross to get his 13th of the season and may possibly earn himself a start against Palace. 
ERIC BAILLY 7/10
Did nothing wrong and may be in contention for the game at Selhurst Park as well.
MAN OF THE MATCH: ROMELU LUKAKU