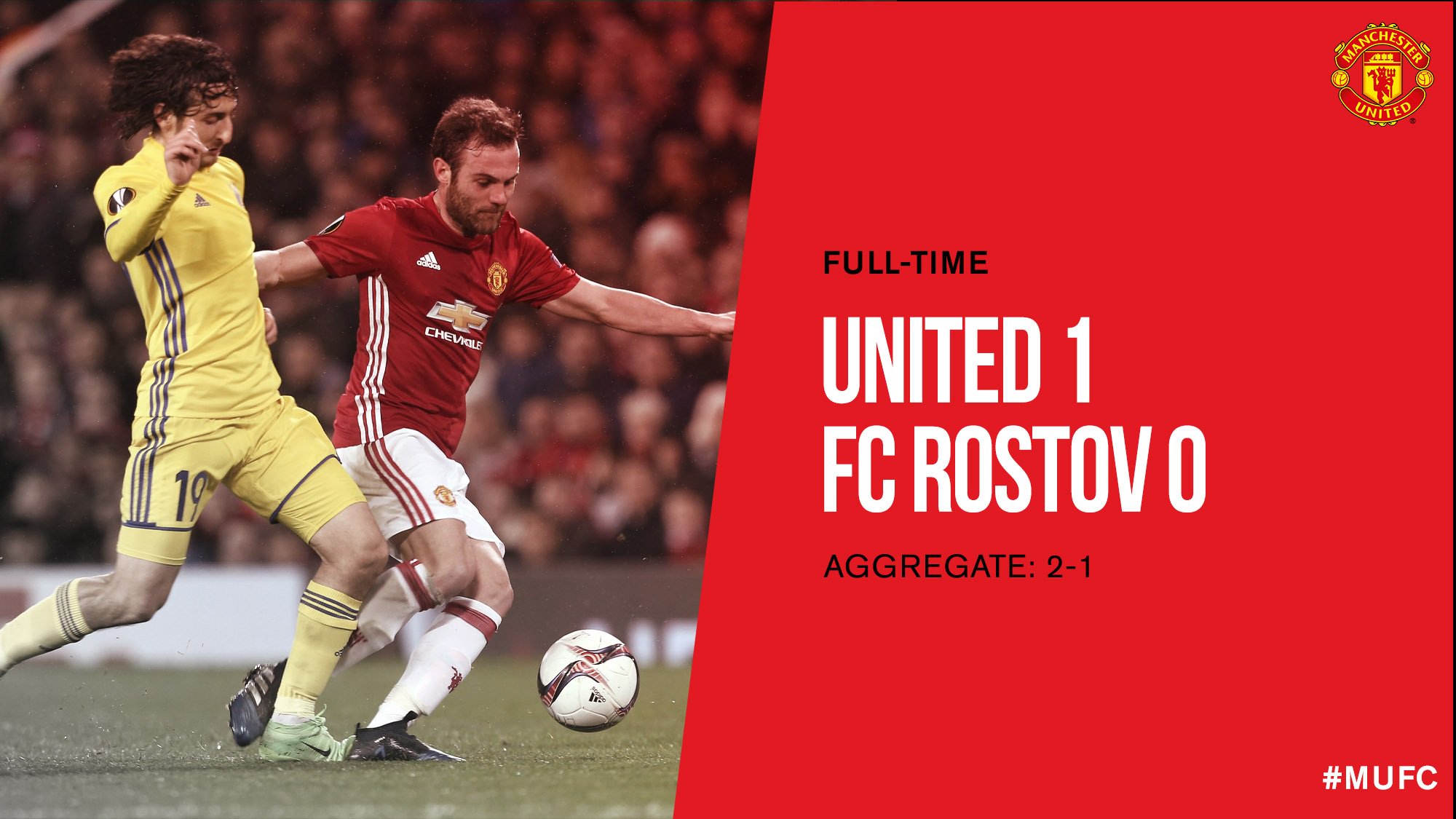 Manchester United qualify for the quarter finals of the Europa League after beating Rostov 2-1 on aggregate.
Zlatan Ibrahimovic hit the post twice in the first half as Manchester United found it tough to break down the Rostov defence. Not many chances were created during the game, with United having the majority of the possession, but failing to threaten the Russians' well-structured defence. Juan Mata managed to put us ahead in the 70th minute, finishing at the far post from a Zlatan flick. 
Rostov did however provide a threat to United's Europa League ambitions with a few great chances and attempts on goal. Sergio Romero put in a world class performance to save our Champions League hopes for next season. His most vital save came in the 95th minute, pulling off a brilliant stop to deny Noboa's free kick which could've sent the game in to extra time. 
Two major downsides for United were Daley Blind and Paul Pogba having to be withdrawn early due to injuries. Pogba's night ended early due to a suspected hamstring injury, worsening our selection problems going into the business end of the season. 
The main talking points in tomorrow's news outlets will be regarding Jose Mourinho's post match interview. The passionate speech by the boss highlighted that things are going against us at the moment – the likelihood is that he is talking about refereeing decisions, fixture congestion and injuries. The main quote which everyone is going to be talking about is: "Fatigue has a price, the probability is we lose on Sunday". This sounds like a very defeatist attitude from the man that is meant to be leading our club back to the glory days. However, it is hard to ignore the truth in his points – Manchester United have had it the hardest this season in terms of Premier League teams. 
Although we didn't play well today and are showing signs of fatigue (shown by Rojo eating a banana on the field), the main thing is that we have taken one step closer to our main aim of winning the Europa League.
Hopefully, (although Jose doesn't think we will) we can take today's result as a positive and go into Sunday's game against Middlesbrough with the aim of winning 3 points and getting out of 6th place and closing the gap on the top 4.