Our first fixture of 2017 is probably going to be our hardest of the year as England face Germany in a friendly before Sunday's World Cup Qualifier. Wednesday will mark the official start of the Southgate era, with the manager taking charge for the first time since being given the job on a full time basis.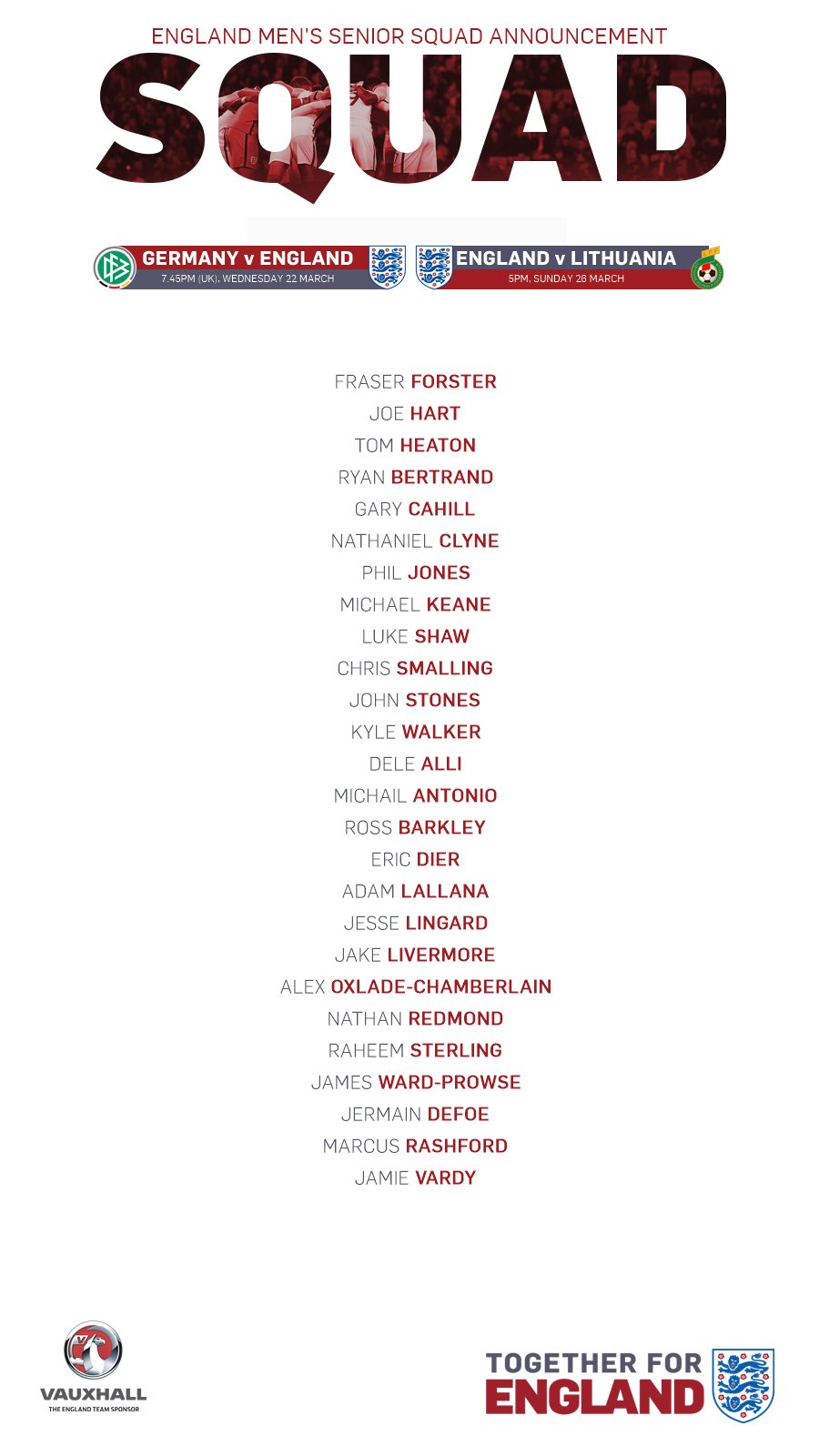 With this as the squad which Gareth Southgate chose to represent England in the upcoming international fixtures, there are some new and old faces returning to the national team. 
One of the stand out names is Jermain Defoe, who is set to make his first international appearance in over three years on Wednesday. The 34-year-old has not played for his country since losing 2-0 to Chile in November 2013, but his brilliant form for Sunderland this season has earned him a recall.
In addition, an unexpected name on the list is Luke Shaw. After being left out of the Manchester United first team for most of this season, Southgate has shown his confidence in the youngster and hopes that this call up will give him the morale boost to get his career at United back on track. 
Since the squad was announced, Phil Jones was released from the England squad after suffering an injury in training on Tuesday. In addition, Raheem Sterling has missed training, recovering from Man City's 1-1 draw with Liverpool on Sunday, although he doesn't look to have an injury. Michael Antonio also withdrew from the squad on the weekend due to a hamstring injury. 
Around the same time last year, England managed to beat the Germans in Germany after being 2-0 down with 30 minutes to go. Harry Kane and Jamie Vardy pulled England level and Eric Dier managed to dramatically win it at the death, heading in his first England goal. 
Hopefully the Southgate era can start on a high by beating the 2014 World Cup Champions! COME ON ENGLAND!