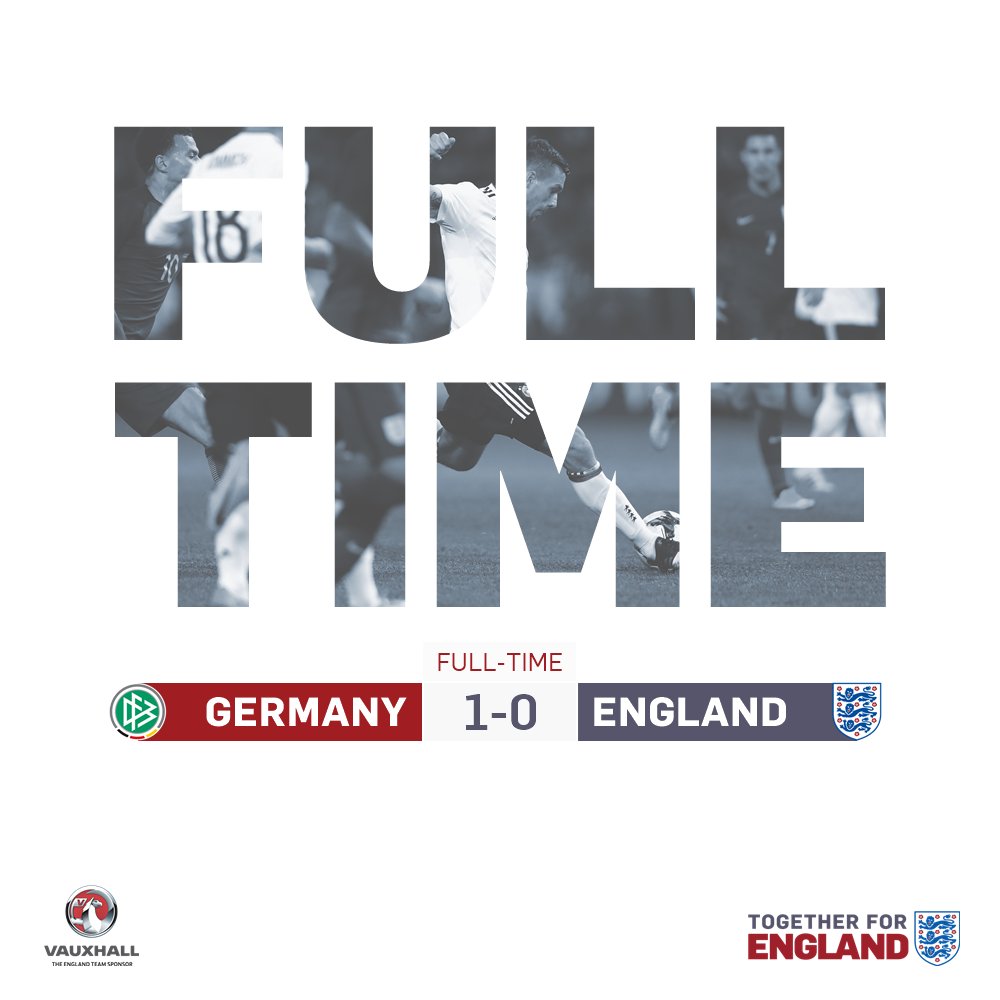 After a brilliant first half and a dominant England performance, Germany managed to snatch the undeserved win through a brilliant strike from their captain of the night, Lukas Podolski.
We were dominant from the beginning, with England constantly on the front foot and causing Germany issues. Southgate implemented a new system with 3 at the back and wing backs. We were unsure of how the team would rise to the challenge. With several Premier League teams switching to the preferred 3 at the back this season, including Spurs and Chelsea, and most recently, Manchester United, the players settled into this new formation brilliantly.
Most of England's chances came in the first half, the first of which fell to Adam Lallana who capitalised on a Germany mistake at the back and drove at the keeper, showing great pace and power. He smashed a low shot towards goal but it bounced back off the far post. The Liverpool player was close to making it 4 goals in 4 games for his country. The other big chance came to Dele Alli who had a 1 on 1 with Ter Stegen but blasted it straight at the Barcelona keeper. A big chance wasted.
The second half was not as good for England as they failed to create as many chances, but the few chances they did create were saved by the keeper or blocked by the German defence. The deadlock was broken by the team that were struggling throughout the game. Lukas Podolski smashed home a stunner from outside the box to mark his 130th and final German appearance with a bang. The night was all about the German international, the ending could not have dreamt of a better way to end his international career.
In the remaining 20 minutes, Southgate decided to make mass changes but it was impossible for the England team to find the goal to bring them level. Once Germany got the goal, they knew exactly how to "shut up shop" and dominate possession, not allowing England to get a touch of the ball, let alone get into the Germany half.
Overall, it is fair to say that the players went out to Germany and done the manager proud on his first official game in charge. Maybe we can be critical of their finishing but their dominant performance against the current World Cup Champions showed brilliant strength and resilience. If we can perform like that in a major competition, I think it's fair to say that there are only bright times ahead for England.
But before we start thinking about the 2018 World Cup, lets turn our attention to Sunday's fixture against Lithuania at Wembley Stadium. Hopefully England can replicate today's performance (but not the scoreline) in Sunday's World Cup Qualifier.