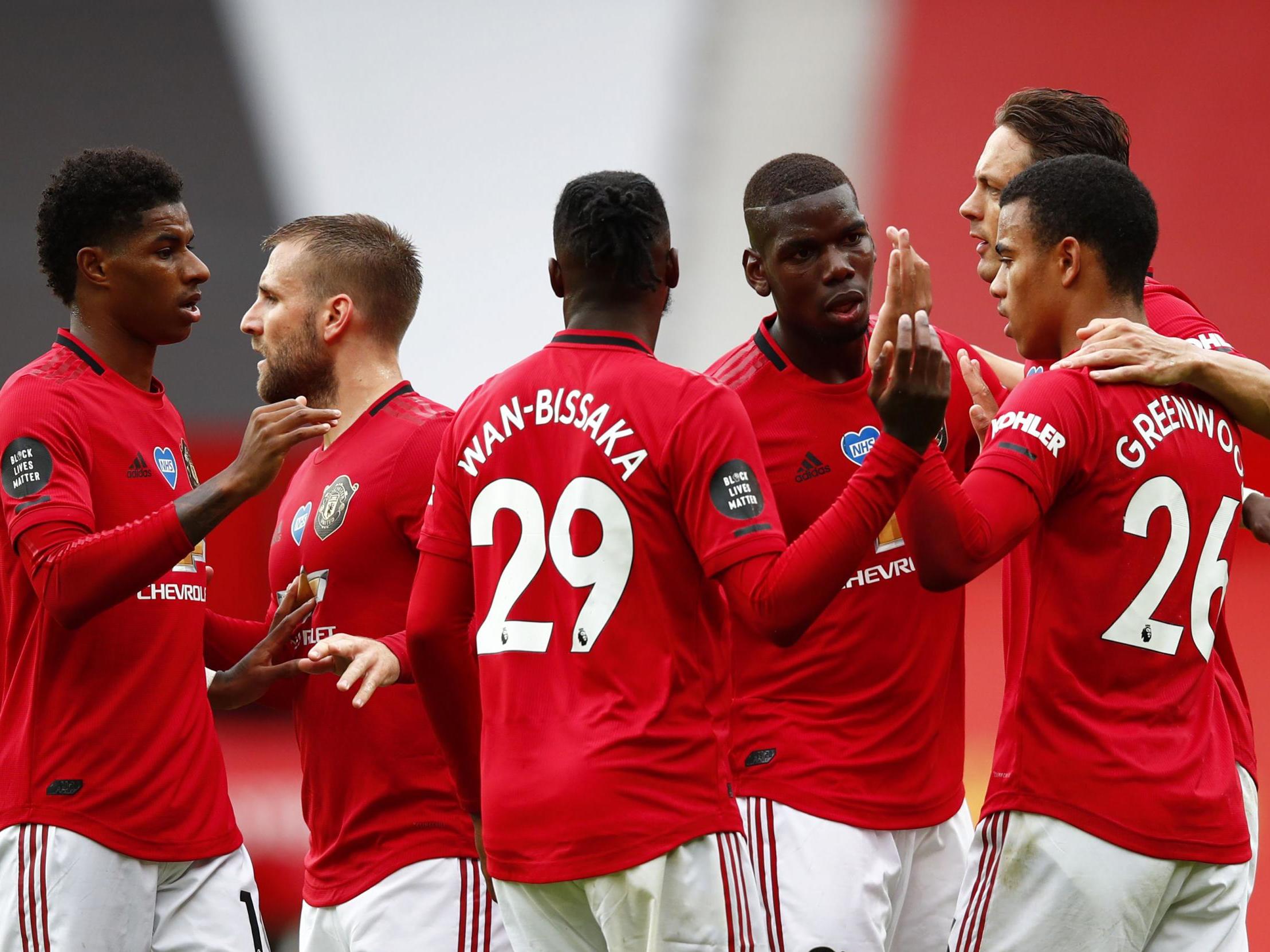 Manchester United have beaten Bournemouth 5-2 at Old Trafford in what was an extremely enjoyable game that takes us forward in our march to claim that UCL spot. We are now 16 games unbeaten with 12 wins and 43 goals scored while conceding just 6, most of them to individual errors. Along with some amazing goals, tricky situations and a great result, this game also showed us many things. So let's take a look at 5 things we learned from this game!
1. Lineup Stability
For the first time since 2006, Manchester United have named the same lineup for 3 consecutive Premier League games. This shows that Solskjaer has found his preferred players and is ready to use that as a base to build what will hopefully become title-winning sides. The lineup is quite formidable too with Mason Greenwood, Anthony Martial and Marcus Rashford playing ahead of Nemanja Matic, Bruno Fernandes and Paul Pogba. It took Ole a lot of time to build this lineup and the work is far from over but we're on the right track and moving ahead surely and steadily. His signing of Bruno Fernandes has been absolutely crucial for the side and his stats speak for himself. Pogba's return from injury has also been key as it has completely changed the look and feel of our midfield. Our passes are slicker, we've been attempting more shots on goal and football, in general, has been very fluid. All in all, some great signs there.
2. Mentality Shift


When we went down early in the game to a sloppy goal, I was very interested in seeing how the team reacts to this. In earlier seasons, our heads would drop and we'd start getting reckless with our passes and attempts. However today, we kept our heads and carried on with our usual game plan. And sure enough, we ended the half at 3-1. Over the last few seasons, the general trend is that we attack, but fail to score. Then the opposition hits back with a cheeky goal, our heads drop, and we end up losing the game. We've seen it all before and often to teams in the bottom half of the table. And while the case can be made that "it's just Bournemouth", we've been dropping a lot of points to teams like this and that's where we needed to improve. We have a good record against the big 6 whereas we failed to beat teams that sat deep and defended. We seem to be unlocking teams with far more ease now. 

3. Multiple Goal-Scoring Sources


This game showed that gone are the days where our entire game relied on Martial or Rashford's form. Earlier, if any of our top players dropped a poor performance, the game was a write-off. Now, when Rashford doesn't step up, Greenwood does. When Greenwood doesn't, Martial does and when none of them do, Bruno steps up. When all of them step up, we witness a game like we did today. If we do sign Jadon Sancho, and we must, we're only improving our goalscoring outlets. Take a look at Liverpool's attack. All three forwards complement each other's game very well and they also step up when one of them has an off day. Another brilliant thing about having multiple attacking sources is that all opposition defenders will have to be their best which rules the probability in our favour.

4. Unbelievable Stats


Manchester United have been putting up some unbelievable numbers, especially since we signed Bruno Fernandes. In the last 4 games, we've scored 13 goals and 11 goals in our last 3 Premier League games. This game was the first time we've conceded a goal at Old Trafford since January. Also, in general, we've conceded the second least goals in the Premier League all season. 
In terms of player stats, Mason Greenwood has scored 17 goals making him the first teenager in the Premier League to score more than 15 goals in a season since a certain Wayne Rooney. Bruno Fernandes has 11 goal involvements in 9 games which is a record in itself as no player has had more involvements since they've arrived at their respective clubs. Rashford and Martial have both had 20 goal seasons and hopefully, that healthy competition carries on for a long time.

5. The Squad Needs More Depth


Now that the plaudits have been given and compliments handed out, let's see where we can improve. The squad depth still needs some work as we looked very average once Martial, Rashford, Greenwood or Bruno get subbed off. It was there to witness even against Brighton and was repeated today as well. Once said players are taken off, almost immediately we look like the team from last season or earlier this season. Our passing is off, chance creation is poor and we've not scored after the above-mentioned players are taken off. This basically shows that we're an injury away from looking like our old selves. This summer transfer window, we need to get some reinforcements and have a big, competent squad that can go 60 games a season over four competitions and produce some trophies for us.