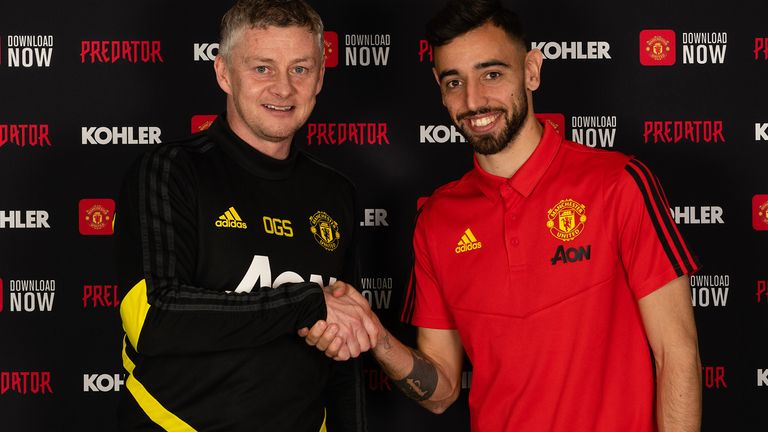 The day Fernandes signed for United was a massive one for their season (Image from Sky Sports)
"Clarets shock United at Old Trafford" read BBC Sport's headline. Less than a year after Marcus Rashford's injury-time winner helped to cap off an emphatic second-leg comeback against Paris Saint Germain to advance to the quarter-finals of the UEFA Champions League, Ole Gunnar Solskjaer's Manchester United side found themselves sitting fifth in the Premier League table with the chance to go three points shy of Chelsea in fourth place, but Sean Dyche's Burnley plunged misery on the Red Devils as they claimed their first win at Old Trafford in 58 years. A disgruntled home crowd saw the hopes of securing Champions League football fading away as Manchester United looked far from being the behemothic beast that once breathed over all of English football.
Six days post the defeat to Burnley, Manchester United announced the signing of highly coveted Portuguese midfielder Bruno Fernandes from Sporting C.P. after weeks of rumours and speculations.
"My love of Manchester United really started when I used to watch Cristiano Ronaldo play and ever since then I have been a big fan of this great club," he told the club's official website.
"For me to now play for Manchester United feels incredible, I have worked hard to get to this moment and I can promise the fans that I will give everything for the badge to help bring us more success and trophies."
Bruno Fernandes signing his Manchester United contract.
Little did fans know that Bruno's arrival on English shores would usher in a new era of jouissance and cast aside days of gloom. In the previous season, the highly-rated midfield maestro amassed 50 goal contributions (32 goals and 18 assists) in 53 appearances in all competitions – astonishing numbers even for an attacking midfielder. While many expected him to have an instant impact, none knew he would turn out to be the missing piece of jigsaw needed for consistently winning games.
On the 1st of February this year, Bruno Fernandes made his debut for Manchester United against Wolverhampton Wonderers in the Premier League, having been gifted a full start by manager Ole Gunnar Solskjaer – a move viewed by many as "bold and pragmatic." With Paul Pogba and Scott McTominay sidelined with injuries and veteran Serbian midfielder Nemanja Matic suspended, it was the Portuguese starlet's opportunity to impress on debut. Deployed in his favoured number 10 role, the Portuguese had 3 shots on target, the second of which was a curling free-kick saved by his compatriot Rui Patricio in the Wolves goal. Despite the game ending in a stalemate, Bruno Fernandes impressed the fans and won the Man of the Match award. In the few weeks that followed, he proved to be a world-class acquisition and managed to successfully change the fortunes of the club. His first goal contribution in a United shirt was an assist for club captain Harry Maguire from a corner kick in the game against Chelsea. Ever since Sir Alex Ferguson left, Manchester United had always struggled to produce goals from set-pieces; but with Bruno's arrival, that problem has, too, been solved. In the 12 games that followed, the club won 9 and drew on 3 occasions.
Bruno Fernandes celebrates against Watford after scoring his first goal for Manchester United.
Since the defeat at home to Burnley, Manchester United have gone 17 games unbeaten. Bruno Fernandes has starred on 15 occasions in that period, chipping in with 8 goals and 7 assists and is yet to lose a game in a Manchester United shirt. His terrific efforts have certainly bore fruition and the Red Devils find themselves only two points shy of fourth placed Chelsea and three points shy of third placed Leicester City in the Premier League standings. They have also reached the FA Cup semi-finals, where they're destined to face Chelsea later this month. But the improvement is not just restricted to domestic progress, Manchester United have also reached the Round of 16 of the Europa League and having thrashed Austrian outfit LASK 5-0 in the first leg, wait for the second leg to beckon.
Since signing for Manchester United, no Premier League player has had more goal contributions than him – a stat which bears testimony to his sheer brilliance. In his first month in England, the talismanic Portuguese won the PFA Player of the Month, the PL Player of the Month and the Manchester United Player of the Month – having won the last of the three awards on 3 successive occasions. As of the 10th of July he has also won the PL Player of the Month for June as well and demonstrated the massive impact he has had on the side. Manchester United find themselves at the helm of the Premier League table, if only the games after Bruno Fernandes' arrival were to be considered. Having contested ten games, the greatest club of English football have won seven times and drawn three games. Prior to Bruno Fernandes' arrival, Manchester United struggled to find the net frequently, averaging merely 1.5 goals-per-game in the Premier League, but since the signing of the Portuguese Magnifico (as the Old Trafford faithful address him), that figure has been risen to 2.2 goals-per-game. His presence on the field, full of bravado, has quite visibly had a significant