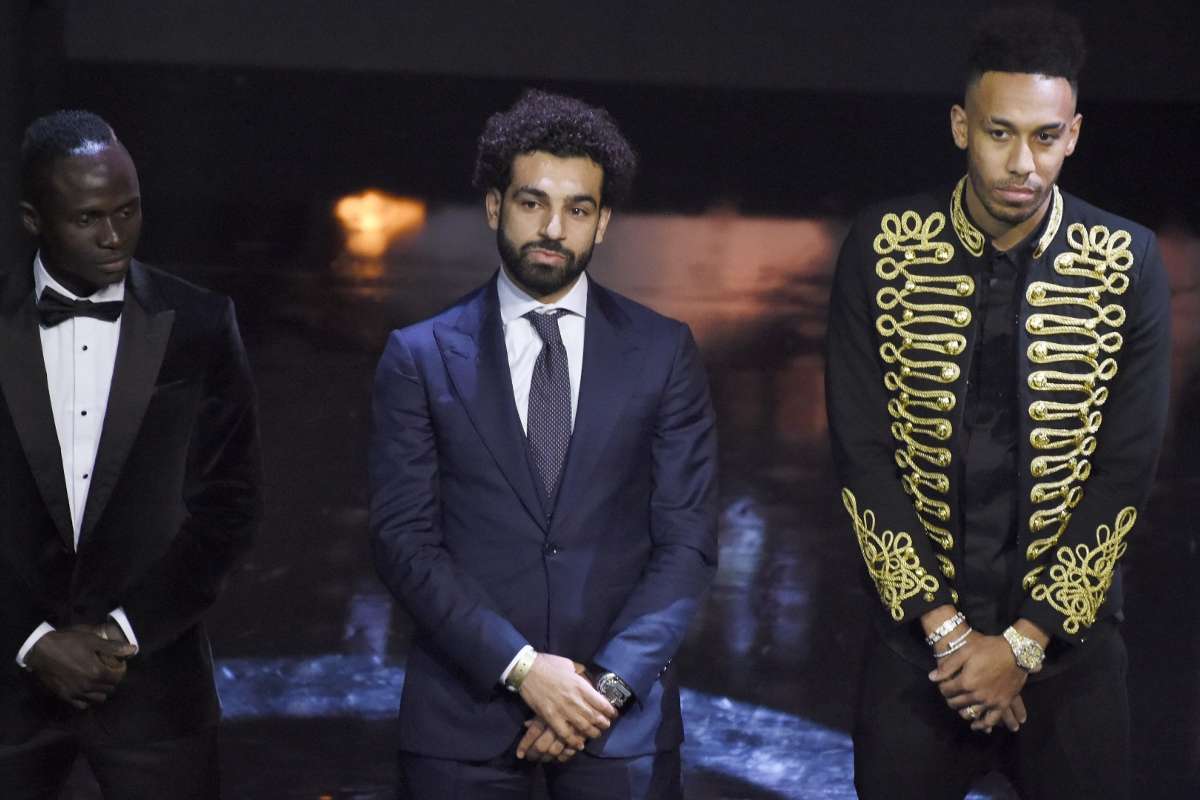 Image from Goal.com
As part two of our continental XI's series of articles, we will be looking at the best African players in the world right now and more than ever, there are hosts of excellent African talents in the top divisions of football and so this may be a difficult challenge to find the best XI. In this case, I will try for a 4-4-2 to mirror Jayson's formation from the previous article.
Goalkeeper: 
Andre Onana (Cameroon)
The Ajax goalkeeper is by far the best African goalkeeper in the world right now and is linked with a big money move to Chelsea this summer. He has demonstrated his ability in the Champions League with some outstanding performances most noteably against Bayern Munich. He has kept 15 clean sheets in 39 games, only conceeding 37 goals in that time. He is still young (24) and so could become one of the best goalkeepers in the world.
Defenders:
Achraf Hakimi (Morocco)
After being allowed to leave Real Madrid on loan in 2018, Hakimi has shone as both a fullback on both sides and a winger for Borussia Dortmund and has made 65 appearances in two years in Germany, providing ten goals and seventeen assists during his time. He is one of the hottest prospects at the moment and it will probably cost Dortmund a hefty fee to sign Hakimi after his loan ends at the end of the season.

Kalidou Koulibaly (Senegal)
Koulibaly has established himself as one of the best defenders in the world and Napoli currently values him at £100m which should disuade anyone from trying to purchase the Senegal international. He has made 233 appearances for Napoli including 25 in the Champions League. While this season, Koulibaly and Napoli have struggled, last season Koulibaly and Napoli kept 19 clean sheets in 48 appearances in all competitions and he certainly would be a quality signing for any team.

Joel Matip (Cameroon)
A close call between the Liverpool defender and Getafe's Djene but Matip gets the nod as he has been an excellent servant for Liverpool and I do think he is currently the best partner for Van Dijk as he is more consistent than Gomez at the moment. He has shown his goalscoring threat and his ball-playing ability alongside being a strong defender with good instincts. It is a shame that personal reasons have meant he has not played internationally sicne 2016. I personally think his efforts for Liverpool have been underrated at times due to how Van Dijk has shone.

Serge Aurier (Ivory Coast)
It was a coin toss between Aurier and Ghoulam with Ghoulam playing on the left and pushing Hakimi onto the right. But because Ghoulam has only featured five times this season and Aurier has played 33 times and has been excellent at times for Spurs, especially in attack having scored twice and set up seven more goals. He has shown his limitations in defending but under Mourinho he has the ability to improve dramatically.

Midfielders:
Wilfred Ndidi (Nigeria)
Ndidi has shown for the last couple of years how excellent he is as an anchor for Leicester City. He has established himself as one of the best young defensive midfielders in the world and with Leicester's resolute mindset of only accepting massive transfer sums for their players, Ndidi is likely to be a mainstay at the heart of the Foxes' midfield.

Idrissa Gueye (Senegal)
Idrissa Gueye was being relegated with Aston Villa not too long ago, Gueye moved to Everton with high hopes to improve Everton's European challenge but inevitably failed at a successful challenge for a European trophy but nevertheless, Gueye flourished and became an exceptional player and was courted by PSG last summer and finally got his chance at European football after a £30m move to the Parcs des Princes and has become a shoe-in alongside Verratti in the midfield.

Sadio Mane (Senegal)
From Red Bull Salzburg to a Champions League winner for Liverpool, Mane has risen to a world class winger. Another Southampton player moved to Liverpool in 2016 as Mane snubbed Manchester United the year before and was an instant success at Liverpool as he was their top goalscorer that season with 13 goals in 29 games in all competitions. He has hit double figues in all six of his Premier League seasons (2 with Southampton and 4 with Liverpool) and is probably Liverpool's most valuable attacking player.
Riyad Mahrez (Algeria)
A meteoric rise at Leicester City saw Mahrez become one of the best wingers in the Premier League as Leicester won the title in 2016 and Mahrez won the PFA POTY for his efforts for the Foxes. Moves to Arsenal and Manchester United looked on the cards in the 2016 summer and another move to the Emirates was hinted the following year too but unhappy Mahrez was eventually allowed to leave for Manchester City in 2018 for £65m and while he has had more competition for his starting place, he is beginning to make the right wing position his own in Sane's absence and if Sane leaves for Bayern, Mahrez is just as good as anybody to start for City.

Forwards:
Mohammed Salah (Egypt)
No one expected Salah to become the player he is today. No one. The fact that he has scored 91 goals in 144 games is astonishing, especially his debut season in which he amassed 44 goals in 52 games. While his numbers have dropped substantially over the last two seasons, there is no doubt he is an excellent goalscorer that would get into most teams in the world.

Pierre-Emerick Aubameyang (Gabon)
Aubameyang moved to Arsenal in Wenger's final season for a fee of £65m and inherited Thierry Henry's no.14 shirt when he moved from Dortmund in 2018. He did the shirt justice as he has bagged 61 goals in just 97 appearances for Arsenal and has become one of the most clinical finishers in the Premier League. He won the Golden Boot last year alonside Mane and Salah and has never looked like stopping scoring. He looks set to leave Arsenal in the summer and as he is entering his prime years as a footballer, why waste them at this Arsenal side when he could be starting for Real Madrid or PSG. With 257 goals in 493 senior career appearances, he is undoubtedly one of the best strikers in the world.
Manager: Djamel Belmadi (Algeria)
The latest African Cup of Nations winning manager gets it for me. Close call between him and Aliou Cisse for the work he has done to make Senegal a world cup qualifying team but Cisse will be the runner up like he did against Belmadi's Algeria in the ACON final. He has twelve trophies as a player (2) and a manager (10) and so will hope to guide Algeria to glory again.


Image from Buildlineup.com