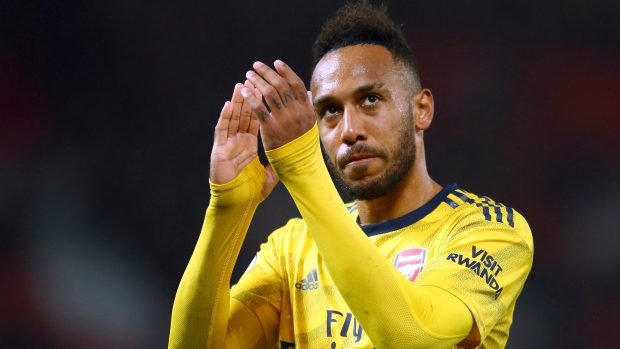 Image Source: TSN
Pierre-Emerick Aubameyang is reportedly on the transfer market and his new price-tag, a surprising £35m, has alerted a lot of clubs including Barcelona and Manchester United. However, there are other reports saying he'll cost upwards of a £100m but considering his contract expires next year, anything north of £50m is too much for a 30-year-old player who is in the last year of his contract. With United having issues with Shanghai Shenhua's stance on Odion Ighalo, we should be looking for other options in the centre-forward role.
This transfer feels like a deja vu as it seems familiar to the whole Van Persie saga. While there are similarities, the context is very different. United were fighting for league titles back in 2012 while we're fighting for top 4. We needed a proved goalscorer to win us the league whereas now we're looking for a striker who can rotate with Rashford and Martial. However, our last transfer with Arsenal was a bit of a disaster for both teams. 
Should United go for him?
Short answer – Yes, Manchester United should absolutely go for Aubameyang. We are looking for a striker who is experienced as we have young forwards in Marcus Rashford, Anthony Martial, Daniel James, Mason Greenwood, and maybe Jadon Sancho. Aubameyang being 30 years old with about 2 more years at the top remaining makes him the perfect fit. Ever since the Gabonese has made his debut in the Premier League, he has hit the ground running, winning the joint Premier League Golden Boot last season with Sadio Mane and Mohammed Salah. He's also second in the Golden Boot race for the 2019/20 season, behind Jamie Vardy by two goals. Considering Arsenal's current form, being in the race for the Golden Boot is quite an achievement. In all competitions, he has 20 goals with goals coming against teams like Tottenham, Chelsea, Manchester United and Wolves. Another benefit of signing him is that reports say that Arsenal will need to offload players in order to sign more players and getting a player of his calibre from a direct rival is an excellent bargain. We're improving our side by parallelly weakening a rival. Another reason we need him is a midfield with Paul Pogba and Bruno Fernandes pinging balls into the final third and we just need someone to finish those chances off. Aubemyang is excellent at that exact role. 
I feel United should be in for the transfer if we get him for under £50m. Any more will impact other important signings that we'll make. So far there has been no contract on the table for Auba and his real stance on his potential transfer will be known if he accepts or rejects the contract. We should definitely start talking to the player and agent because this is the kind of transfer that could take time to materialise. Either way, it would be a really smart move to sign Aubameyang as we'll have a reliable finisher that can give us about 15-20 goals a season.