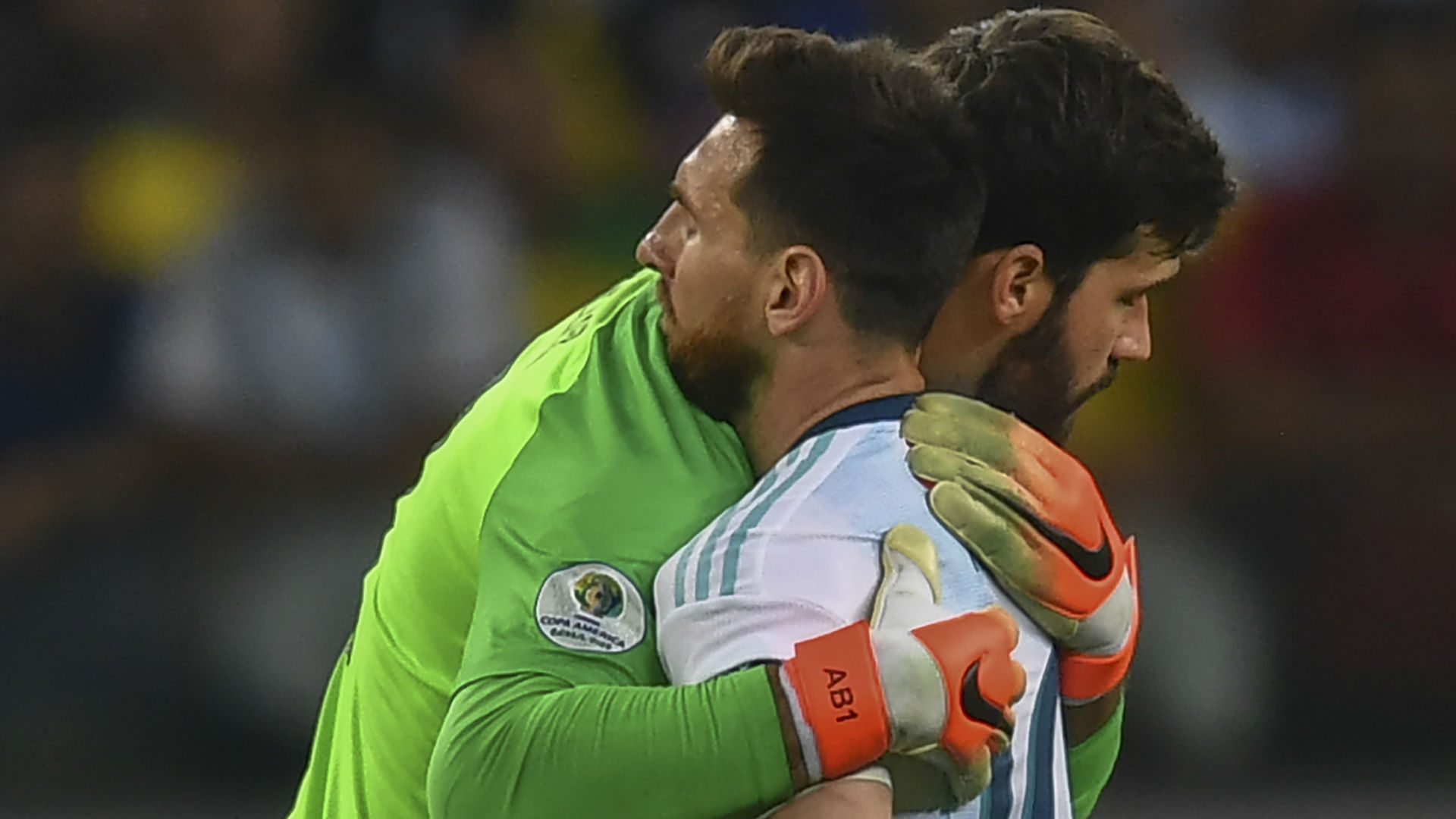 Image from Goal.com
Continuing our look at the Best XI from each confederation, Jayson Love takes a look at what a combined XI from the best players of the South American CONMEBOL federation might look
like. As we did with CONCACAF and CAF, we chose a manager and footballers that represent at
least five countries in the region. All players would be eligible and active to play immediately, players who have retired from international football were not considered.
In selecting the XI, we valued the player's contributions to his national team, and wanted a mix of veterans with youth in our squad. Here is our XI for CONMEBOL:
Goalkeeper:
Alisson – Brazil
World-class shot stopper, Alisson has been at times considered the best shot stopper in the Premier League since his transfer fee record-setting move to Liverpool in 2018. Allison has featured 44 times for Brazil since his debut in 2015 and is the clear cut first choice for Brazil.
Defenders:
Dani Alves – Brazil
The Brazillian legend still has it at age 37. After successful stints in La Liga and Ligue 1, Alves returned to Brazil to play for Sao Paolo to make 20 appearances in 2019. At age 36, Alves captained the Brazilian team for Copa America 2019, and was named the tournament's most valuable player as he led Brazil to the championship. Alves has starred at some of the biggest clubs in the world: Barcelona, Juventus, and Paris St-Germain. Alves has featured for Brazil 118 times since 2006 and has lifted Copa America and the Confederations Cup twice each.
Diego Godin – Uruguay
Godin has been representing Uruguay in international competition since 2005. Godin made 277 appearances for Atletico Madrid, anchoring the back line of one of the best defensive clubs in the world in one of the top leagues in the world. Godin is an exceptional reader of the game, and always seems to be in the right position to stop opposing attacks and at 34 is still a regular in a competitive Inter Milan side.
Thiago Silva – Brazil
At age 35, it is certainly the back-end of Silva's career, but he is still one of the best players on the planet. Other-wordly skill offensively combined with the intelligence to read the game defensively make Silva an anchor of any backline. Since 2012, Silva has starred at French giants Paris St.-Germain where he has won the league seven times and has won 21 trophies overall. He has featured 89 times for Brazil and was part of the 2013 Confederations Cup championship team, and the 2019 side that won Copa America where he was named as part of the tournament's best XI.
Gary Medel – Chile

The Chilean legend is usually deployed at defensive midfield but as been utilized at the defender and has done so in some of his country's biggest games. Still just 32 years old, Medel has appeared in 126 matches for Chile since debuting in 2007 at just 19 years of age. Medel was a key part of the squad that won Copa America Centenario (2016) and was named as part of the best XI as a defender for that tournament. In the final, he anchored the back line that held tournament favorites Argentina goalless. Also he was involved in one of the most ridiculous fights as seen on the right:
Midfield
Fernandinho – Brazil
Fernandinho debuted for the Brazilian national team in 2011. He has tremendous speed to be able to track back in defence and can routinely change match with the long range strike or a perfectly weighted longball. Fernandinho has been a part of three Premier League winning teams for Manchester City, and helped Brazil lift Copa América in 2019.
Carlos Henrique Casimiro – Brazil
With all this firepower in the midfield, we could certainly use some defense in the midfield and we will take one of the best in the world. Casimiro anchors the Brazilian midfield as well as the Real Madrid midfield in La Liga. Casimiro does all the dirty work you would want in a defensive mid – hard tackling, reads the game, anchors your midfield.
Philippe Coutinho – Brazil
Simply world class. Coutinho has brought his long range strikes to Liverpool for 152 caps, to Barcelona where he made 52 appearances and now features for Bayern Munich. Coutinho was part of the Best XI for the 2018 World Cup, and has scored 17 goals for Brazil. He opened the scoring at two separate World Cup matches, scoring first against Switzerland and tallying against Costa Rica five days later. He won Copa America with Brazil in 2019.
Forwards:
Neymar – Brazil
Stunning skill can turn a match on its head at any time. The world-class goal scorer has averaged over 60% of a goal per game for club and country. Likely to move to Spain in the summer and no doubt his form will not dip.
Lionel Messi – Argentina
Enough said.

Luis Suarez – Uruguay
This region has so much talent up front and Suarez is one of the best. Suarez has capped 113 times for his country since his debut in 2007, and has averaged over a half a goal a game. He scored 81 goals for Ajax before moving to Liverpool where he scored 69 times. Since 2014, he has teamed up with Lionel Messi at Barcelona to form one of the most dynamic strike-duos in the world.
Manager:
Tite – Brazil
Our squad is mostly from the CONMEBOL super power Brazil, so it makes sense to have the man most familiar with our players manage the squad. Adenor Leonardo Bacchi, better known as Tite, has managed Brazil since 2016, and won Copa America in 2019.
Image from Buildlineup.com