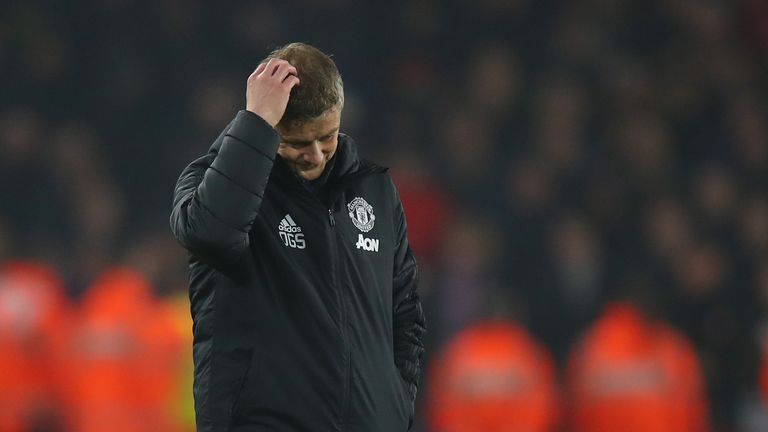 Image from Sky Sports
A mixed bag for Manchester United as they settled for a 3-3 draw at Bramall Lane on Sunday after a late Ollie McBurnie goal denied United a stunning comeback from 2-0 down. Here's how it went down:
Manchester United made one change to the side that beat Brighton comfortably with the injured Scott McTominay swapped out for Phil Jones who made his first Premier League start in a back three. Sheffield United made two enforced changes with Dean Henderson unavailable to face his parent club and Egan also unable to play, Simon Moore and Phil Jagielka came in for their first starts this season.
De Gea, Wan-Bissaka, Lindelof, Maguire (c), Williams, Fred, Pereira, James, Rashford, Martial
Moore, Baldock, Basham, Jagielka, O'Connell, Stevens, Lundstram, Norwood (c), Fleck, Mousset, McGoldrick
Throughout the first half, Manchester United had the majority of the possession but offered nothing going forward with poor midfield play and no movement at all from the front three. United were given an early warning as De Gea was forced into a spectacular double save to deny Lundstram at first and a point-blank header from McGoldrick but United failed to learn from their errors. A punt downfield led to a battle between Jones and Mousset which the Frenchman won and bundled Jones over, proceeding to set up Lundstram but De Gea denied him again but only to be followed up by Fleck to open the scoring. United kept playing sluggish, toothless football until the half and something had to be done or United would sink even further. 
Unlike what many fans expected, Jesse Lingard came on for Phil Jones to change the formation to a 4-2-3-1 in an attempt to get back into the game. This failed for the first 25 minutes of the half in which seven minutes in, Mousset and Fleck carved through the United midfield and the Frenchman passed the ball passed a helpless De Gea to double their advantage. United looked dead and buried until a goal out of nowhere from Brandon Williams, who swept the ball into the bottom corner to halve the deficit. Solskjaer then put on Mason Greenwood for Andreas Pereira, who was atrocious all game, and almost instantly scored his first Premier League goal from a brilliant Rashford cross and equalised with 13 minutes to go. Not long after, James and Martial linked up brilliantly and the Welshman cut it back to Rashford who got United ahead for the first time in the game and the away crowd was sent into delirium. All United needed to do was either score another and seal the win or dig deep and hold off. Solskjaer decided for the latter approach bringing on Axel Tuanzebe for Martial with five minutes to go and if they held on, United would leap to fifth place and within seven points of Chelsea in fourth. It was not to be as Ollie McBurnie scored a controversial late equaliser which was checked by VAR and although it struck the top of his arm, it was allowed and the Blades and Red Devils shared the points in a tense standoff late on. 
Overall, most fans expected United to draw or lose the game due to injuries to Pogba and McTominay as well as the good form Sheffield United have had this season but did not expect such a sorrowful performance for the majority of the match. However it is fair to say that United showed a lot of strength and backbone to get back into the game, managing to score more than one goal away from home for only the second time this season and realistically, as Solskjaer said after the match, the team last season would have lost this game badly and shows that there is still something in this squad, but is certainly not able to do it without some investing in January. Another point on the VAR call is that although I would not give these calls as penalties, VAR is supposed to be consistent throughout the season and despite the dodgy handball rules that are still present, VAR should be consistent with these rulings and the fact that those exact circumstances have happened and goals have been overruled demonstrates the issues that still need solving with the current use of VAR. Nevertheless first angry, then sad, then ecstatic and then deflated while watching that game, United drop down to ninth as they will travel to face Astana with a reportedly very young squad to keep match fitness and give experience ahead of a busy Christmas period.
Here are the player ratings:
David de Gea 8/10
Back to his best but helpless for the goals he conceded. Stunning saves throughout the game, excellent distribution and showed his urgency to take a throw in while United aimed to get back into the game. One of the few players that showed urgency and consistency throughout the game.
Aaron Wan-Bissaka 6/10
Did well defensively as Sheffield United did try and avoid his side and target United's left. Offered very little in attack though and must improve on this part of his game. He is young and has time to do so. 
Victor Lindelof 6/10
Average performance in general but did have nervy moments again. Seems to need to jump start his season, especially coming into the Spurs and City games. 
Harry Maguire 7/10
Average as well but gets a slightly higher rating as he was authoritative and commanding all game. Screaming at James for being static, Fred and Pereira for being passive and failing to put a ball in the box from a corner and giving encouragement to Williams and Greenwood to keep plugging on while they fight to keep their lead. 
Phil Jones 1/10
Wow…he was that bad. Thought coming into this game he would try and show his worth for the team. He did prove his worth…NONE. Awful performance, totally at fault for the first goal and got hauled off at half time. Will be gone by the summer if not in January but has to be replaced nevertheless, 
Brandon Williams 7.5/10
Nervy at times as his side was targeted but did alright for the most part and opened his United account with a sublime finish. He will try and keep Luke Shaw out of the team now too after already displacing Ashley Young and looks to be a very promising player. 
Fred 6/10
The better of the midfield two and did play some forward and promising passes and looked the more comfortable in midfield. He has had better games but has had significantly worse ones too. This needs to be added to his learning curve.
Andreas Pereira 2/10
This is not his position. It is very clear that Pereira cannot be the player to dictate a game from the heart of midfield. It seems that he can either be a ball-winning midfielder in a midfield three or a number 10 in an open game of football, he is not cut for these types of matches and it showed.
Daniel James 7.5/10
Made some decent runs and set Williams and Rashford up for their goals well. Another learning curve for him but good when it counted.
Marcus Rashford 8/10
Great cross to set up Greenwood and took his goal just as well. Kept up his good run and is United's top goalscorer so far this season. 
Anthony Martial 5.5/10
Tried to get things going but ultimately did not offer too much going forward. Just a bad day at the office from him, no doubt he will get back to his best soon.
SUBS:
Jesse Lingard 6.5/10
Despite not scoring or assisting, it was undeniable that he made an impact and linked the defence with the attack better than anyone had previously. Has to be hungry for that goal as his confidence is reliant on it. 
Mason Greenwood 7.5/10
Lively and took his first Premier League goal well. Learning more and more with every performance and will be a valuable asset this season and hopefully for many to come. 
Axel Tuanzebe N/A
Did not have much time to effect the game.