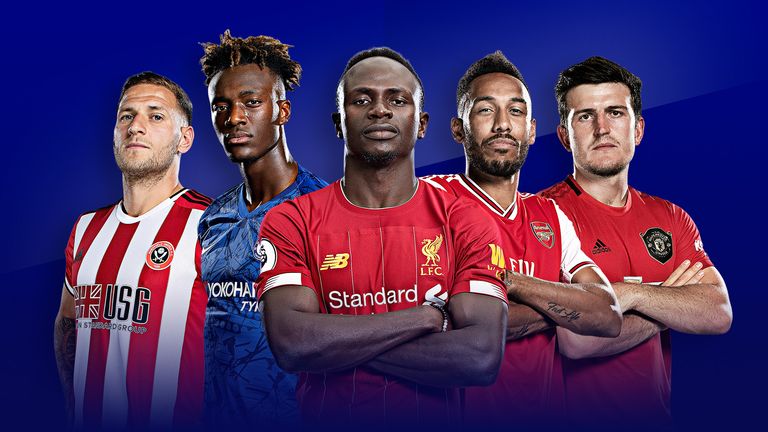 Image from Sky Sports
Some great games of football last weekend; Jose's first game for Spurs, Sheffield United's 13 year reunion with the Red Devils, Liverpool's bogey team and Emery's last chance? Here are the results:
West Ham vs Tottenham 2-3
Crystal Palace vs Liverpool 1-2
Arsenal vs Southampton 2-2
Everton vs Norwich 0-2
Watford vs Burnley 0-3
Bournemouth vs Wolves 1-2
Brighton vs Leicester 0-2
Manchester City vs Chelsea 2-1
Sheffield United vs Manchester United 3-3
Aston Villa vs Newcastle 2-0

Here are the grades:
WEST HAM 6.5/10
Reliant on Rice and Noble to get things going but failed to make any chances they had count. Defensively all over the place and their goalkeeper is awful. Might have wanted to keep Joe Hart and Adrian now. Did alright to get back into the game with Antonio leading the charge but to no avail.
TOTTENHAM 8/10
They got back to firing on all cylinders which is the most important thing. A few things to iron out but overall a decent debut performance.

CRYSTAL PALACE 7/10
Unlucky. All I can say on the matter of VAR in this case but could have caused more problems than they did.
LIVERPOOL 7.5/10
Consequently, Liverpool were lucky which may be a sign of what is to come with 25 games to go and they will just keep winning? We shall see…

ARSENAL 5/10
Booed off at the end and deservedly so. Emery could leave in the next few weeks if nothing changes. Norwich caused a shock to Everton, could they get Emery the sack next weekend?
SOUTHAMPTON 8/10
After being 9-0'ed by Leicester, they look a better team and seem to have woken up. This is a match they have to build on if they are to survive. They must beat Watford next week or all their work will have gone.
EVERTON 2/10
Tragic display at home too! They lost to a Norwich side that have been carved apart recently and the Toffees couldn't even score a goal. Does Silva look out of his depth? Maybe. The Leicester game will show how far.
NORWICH 9/10
Excellent result for Norwich but how long will it last? If they get hammered by Arsenal they could be straight back in it so must build on this win.
WATFORD 3/10
Awful defensively again. The big men of Burnley dominated and it showed. Not even the back five could stop them. It's a big clash against Southampton coming up and they have to win it. But they probably won't.
BURNLEY 8.5/10
What happened to the Burnley shredded apart by Chelsea and Sheffield United? They have reset back to the Burnley that batter teams with their physicality and aerial dominance. In the next ten days they have Manchester City and Tottenham to play and if they can nick points of them they could maintain their challenge for Europe.

BOURNEMOUTH 4/10
Seems the United win was a one off as they have sunk back to their toothless self. Even with the red card they conceded two goals before Francis left the field and registered only two shots on target. Trouble looms.
WOLVES 8/10
Another standard Wolves win. Jimenez and Moutinho starred and they almost cruised to the win.
Big game in Europe for them to claim top of the group coming up.
BRIGHTON 4/10
After a very good run they have had a couple of bad games against Leicester and United and could struggle with Liverpool, Arsenal and Wolves to come in the next ten days. They will want to get something from that run or could sink further down the table.
LEICESTER CITY 8/10
They don't look like stopping soon. A great performance again and they have played most the big teams now and have a good run of games before facing Man City in mid-December and should get three points from all of them.
MANCHESTER CITY 7.5/10
An alright performance from Man City. Could have been better but challenged well by Chelsea. Will want to have a more convincing score against Newcastle but still fighting to displace Liverpool in first.
CHESLEA 6/10
Decent performance but outclassed at the end. A defensive error allowing Mahrez to cut in but struggled to get back into the game.
SHEFFIELD UNITED 8.5/10
Great performance bar 15 minutes as they dominated United with their physicality, confidence and general tactics. Unlucky not to win but luckier to draw in the end with VAR not overruling their late equaliser. Overall a deserved point.
MANCHESTER UNITED 6.5/10
Tragic performance but showed backbone to come back from it. Rashford, James and Williams shone in the attacking frenzy United got into with 20 minutes to go and scored three excellent goals. Defensively all over the place and the midfield showed no real signs of life. Pogba and McTominay were sorely missed and United may need another central midfielder to make way for Matic's departure as what United have right now is clearly not enough.
ASTON VILLA 8/10
Great performance at home with some sublime goals to add. Dominated all over the pitch and the goalkeeper was called into some great saves too. A great confidence builder ahead of their first trip to Old Trafford since Rashford relegated them in 2016. They will want to bite back.

NEWCASTLE 5/10
Disappointing return for Steve Bruce but Saint-Maximin looks better and better with every game and Shelvey added some quality too. Joelinton looks truly out of form and should make way for another striker in January. His gameplay can be replaced with someone who also adds goals.