Image From Sky Sports
Manchester United renewed their intense rivalry with Liverpool as the game concluded with a scoreless draw at Old Trafford in an attempt to hold off the Reds' league title race against Manchester City.
United had a disaster of a start when they gifted Liverpool an indirect free-kick when Young attempted a backpass to David de Gea, which could have lead to much worse than just a foul. The first-half horror show continued as Man Utd were forced to use all three of their substitutions in the first 43 minutes when Juan Mata and Ander Herrera picked up heavy knocks. Andreas Pereira and Jesse Lingard, who just recently came back from injury, came on for Ander Herrera and Juan Mata respectively. Rashford clearly picked up an injury early on as well but did not come off and was forced to play the full 90 minutes despite clearly struggling. Jesse Lingard re-injured himself minutes before half-time as he was clearly not 100% match fit, resulting in the England international following Herrera and Mata's footsteps down the tunnel as he was replaced by Alexis Sanchez.
Four substitutions were made during the first half, three from United and one from Liverpool (Firmino off for Sturridge). Losing Ander Herrera was a huge blow to United as the Spaniard was playing excellently in recent weeks by controlling the midfield, breaking up plays and selflessly put his body on the line against the opposition, so it's fair that to say it was a bit of a scare for the United fans to lose him so early on.
Nevertheless United played excellently in the second half, allowing Liverpool to dominate possession where it didn't matter and defending well where it did. In fact, United had the better of the chances and were unlucky not to score several times but regardless, a 0-0 draw after such a torrid first half seems to be a good result.
But what all have we learned from Manchester United battling Liverpool?
Here are some talking points from the clash between the two biggest clubs in England, Manchester United and Liverpool.
Scott McTominay Holding His Own. The New Darren Fletcher?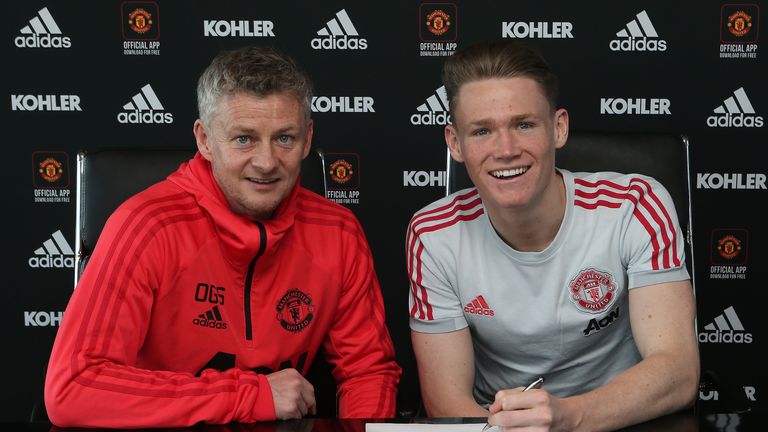 Image from Sky Sports
Many Manchester United supporters were worried about Matic picking up an injury during training this week, ruling him out of the big match and questions were asked when McTominay was named as the replacement for Nemanja Matic. The young Scottish international put in a big shift for his team and proved why he deserved to have a new contract for Manchester United. In fact, nobody on the pitch made more blocks, interceptions or recoveries than the Scottish lad.
Manchester United Players Fighting for the Badge Again.
Many, many months ago some supporters were saying that there aren't many players in the squad who want to fight for the badge or know what it means to be a United player but today proved that they play for the badge, the club and the fans as much as any team would. With Man United playing with what felt like 10-men for the majority of the game, they held their ground and gave Liverpool a very hard time in the final third. Most notably by two born and bred Mancs, Marcus Rashford, who picked up an injury within the first ten minutes of the game, and Lingard who wasn't even 100% fit and fought for the time he was on and could have opened the scoring. Rashford finished strong all the way though the game despite limping. Absolute warriors, as were everyone in red today.
Investment and Development is Key for Next Season and the Current Situation.

With Martial, Matic, Herrera, Mata, Lingard and potentially Rashford now injured, Manchester United will need to learn from this setback and invest in more in the club next season and by that I mean spending a large amount of cash in the summer transfer window on good first team players and prospect players as well. Reported offers for Ndombele, Bergwijn, Memphis and Sancho make the eyes of United fans across the globe widen with such good, young prospects up for grabs.
They will also need to find replacements now due to the current injury-list in the midfield and wide areas. Solskjaer will be expected to be looking at some of United's youth players and add them to the training squads for their matches against Crystal Palace, Southampton and potentially PSG. Expect names such as Chong, Garner, Greenwood and Gomes could be added to the squad in the coming week(s).
Lindelof-Smalling Pairing Should Continue for the Reminder of the Season.
Smalling, Shaw and Lindelof (left to right)
all peformed exceptionally against Liverpool
Image from Zimbio
Lindelof and Smalling were great against Liverpool (as well as Luke Shaw) as they not only kept a clean sheet but silenced Salah and Mane for basically the whole game. All three defenders had a great game and looked very positive in their handling of very good players. Lindelof created space for himself, aiming to get the ball moving forward and found positive passes in an attempt to build counter-attacks. Luke Shaw was so good today, Klopp had to haul Salah off and try another player to get the better of Shaw, but the England international seemed unstoppable today.
Here are some of the post-game talking points for you and now Manchester United, their supporters and myself are hoping to pick up all three points and return to Top Four with a win against a dangerous Crystal Palace team this Wednesday.