West Ham United vs Manchester United Preview
Image from PicksSoccer.com
Right. Before I start to predict how the teams will line up and what the score of the game will be tomorrow at the London Stadium, let's first address the elephant in the room – Pogba vs Mourinho. 
This has been the biggest football story that has been circling social media and the papers for the last week following United's home draw to Wolverhampton Wanderers. It began with a message from the then vice-captain, Paul Pogba, claiming that United needed a more attacking mentality against Wolves to overcome Nuno Espirito Santo's excellent possession throughout the game. This then sparked rumours that Pogba would 'never captain United again'. This was half true as Jose admitted that Pogba was no longer vice-captain as the Portugese manager openly declared in the build-up to the Carabao Cup tie against Derby County. With Paul Pogba in the stands alongside Andreas Pereira and Luke Shaw, United were out-performed by Frank Lampard's side as a Marouane Fellaini header rescued United to a 2-2 draw after Juan Mata's early opener was negated by goals from Harry Wilson and super-sub Jack Marriott. However, after fifteen perfect penalties, Phil Jones had his shot saved by Scott Carson and Derby progressed. Jose came out and said that United were not clinical and even said he was worried for United's chances of progressing when Jones and Bailly might have to be called upon to take penalties. Finally, a video from United's training ground shows a clear spat between the two as Mourinho seems to ask Pogba to leave training, a video which got 2,000,000 views in the first hour of publishing. The maelstrom of press directing their stories at United and Mourinho cannot be helping ease the pressure for either parties as the seventh league game of the season approaches. 
This situation MUST be resolved before the game as Jose needs his players on his side, especially someone as big and vocal as Pogba is in the dressing room. From last summer, Pogba was dubbed 'Agent P' by the fans as he helped in bringing Lukaku to the club as well as increasing odds of the likes of Antoine Griezmann, Kylian Mbappe or Raphael Varane to join him at United. And now some of those same fans are baying for blood and for the former Juventus man to leave and prevent this issue from continuing. Mourinho needs to have talks with Pogba alone and sort this mess before it becomes another player revolution under Jose in his third season. Jose has come out and said that no player is bigger than United, which is how it should be in football and no player has the right to extort or dictate how a club is run or how tactics should be changed but still insists there is no breakdown in theirn relationship and so Paul will be a player but not captain. With this reasoning, Jose stated that Pogba starts the game as a way to demonstrate there are no issues and hopefully to put all of this turbulence behind the Red Devils and focus on the games ahead.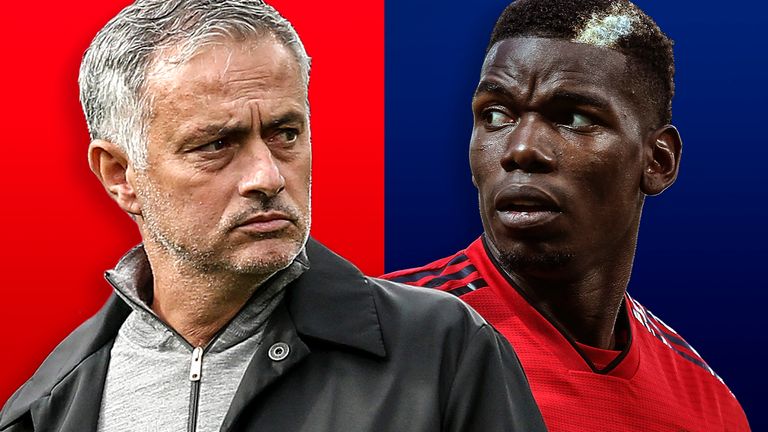 Pogba will start against West Ham and hopefully end the 'feud' the press overhype about
Image from Sky Sports
Now onto the fixture news; Nemanja Matic and Marcus Rashford are both back from suspension and are likely to have some role in the announced eighteen-man squad with Matic likely to start alongside Fellaini and Rashford finding a familiar role on the bench. Sanchez might return to the side for Lingard who was not his best against Derby, while Anthony Martial and Juan Mata looked dangerous only one is likely to start against West Ham. There should be full-scale changes at the back as the Premier League side returns to its original defensive lineup of De Gea, Valencia, Smalling, Lindelof and Shaw, with Lukaku keeping his place despite a below-average performance against Derby and Wolves for that matter. West Ham were excellent against Everton and even more so against Chelsea and might fancy themselves tomorrow with so much turmoil at United. However they still are without Lanzini, Carroll, Wilshere and Reid who are all injured. Marko Arnautovic and Chicarito may be fit with the latter more likely to recover from his illness than Arnie is with his knee injury. Zabaleta was excellent against Eden Hazard and Masuaku even more so against Willian so United must be smart to overcome the imporving fullbacks for the Hammers. Declan Rice is a weak point as he is mistake-prone and could be easily outmatched by Fellaini's strength and Pogba's skill and trickery.
Normally United bail themselves out of trouble after a series of bad results and optimistically I'd say they will do so tomorrow. It's such a big game to get three points from especially with big games against Chelsea, Everton and Man City coming up and back-to-back games against Juventus sandwiched between them and hopefully United have the nous and willpower to overcome a good Hammers side. If not, it could be curtains for either Mourinho or Pogba…
Predicted Lineup: De Gea, Valencia (c), Smalling, Lindelof, Shaw, Fellaini, Matic, Pogba, Sanchez, Martial, Lukaku
PREDICTED SCORE: 1-2 to United
Comment below if you disagree or what you think the score or lineup should be.