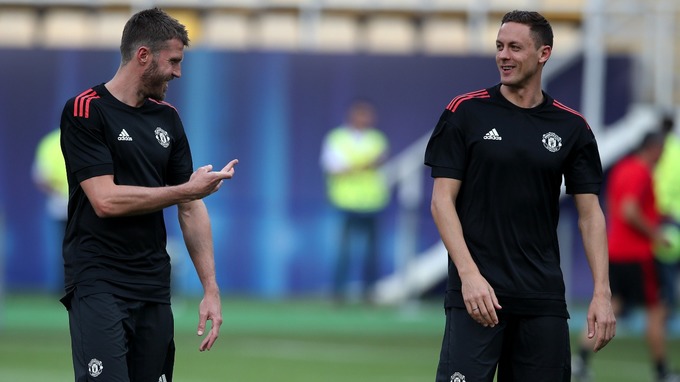 Almost two years into his time at Old Trafford, Jose Mourinho's style is taking form at Manchester United. With a very average defence, we seem unmatched at the back. Despite having Smalling and Young in the squad, we have been keeping clean sheets almost regularly. Even upfront, we are seeing two amazing dribblers in Sanchez and Martial on either flank. Among all of this, Jose Mourinho absolutely loves a strong midfield. 
Starting from his glory days at Chelsea, Makelele made a position his own in the middle of the park. At Inter, Thiago Motta and Cambiasso put in shifts during their treble winning season. Over at Madrid, he made Sami Khedira look like Patrick Vieira with Lassana Diarra relieving him from time to time. At his second stint at Chelsea, he signed Matic which was an excellent piece of business for the Londoners. He was instrumental in two title victories for Chelsea. Therefore, it is no surprise that Jose signed him from Chelsea last summer.
At Manchester United, Jose has been trying to find the perfect midfield combination and it takes no special vision to realize that the defensive midfield position is very important to him. Last season, Carrick played that position for us and he was beyond spectacular. He was everywhere, winning possession back, freeing Pogba, covering the centre backs and putting in the occasional man marking job. 
This season, Matic has been doing the exact same thing this season. Though, unlike Carrick who had a then in-form Ander Herrera to partner him, Matic has no one to play the transitional role to completely free Pogba. In this article, we're taking a look at the present and future of the defensive midfield role.
This season, we have usually played a midfield pivot of Matic and Pogba. But a couple of embarrassing performances later, he moved to a three man midfield with Matic playing the role of the deep lying midfielder. Pogba floats forwards and orchestrates every attack. However, the middle man who should play alongside the Big Serb, has been rather unclear.
Last season it was Herrera and what a shift he had put in. After his brilliant first season with United, we thought we had found a long term captain in Ander. However, this season his form has taken a major beating. Playing him alongside Matic is not the solution anymore, until he clears his court cases and he picks his performance up.
Up next, we have seen Mata play in a midfield three and in the front three. The differences in performances is extremely evident. Mata is a much better player when deployed in the front three. He can unlock defences with ease. He can be devastating during counters despite not being the fastest player around. 
The reason I feel Mata shouldn't be played in a midfield three is because he is a great passer and does not fit playing second fiddle to Pogba. He needs his own freedom but with a player like Labile in the squad, that position is locked. 
In my opinion, there are two ways to fulfill the midfield void. Firstly, McTominay should be starting every game. That lad has immense potential. As mentioned in previous blogs, he is not a flashy player and craves no attention on the pitch. But, he always does what the manager demands from him. If Mourinho wants Hazard out of the game, McTominay takes Hazard out of the game. 
Playing next to a seasoned veteran like Matic at such a young age will do him wonders in many ways. Scotty is even unperturbed by pressure. He is a starter in the Premier League, made his Champions League debut and marked a player like Hazard out of the game all at the age of 21. Carrick hailed him as his potential long term replacement. The cherry on the cake is that McTominay is our academy's product!
Ending my biased praise of McTominay, I feel there is a player we should be signing. He's an Ivorian playing in the French League, who goes by the name of Jean Seri. Seri is an outstanding player who is being watched by the likes of Barcelona as well. He is a Kante-like player, only better.
Seri can win possession back, dribble and pull off a mean pass. This makes him the ideal man to play alongside McTominay. His age is also perfect because at 26 he isn't too old or young to be playing central midfield in the Premier League. I have no reservations on his skill as a player, however, I do have reservations on how Barcelona do business. To pull this deal off, we will need a masterclass from Ed!
Anyway, those were my thoughts on the current and future situations on the central midfield role at Manchester United. We would love to know what you think. Hit us with your thoughts and opinions on the Matic, Carrick, McTominay conundrum! So that's it for now and here's hoping for a great result on Monday night!