The battle for top four is so tight now with only four points between Manchester United in second and Tottenham in fourth and then Chelsea at fifth with a five point deficit on their London rivals.
A win for Manchester United would see them soar five point ahead of Liverpool with eight games to play whereas a defeat could see them slip closer to fourth place provided Spurs defeat Bournemouth at the Vitality Stadium on Sunday. Liverpool are ubeaten since the end of January (W5 D2) and in that time have scored 18 goals scoring 2.57 goals per game whereas Manchester United are unbeaten at home in 2018 and having earned three consecutive Premier League wins since defeat to Newcastle against Huddersfield, Chelsea and a stunning comeback against Crystal Palace on Monday. 
Manchester United are still without Jones, Blind, Rojo and Ibrahimovic and with Ander Herrera, Anthony Martial and Marouane Fellaini all still doubts, it is unlikely that Mourinho will change up the squad that overcame the Eagles by a significant amount. Luke Shaw will be hoping for a return to the starting lineup after Young's inconsistent performances of late and was substituted after 60 minutes for the 22 year old and offered something different with his strength and pace on the wide left and will be more suited to stop Mo Salah than Ashley Young. Whilst most United fans are fed up with Chris Smalling, Jose's decision to give the England international man of the match makes it clear that he will not be switched in for Eric Bailly, who is stepping up his recovery from his latest long-term injury. Our key player for this fixture has to be David de Gea, who is consistantly showing United why he's the best 'keeper in the world and why Ed Woodward should give him anything he asks for to sign his contract which expires at the end of next season. 
Jose Mourinho has two real options, the first is to attack a still vulnerable defence with Karius' and Lovren's inconsistencies and show the fans a revitalised side, or to defend like they did last time out and having to rely on De Gea's world class abilities and attempting to hit Liverpool on the counter. 
The second option is risky as United may be cautious not to pile men forward with the potential of a more dangerous Liverpool attack and so their attacks may not have any effect. The first option might also result in defensive vulnerabilities but may give United a lead to hold on to as opposed to chasing the game from the off. 
Either way it will be an interesting game of football as this fixture nearly always holds and either way one team will be leaving second and the other third. 
PREDICTED LINEUP: De Gea, Valencia, Smalling, Bailly, Shaw, Matic, McTominay, Pogba, Sanchez, Mata, Lukaku
PREDICTED SCORE: 2-1
COMBINED AVAILABLE XI
GOALKEEPER: DAVID DE GEA
Nothing else really has to be added. He is a world class goalkeeper and there are very few near his calibre. He has saved United so many points this season and for the last few seasons as well and the Red Devils must thank Louis van Gaal for not only managing to keep De Gea from Real Madrid's claws in the 2015 summer window but also to get him to sign a new contract almost as soon as the window shut. Hopefully Jose can do the same with the Spaniard's contract ending next season.
RIGHT BACK: ANTONIO VALENCIA
He is a stalwart captain and although he has struggled in a few games this season, he has had a better season than the likes of Darmian or Alexander-Arnold. He offers width offensively and has the pace and strength to hold off the likes of Mane and Oxlade Chamberlain.
RIGHT CENTRE BACK: ERIC BAILLY
He is a powerhouse in defence, an out and out defender. He has pace, strength, aerially dominant and can play out if needed to. He should start against Liverpool as his abilities will be needed to fend of the flamboyant Liverpool attackers.
LEFT CENTRE BACK: VIRGIL VAN DIJK
The world's most expensive defender has to be in this squad. Earlier this week the United Devils questioned whether Samuel Umtiti or Raphael Varane would be more suited as a parter for Eric Bailly but Virgil van Dijk seems to be another good solution. He, like the Ivorian, is strong and an aerial threat and will also play out from the back to change defences to attacks. 
LEFT BACK: ANDY ROBERTSON
Very close between the Scot and Luke Shaw but Robertson gets the nod over Shaw for his consistent run in the squad for the Merseyside team. He has an outstanding crossing ability and he has admittedly sured up Liverpool's defence when he has been in the team and was a bargain purchase from Hull in the summer.
RIGHT CENTRAL MIDFIELD: NEMANJA MATIC
He was outstanding against Crystal Palace and seems to be back to his best over the last few games and scored a wonderful goal to win the game for United. He is one of the best defensive midfielders in the Premier League and needs to be on the top of his game for Saturday.
LEFT CENTRAL MIDFIELD: PAUL POGBA
He may not be in the best form but he is a world class talent and a shoe in for any team in the world. He is a true athlete and a fantastic creative midfielder. He may be shot on confidence but this is the perfect game to prove his worth for the squad. 
RIGHT WINGER: MOHAMED SALAH
He has had a fantastic return to the Premier League and is likely to be the Premier League's top goalscorer when the season draws to a close. He will cause problems for Manchester United and may finally score against every Top 6 side when Liverpool take to trip to Old Trafford. 
CENTRAL ATTACKING MIDFIELDER: ROBERTO FIRMINO
He likewise has had a fantastic season and has really stepped up for the side when they have needed him. His link-up play is superb and he has good vision, excellent finishing and he even provides an aerial threat. He works defensively when needed to and works hard in attack and would fit in to most sides' lineups.
LEFT WINGER: SADIO MANE
Given that Martial is a doubt for the game after missing the trip to London, Mane slides into this XI for his impact for the Reds over the last two years and especially in the Champion's League. He is a lightning bolt of a player with fantastic finishing and surprising strength for a small player. Whilst Alexis Sanchez and Marcus Rashford may be very good players, Mane has shone consistently for Liverpool unlike the others mentioned for United.
STRIKER: ROMELU LUKAKU
He has been in fine form these last few weeks and has led United's line with elegance, pace, power and passion. He has been vital for Manchester United whether it is for his goals, his hold up play or even his assists. A true 'sergeant' of any Jose Mourinho team as the manager dubs the Belgian himself.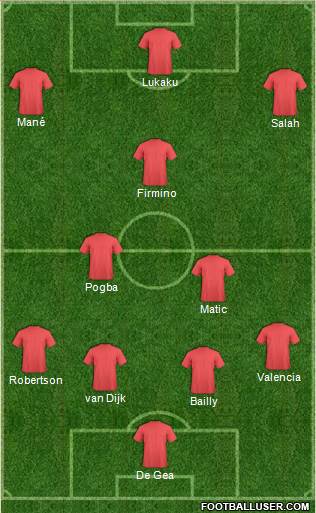 (made on http://www.footballuser.com/)