What a fantastic comeback from the comeback kings to send Manchester United back into 2nd place. After goals from Andros Townsend in the early kickings of the first half and Patrick van Aanholt in the first few minutes in the second half, it took a lot from the Red Devils to get the win but with intense pressure and roughly 70% possession in the second half, they managed to seize victory in Fergie Time. After a shockingly poor fifty minutes of football, United had everything to do and knew that they had to score three goals to retain second place. The first came from Smalling nodding home Valencia's chipped ball in, the second a quick reaction by Romelu Lukaku from Alexis Sanchez's effort rebounding off the woodwork and the winner was a stunning 30 yard strike from Mourinho's man Nemanja Matic to score his first goal for the club. 
PLAYER RATINGS
DAVID DE GEA 7.5/10
Nothing he could do about the first goal and have to give him the benefit of the doubt for the second as it was a powerful effort from the Dutch fullback, but the Spaniard made up for it with a few good saves and a stunning "David De Gea" save denying Christian Benteke from point blank, clawing the effort off the line and away to safety. 
ANTONIO VALENCIA 6.5/10
Whilst culpable for the second goal, he made up for it with the assist for United's first and offered width and crosses for Lukaku to latch onto.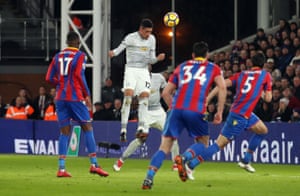 CHRIS SMALLING 6/10
Well his defending was atrocious and gave the likes of Benteke and Townsend too much respect. Easily should have scored minutes before he halved the deficit in the 55th minute. Would prefer to have Bailly and Lindelof building a partnership as they are the future of the club and Smalling's inconsistencies cannot be trusted against the likes of Salah, Mane and Firmino this weekend. 
VICTOR LINDELOF 5/10
Likewise gave the Palace attackers far too much respect and should have stood tall against Townsend as the ball deflected off the Swede and past De Gea. He will have to be tougher if he is facing the Liverpool front three this weekend as they are (with all respect to Palace) attacking players of a different class. 
ASHLEY YOUNG 5/10
Did not affect the game, was poor in the first half and far too predictable for the Palace right-hand side. Needed to be substituted to change the game up and should be switched for Luke Shaw for the game against Liverpool.
NEMANJA MATIC 9/10
Slightly sloppy in the first half but played very well in the second once dominating the possession. He was calm and composed and got United going. His goal must be a contestant for Goal of the Season and may be the first of a few in a United shirt. 
SCOTT MCTOMINAY 5/10
Tried his hardest but could not really achieve much. One of the few games the future Scottish international has played poorly in. He made a poor challenge just before the end of the first half and was subbed for Rashford to switch things up at half time. 
PAUL POGBA 5.5/10
His first half could be the poorest he has ever played in a United shirt, perhaps ever for the French midfielder. He lost possession often, mistimed passes and barely had an impact in the game. He had a couple of efforts on goal in the second half but really needs to shape up and be much more impactful for the trip to Anfield.
ALEXIS SANCHEZ 5.5/10
Tried to create chances, he always puts in 100% effort and unlucky not to score in the first half with a close range header being snuffed out by Hennessey. He created a few chances for Lukaku and his deflected effort set up Lukaku for the equaliser after cannoning off the crossbar. One major criticism is that he kept losing the ball. In the first half alone he lost the ball 19 times! He needs to improve. 
JESSE LINGARD 6/10
Like Sanchez tried to create chances with his energy and pace but nothing really fell for him. Was forced into playing right back after Mata came on but is likely to feature against Liverpool in some way as he is an impact player and has been vital for United this season.
ROMELU LUKAKU 8/10
He is back to goal-scoring form now and hopefully will continue against the Reds this weekend. He was powerful and ever-present in leading the front line. His hold-up play is improving substantially and he was unlucky not to score in the first half. 
SUBS
MARCUS RASHFORD 6.5/10
Stretched the Palace defence when he came on and tried everything to earn the lead. Rashford is unlikely to be starting many games now and so must take his chances when they come.
JUAN MATA 6/10
Tried to make an impact and like Rashford will need to take his chances when they come, he will want to score again soon and hopefully will get a run in the squad soon. 
LUKE SHAW 6/10
Offered width and energy. He offered something different to Young and ought to start against Liverpool as he will be more likely to stop the likes of Salah and Mane than the former Villa man. 
MAN OF THE MATCH: NEMANJA MATIC