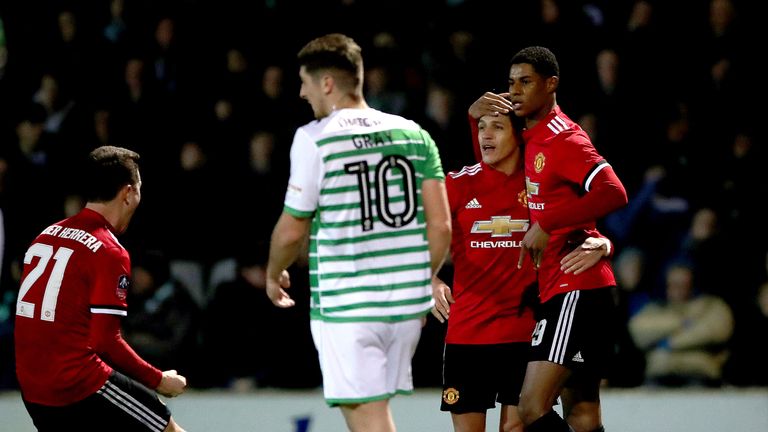 Yeovil Town 0-4 Manchester United
What a game! After the unfortunate exit in the Carabao Cup against Bristol City, it became clear that our best hope of silverware came through the FA Cup. There was no doubt that Mourinho would field a strong line up and indeed he did, with Alexis Sanchez starting to make his first appearance for the Red Devils.
Player Ratings:
Sergio Romero – 6
It was great to see the Argentine back in goal for us as he hopes to see more game time to secure his starting place in the Word Cup this summer. There wasn't too much to do but when he was called upon, he did the job. However, he did make a few questionable decisions and that has been the case recently with him punching the ball when it would make sense to catch it. 
Matteo Darmian – 5
Unfortunately things still aren't going well for Darmian as a League 2 left winger had him on strings for most of the match. He isn't looking like Manchester United quality and was the weak link in our team. However, he did contribute with an assist. 
Victor Lindelof – 6
Caught napping a few times but played well for most of the game. He was clearly the more composed of our two centre backs. One area he lacks and needs developing is physicality. He is clearly struggling with this aspect in English football. 
Marcos Rojo – 5
He just did not look right in centre back today. He was putting in pointless challenges where he had no chance of getting the ball. Very careless at the back and somehow escaped without a booking.
Luke Shaw – 6.5
Recently Jose Mourinho hailed the Englishman as the best left back in the Premier League. Today he seemed much more reserved going forwards in a game where we were hoping he would be tearing down that left wing and forming a good partnership with Alexis Sanchez. 
Michael Carrick – 7
It was great to see our captain back in the squad and starting XI. He is certainly the unsung hero of our squad and what he does for the team is unquantifiable. His composure and exquisite passing ability often goes unnoticed. 
Ander Herrera – 7
Another goal under his belt against Yeovil! This time not as extravagant but nonetheless still got the important second goal, which we were desperately in need of. It's been tough for him this season but he put in a good performance and as always, his passion shined through. 
Scott McTominay – 6.5
It has been good to see young Scott McTominay travelling with the squad in recent games and getting game time. Against Yeovil he was a brilliant box-to-box midfielder and was unlucky not to score. Hopefully we will continue to see him prospering in a United shirt. 
Juan Mata – 6
He didn't really settle into the game as we thought he would. Often went missing in attacks and seemed to be drifting very deep. Hard to believe he was playing on the right wing. Nevertheless, he is a magician on the ball and will be in contention to start on Wednesday against Spurs. 
Alexis Sanchez – 8
The debut that we had all been hoping for. Perhaps not the hat-trick that we had hoped for but he really did show his class. He created the goal for Rashford and got the assist for Herrera's goal. At times it looked like the ball was glued to his foot, it was magical to watch. At the beginning you could tell he was trying slightly too hard, but once he settled into the game, he was another class. There are good times ahead for us and he will be at the heart of it! 
Marcus Rashford – 7
Our young talent was looking slightly out of sort recently and had clearly gone down the pecking order. However, in his favoured postition, he was much better. Still some improvement needed for him to be a regular starter but his desire and goal-scoring instincts were shown in his goal to break the deadlock. Also, he showed his versatility, playing in three different roles up top in the game. 
Subs:
Romelu Lukaku – 7
He needed the rest, so Mourinho was right to start him on the bench against Yeovil. However, when he came on he was brilliant. His goal is just what he needed ahead of the big game against Spurs on Wednesday!
Jesse Lingard – 7
I don't know how, but this lad just keeps on scoring! Another superb display from Lingard in the few minutes he played, and he is a guaranteed starter against Spurs. Also, I love seeing him wind up Piers Morgan on Twitter and can't wait to see him and Sanchez Milly Rock soon! 
Angel Gomes – 6.5
He only had a minute or so to leave his mark on the game and he almost scored his first goal for Manchester United at the age of 17! His outstanding footwork and ability was shown in the few minutes he played. One thing is for sure, Mourinho needs to take this kid to more matches. Give him game-time and he will be the next big thing to come out of Manchester United! 
Man of the Match: Alexis Sanchez