Both teams have incredibly strong squads despite mainly defensive injuries hampering both teams and the squad depths are some of the best in the country if not Europe. Here is our available combined XI:
DAVID DE GEA 
Possibly the world's best goalkeeper and certainly showing it against the Gunners last Saturday with a record equalising 14 saves in one match and despite the praise heaped onto the Man City keeper Ederson by Pep Guardiola, David de Gea is certainly between the sticks in this combined XI
KYLE WALKER
Whilst Antonio Valencia has been outstanding this season and Manchester United's most consistent outfield player, Kyle Walker has been just as influential for Manchester City and has pace and strength which puts him miles ahead of his former teammate Kieran Trippier for an England start at the World Cup. His crossing is much better than the Ecuadorian and has much more experience as a defender than the Manchester United vice-captain.
VICTOR LINDELOF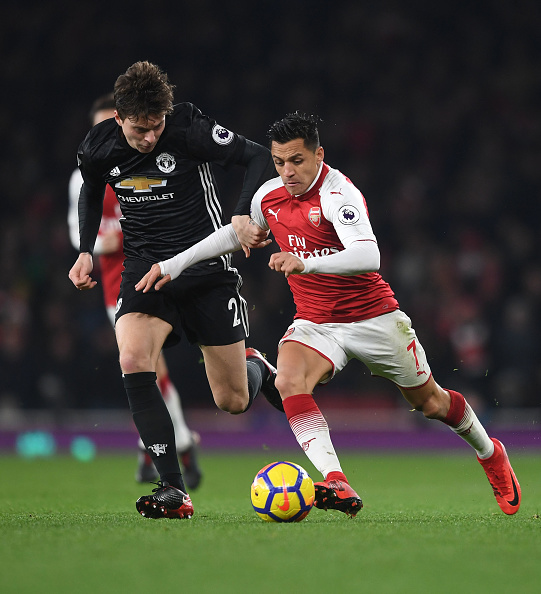 Despite a rocky start to his United career, Victor Lindelof has improved substantially in the last few weeks and has been a rock at the back for Manchester United and his distribution is just as impressive. 
VINCENT KOMPANY
Once deemed the best defender in the Premier League, now hampered with injuries for so many seasons it is fortunate if he plays for half of the campaign. So far he has been impressive for Pep Guardiola and is a natural leader and is jst as vital in the dressing room as he is on the pitch. 
MARCOS ROJO
He may have looked nervy against Watford but his return to the starting squad was a source of relief for most Manchester United fans especially with the injuries to Eric Bailly and Phil Jones. He is a strong tackler to say the least and is aerially dominant against most players. 
ASHLEY YOUNG
Whilst Benjamin Mendy is injured, Ashley Young joins this combined XI for his stunning performances of late and has gianed the trust of the Portugese manager. His defending has improved almost as much as Valencia in the past few years and his crossing is always sublime. Danilo and Fabian Delph simply are not good enough as full backs and would struggle against the Manchester United wingers. 
NEMANJA MATIC
After missing the game against CSKA Moscow to recover for the Derby, Nemanja Matic is now fit to play and will be influential in the midfield against Kevin De Bruyne. His strength and tackling are just as influential as his distribution both short and long and is a certainty in this combined XI.
KEVIN DE BRUYNE
He has been absolutely outstanding for the past three seasons for Manchester City scoring 17 goals and creating 36 others. His passing is almost unchallengable and his finishing is just as competent. He is a world class midfielder that makes his £54m price in 2015 look like a bargain.
RAHEEM STERLING
He has finally found his form for Manchester City after his £50m move from Liverpool and has gained his finishing touch with nine goals scored already, has beaten his tally for last season already. 
He is undoubtedly one of the fastest players in the Premier League and now adding his finishing is looking set for the World Cup to redeem himself for what can only be called an abysmal Euros. 
ANTHONY MARTIAL
His form this season has been outstanding and has scored six goals in the Premier League so far to make him the second top goalscorer for the Red Devils this season and already overcome his tally for last season. His pace is equally as deadly as Sterling but his finishing is much more clinical than the England winger and than his compatriot Marcus Rashford, so he starts in this XI
SERGIO AGUERO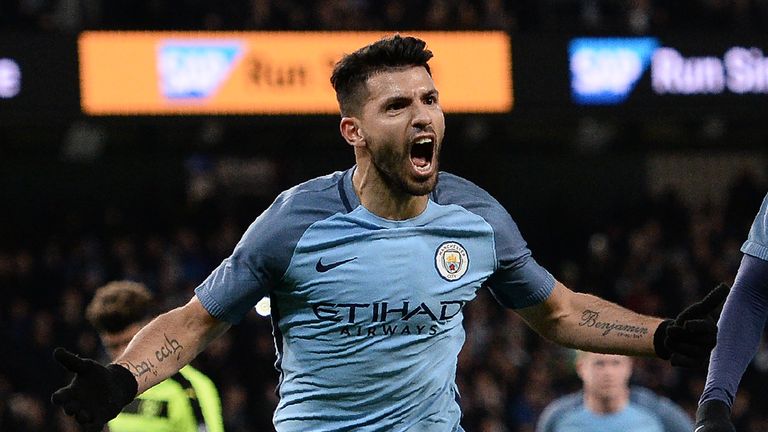 Manchester City's top goalscorer is a guaranteed starter. His finishing is world class and his low centre of gravity allows him to weave through defences and get into the box. Whilst Gabriel Jesus and Romelu Lukaku have made impressive starts to the season, both scoring eight Premier League goals this campaign but Kun Aguero is far the better player and so is the final player to enter this XI

MANCHESTER DERBY COMBINED XI: De Gea; Walker, Lindelof, Kompany, Rojo, Young; Matic, De Bruyne; Sterling, Martial; Aguero