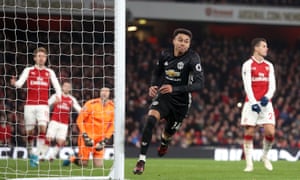 WOW! THE EMOTIONS ARE STILL RUNNING SO HIGH AND MY FINGERS ARE SHAKING AS I TYPE. Okay forcing myself to calm down now, let us talk about the match. Manchester United have beaten Arsenal 3-1 at the Emirates. We have closed the gap between City and us to five points and we can only hope for them to drop points. But they're playing West Ham, so well, let's just consider the gap is 8 points itself.
About the game, it was an amazing match of football. It started with Lacazette unexpectedly starting for Arsenal. We were thoroughly clinical from the beginning and took all the chances we got. We opened the scoring earlier on when Valencia banged a low shot into the back of the net. This made Arsenal unstable and forced them into another defensive error which led to the second goal. Martial got a brilliant flick on the ball who fed it to Lingard.
The lead was immense but Arsenal's incessant attacks suggested that we needed another goal to see the game through. And Huzzah! Lingard scored a tap in shortly after Lacazette pulled one back for them. The game was extremely intense, because we seemed to have awoken a monster sleeping within Arsenal. I am not going to keep exaggerating their attacks but I'll leave you with one stat though – David De Gea made 14 saves, more than half of them were from close range. 
So yeah! The boring Jose Mourinho, who always parks the bus has scored three goals away from home against a top 6. United who have been stat padding against small teams, apparently, have beaten Arsenal on their own turf. This game was a huge statement of intent for our title claim. Every single one of our players, turned up today. It is absolutely impossible to choose a man of the match without feeling for the players who have missed out. But I have chosen three candidates.
Let's start with the honourable mentions first. Each and every defender did the fans, the manager and badge on the shirt, proud. We were impenetrable at the back. Yes, their goal was a major defensive lapse but the amount of times that we stopped a potential Arsenal goal, was beyond commendable. Lindelof in particular was tremendous. What I have seen about the guy is that isn't one to wrestle the ball out of defenders or muscle them us. He uses his technical abilities to gracefully scoop the ball off of them. I think even Ashley Young did brilliantly. He was so unpredictable and did well defensively too.
Another player I would like to mention is Nemanja Matic. The man was blocking shots left, right and centre. He probably should have picked up a yellow but otherwise he was absolutely brilliant. Pogba, the same man who was mocked around by Arsenal fans calling him a "luxury Granit Xhaka", (what do you have to say about that now?), was bossing the midfield up. He was as good as Xhaka and Ramsey combined. Got an assist for the goal that killed the game. However, the only thing that left a bitter aftertaste was Pogba's red card. It was a reckless tackle and now he is out for the derby.
Alright, now coming to the winners. First up, it's Jesse Lingard. The little man has been sensational in the last few games and this coming from one of his critics, is a huge thing. Jesse has really bigged up and deafened himself to the criticism and has hit back hard. The next one, is obviously David De Gea. He is a gift from God, and by god, I mean Sir Alex. If you want to know how good he was, ask any Arsenal fan.
The third and final man of the match is none other Jose Mourinho. He approached the game amazingly well. As opposed to his defensive reputation, he got us on to a start on the front foot and got the goals going in. He knew that the 2 goal lead wasn't good enough and went for a third despite being away from home. He also did very well with the substitutions. So he deserves a 10/10 and a cookie, nothing less. Anyway Reds! The next Premier League game is bigger and more significant. Do we beat City and open the league up again or do they run away with the title? I haven't got a clue. I'm buzzing too much to care now!
On to CSKA…