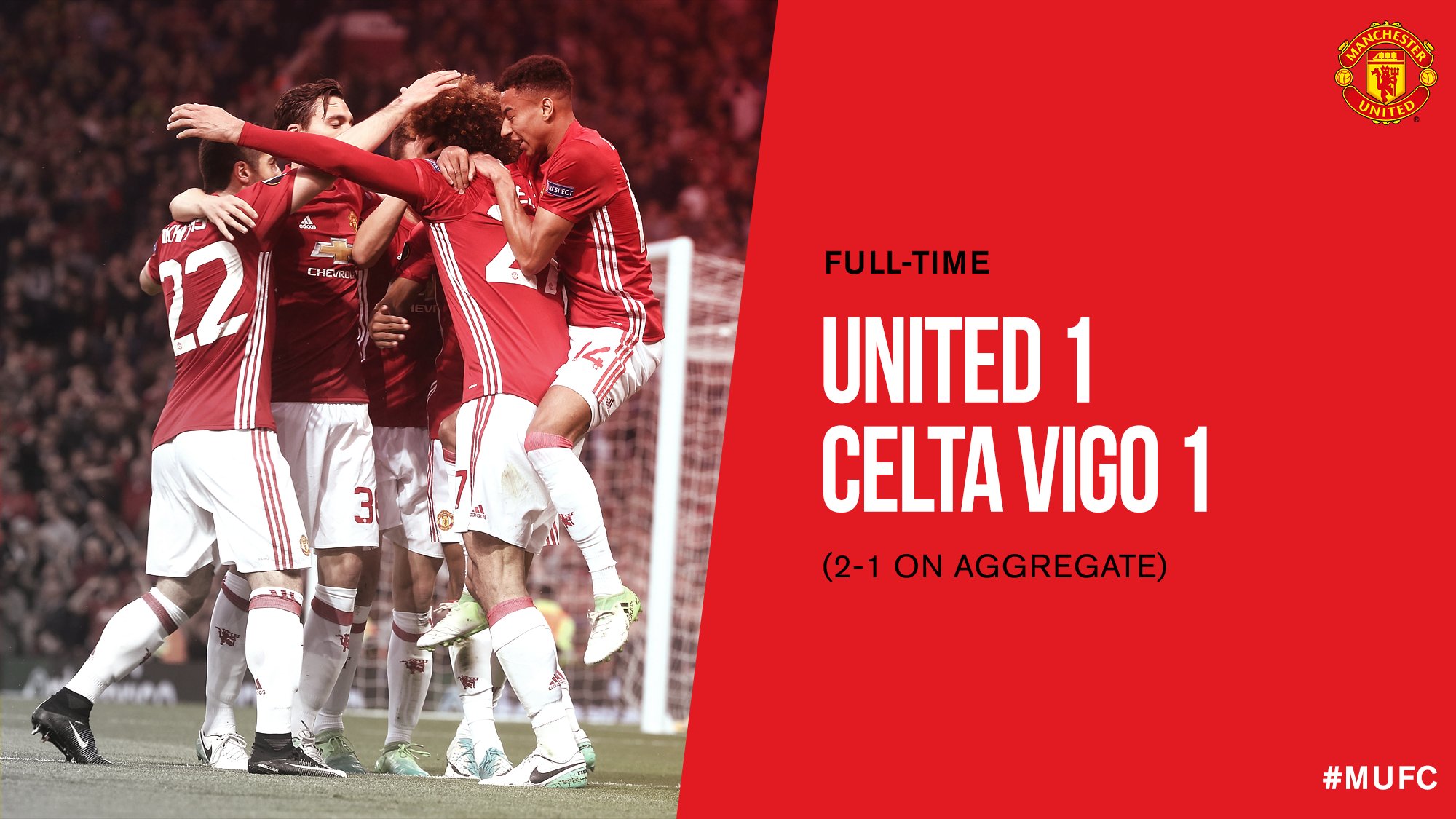 Follow, follow, follow, 
Coz United are going to Stockholm, 
There will be thousands of Reds, 
And we'll be p*ssed out our heads , 
Coz United are going to Stockholm…
We have done it! We have reached the Europa League final! A nervous 2-1 win over Celta Vigo over two legs is enough to secure Manchester United's place in their first European final since the Fergie Era. 
As Celta Vigo started on the front foot, searching for a goal to pull them equal, Manchester United held on and soaked up the pressure until they could break on the counter attack. We managed to break the deadlock early on in the game with Fellaini heading United into the lead on the night after an inch perfect, exceptional ball by Marcus Rashford. An early goal is exactly what we needed to calm our nerves.
It was clear that United needed another goal. Throughout the season we have been criticised for not being able to put the game to bed, and that was the same again today. We were getting the occasional chance, but nothing clear cut. Our players were reluctant to go forwards and we just let Celta Vigo keep attacking our final third. 
Inevitably, Celta Vigo pulled one back in the 85th minute as Roncaglia scored a header to make it 1-1 (2-1). This score meant that Vigo needed to score only one goal to make it through to the final on away goals.
The pressure got too much for the players on the pitch as a heated argument led to two red cards. An incident between Bailly and Roncaglia (the goalscorer) led to both players being given a straight red card from the referee. This means that Bailly will miss the Europa League final. What a big miss it will be for United as Bailly has been our best defender all season. 
Four minutes into added time, Ander Herrera put the ball in the back of the net but the goal was disallowed. Then, in the final play of the game, Guidetti couldn't get his feet in order to win the tie for Celta and put the ball into an open goal and consequently, Manchester United will be the team to face Ajax in Stockholm. 
Although today's performance was completely unconvincing and we were lucky to go through, all that matters is that our hopes for another trophy and Champions League football next season are still alive. If we fail to win in the final, this season will be looked upon as a failure and Jose will fall to some criticism for putting all of his eggs in the Europa League 'basket'. 
However, it is all dependent on which United team turns up. If it is the team which we saw today (and have seen most of the season), missing chances and failing to kill off the game, then a defeat seems most likely. But if it is the team which showed the passion and desire to beat Chelsea, then there is no doubt that we will be lifting the Europa League trophy in 13 days time.