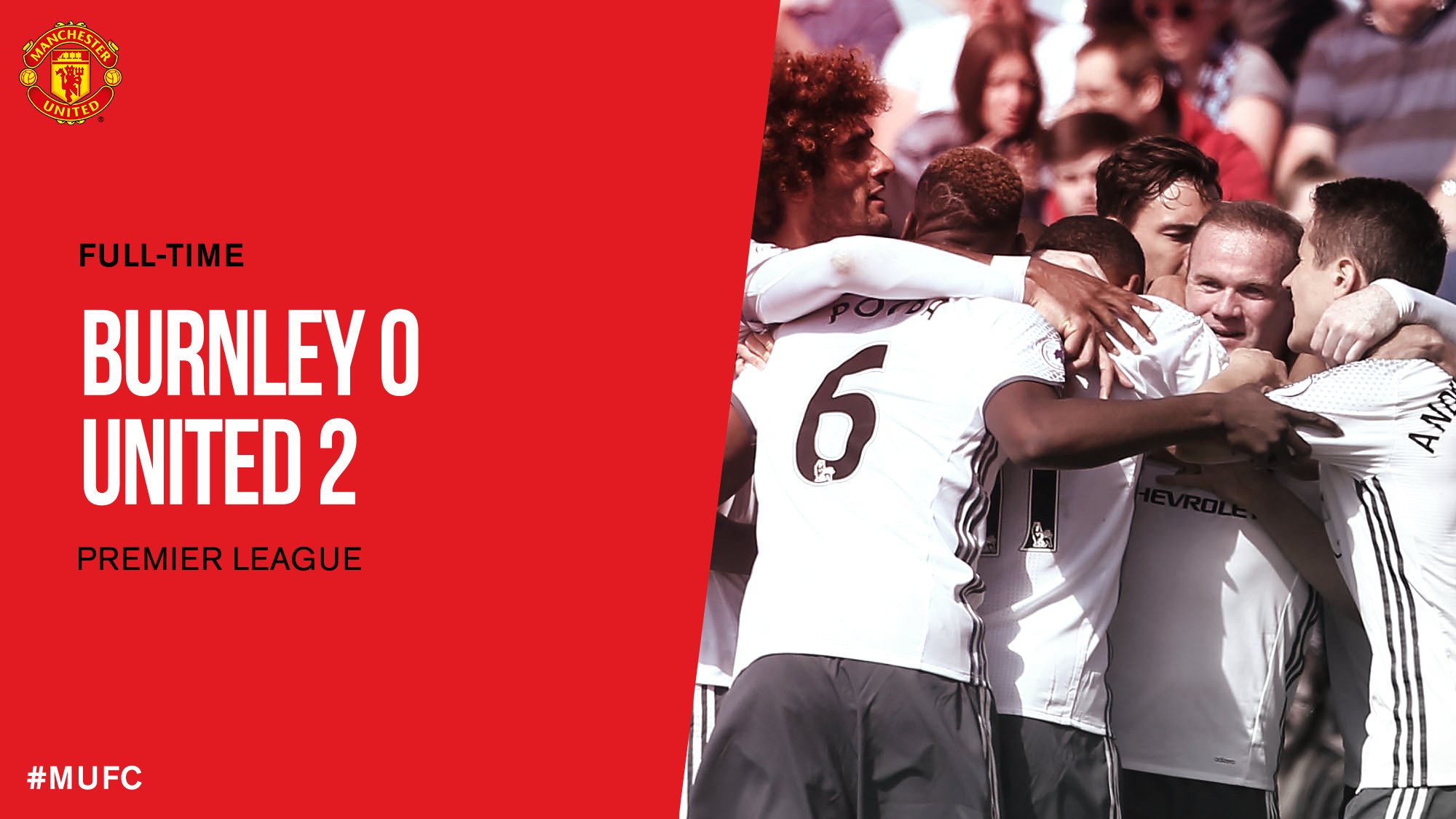 23 games unbeaten in a row, but more importantly, three wins in a row! As we come to a crucial time in the season, Manchester United are finally building the right momentum. 
We started the game really well and with intent, but it was clear that Burnley were well drilled and had a good shape. But our persistence proved too much to handle when United managed to break the deadlock in the 21st minute. A great counter attack led to Ander Herrera threading the ball through to Anthony Martial who poked the ball into the bottom corner of the goal to give United the lead. 
Although we kept giving away needless free kicks, we continued pushing for a second goal which would give us much more security. That important goal came in the 39th minute when some exceptional work from Pogba led to Wayne Rooney following up on Martial's shot which was saved by Heaton. Our captain was brilliant today and even though he wasn't playing in his natural position, he still kept up with play and gave a big contribution to the team. 
United ended up seeing the game through and managed to win the all important three points. Even after scoring two goals, there was still the intent and passion to go forwards and get more but we were unable to add to our lead. Burnley looked dangerous occasionally going forwards but we handled them pretty well, managing to make it our second successive game where we conceded no shots on our goal. One massive blow for us is that Paul Pogba was forced to depart the pitch early with an injury. Hopefully it won't be too serious and he will be available for Thursday's game. 
Our two attacking players that came in were brilliant. Wayne Rooney and Anthony Martial showed Mourinho today that he has enough depth in his squad to field solid teams in both the BPL and Europa League. They were looked upon today as our backup, squad rotation players but they both put in great performances and together, won us the game. It was great to see Anthony Martial finally running and showing some passion. He was continuously making runs in behind the Burnley defence and managed to get a goal and assist to show for his efforts. 
Another player which I have to mention is Daley Blind. Last season, Blind and Smalling were our first choice centre back pairing without a doubt. However, this season with Bailly coming in and Rojo hitting form, Blind was finding it hard to get a chance to prove his talent to Mourinho. Today, he showed him. His intelligence and reading of the play is exceptional. Realistically, Blind could be the solution we have been looking for, he could be the one to replace Carrick when he retires. 
With only one point being the difference between us and Manchester City now, Thursday's game looks all the more important. If we win on Thursday, we will be 4th in the league. Hopefully this incentive will be enough to encourage the players to give it their all and win the game. It will not be easy, especially with the talented players which City possess, but we have shown that we are capable. Lets go and do both! Lets get top 4 and win the Europa League! Come on United!