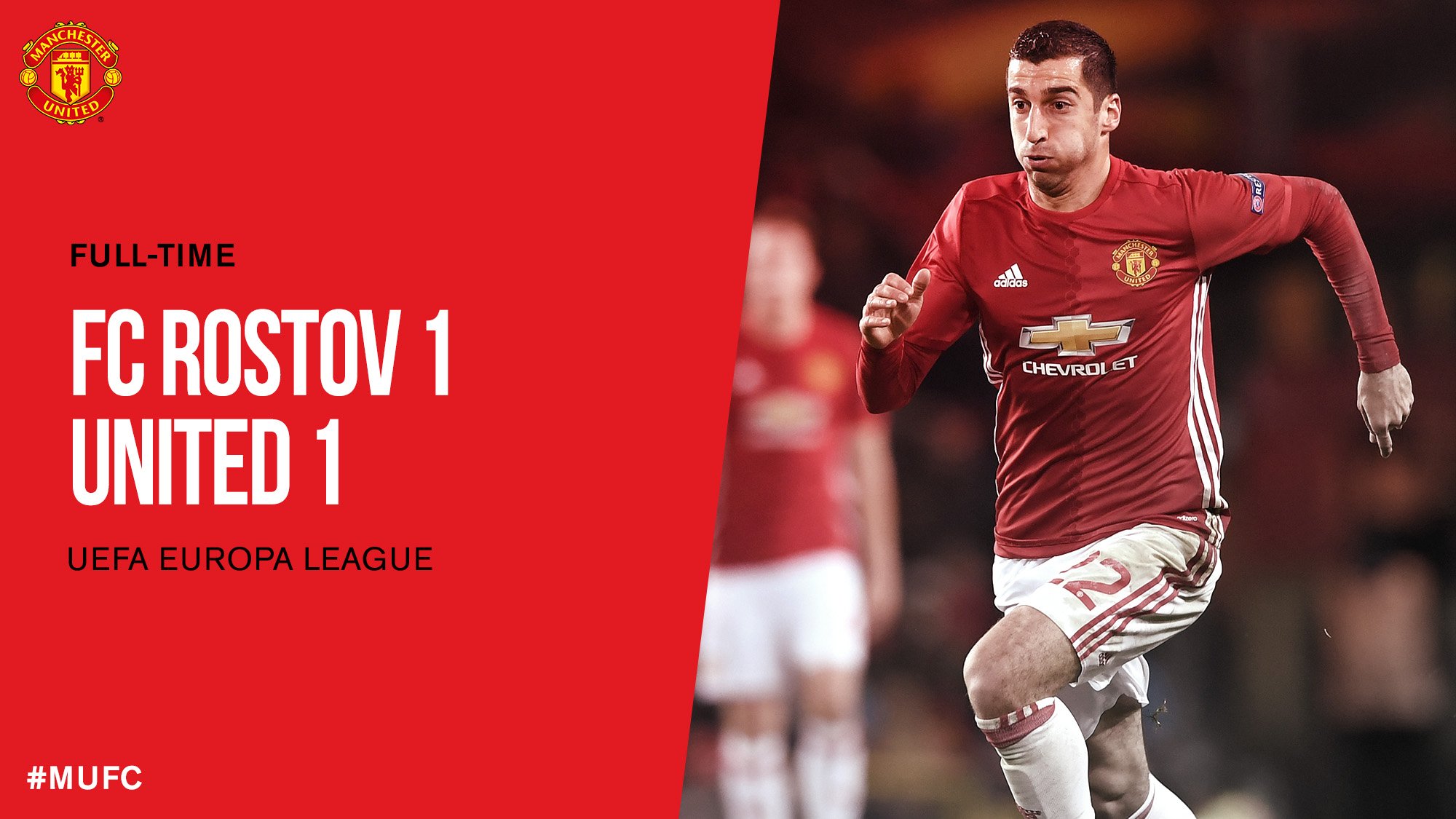 After a poor match to watch, Manchester United leave Russia with a draw and an away goal, and hope that they can win the tie back at Old Trafford.
Starting the game with a 3-5-2 formation, Manchester United started the game reasonably well on a tricky pitch. Manchester United broke the deadlock 35 minutes in when Phil Jones played a beautiful ball over the top to Fellaini, who (like he does best) took the ball down with his chest and played it through to Zlatan Ibrahimovic. A beautiful bit of quick footwork in a tight area ended with a pass to Mkhitaryan who could slot home to give United the lead. 
The second half was again made difficult for both teams with the utterly shambolic state of the pitch. In the 53rd minute, Rostov equalised with Bukharov controlling Kalachev's lofted ball into the area and volleyed past Romero, who didn't stand a chance. Fingers can arguably be pointed at Phil Jones who should have probably tracked his runner, but the control and finish from the striker was perfect.
This equaliser gave both teams the incentive to push forward in search for a goal. On top of the poor pitch, there was no flow or rhythm in the game due to fouls given by the referee constantly. We found it hard to create any real chances and seemed content with keeping the score level, with the aim of stealing the tie at Old Trafford. 
After the first half, we probably should have tried harder in the search for a second because it was there for the taking. But we were unable to create chances and 1-1 was a fair result. Without a doubt, we under-performed today and in the second leg, we must play better at Old Trafford to reach the quarter finals. 
Overall, this was not a bad result. We managed to grab a crucial away goal and we will certainly have an advantage in the second leg in front of our home fans, and on a playable pitch. Before we look to that game, we need to turn our attention to Monday's fixture which sees us face Chelsea in the quarter finals of the FA Cup at Stamford Bridge. After the embarrassing 4-0 defeat there earlier in the season, Mourinho and his men will be determined more than ever to beat Jose's old club and secure a place in the semi finals at Wembley Stadium. However, we are going to need to turn our performances around from the last few games as we will be facing a strong Chelsea team in amazing form. Hopefully we can play at our best and take a step closer to winning our second piece of silverware so far this season!