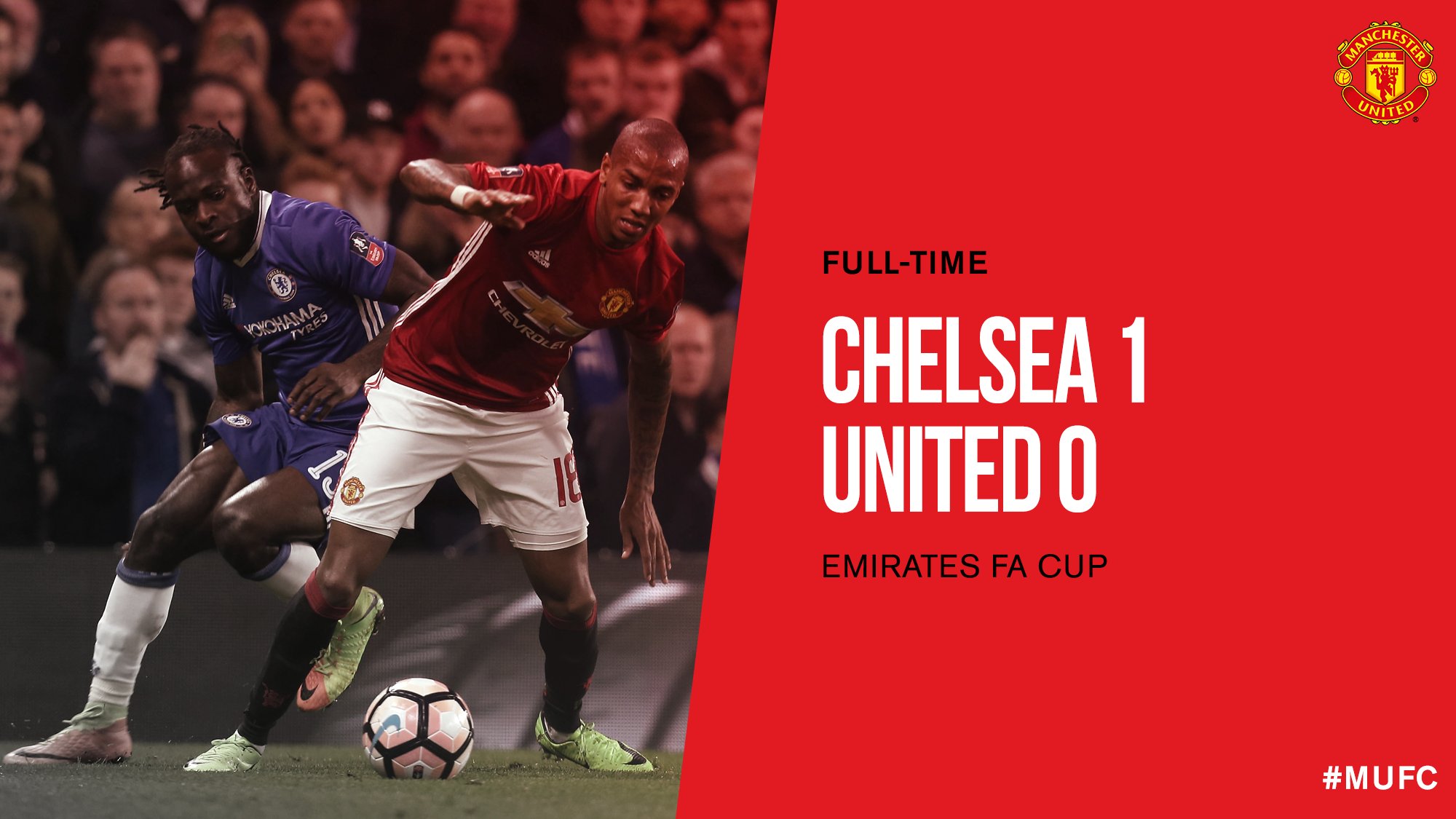 After an early controversial red card given by the referee left Manchester United to play 60 minutes with 10 men, Chelsea come out on top at the end of a game where they were completely dominant. 
The game started with Manchester United on top and looking positive in a game where they were expected to park the bus. We were keeping possession of the ball in the final third of the pitch, however not having any real attempts on goal. At this point, Chelsea did look dangerous but we looked as if we had a good chance of winning the game.
The controversial moment came in the 35th minute when Ander Herrera was shown a second yellow for a trip on Eden Hazard. This was not worthy of a second yellow. The referee was clearly agitated from the earlier foul from Chris Smalling and lost his cool and took out his anger on Herrera. There is no doubt that it was a foul, but an over-exaggeration by the referee left Manchester United with 10 men for the majority of the game.
From that moment on, Chelsea were in total control of the game. Trying their best to defend, Manchester United found it hard to go forward and challenge Chelsea's defence. The inevitable breakthrough came from an unlikely source for Chelsea, with N'Golo Kante firing Chelsea into the lead with a brilliantly hit shot from outside of the box. His two goals this season have both come against United. 
Chelsea dominated thereafter (and should have scored several more) but spurned any chances to add to their lead. Our only chance of the game fell to Marcus Rashford who pounced on an error of judgement from David Luiz and ran through on goal, skillfully taking it past Gary Cahill, but was denied superbly by Courtois. 
A key player to point out would be David De Gea. His world class saves in the first class kept us in the game for as long as possible. Also, in terms of showing the most passion, Marcos Rojo showed today that he has the desire and passion we want in a Manchester United player. Keeping Diego Costa quiet for most of the night, Rojo put all of his heart into every battle and never gave up. 
Overall, us fans cannot be angry with the players or manager after that performance. Before the red card, we were completely in the game. Once again, another good football match has been ruined by pathetic officiating which killed the game. Our players need to keep their chin up as they done us fans proud today!
On Thursday we go again, this time in the Europa League against FC Rostov. Last week's 1-1 draw in Russia left us in a strong position for Thursday's game with the away goal advantage. Although we won't have many days to recover, hopefully we can brush ourselves off and prepare for this game. Lets not forget that we are still challenging for the Europa League, which could win us automatic qualification into the Champions League next season. We are UNITED! Lets not let this one unlucky result get us down.