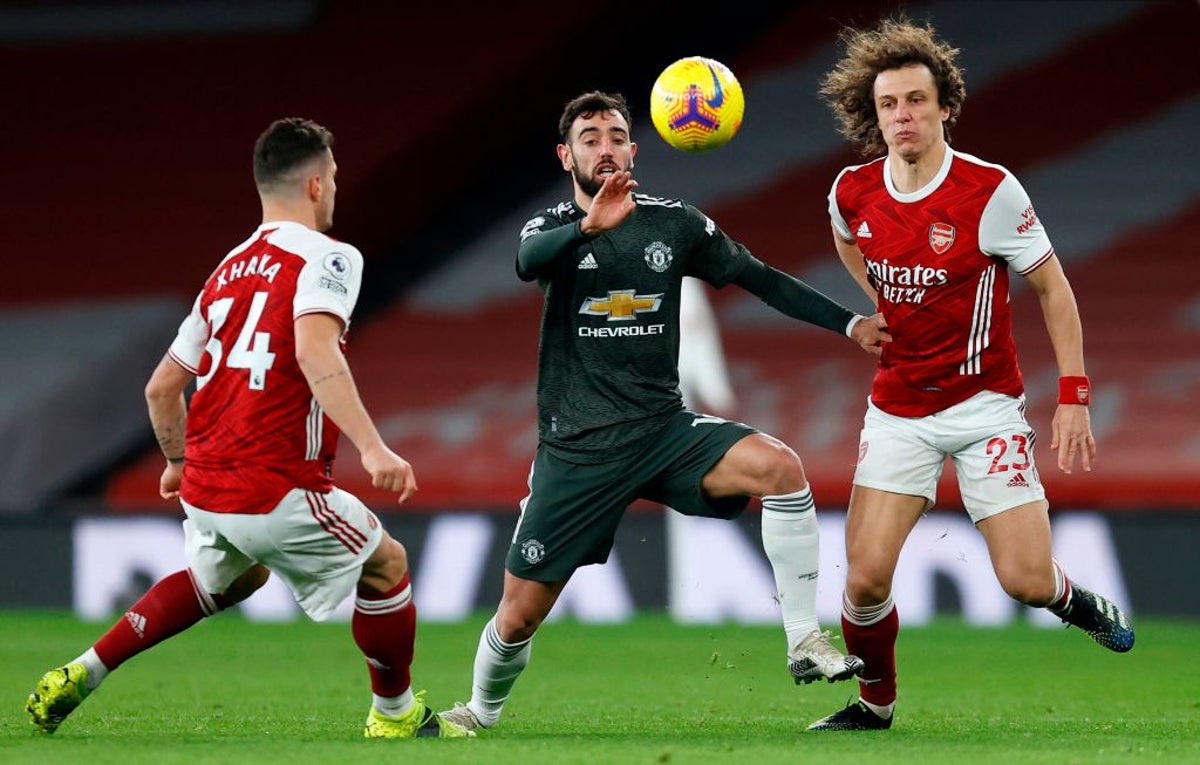 Manchester United had to react after a shock defeat against a lowly Sheffield United team to reduce the deficit against Manchester City. And it's safe to say that we failed to do so, allowing our neighbours to increase the gap between us. Overall, The Red Devils had the clearest opportunities to go ahead in the game and jump to the top spot again. But courtesy of some annoying misses and great defending from Arsenal, the game remained a goalless draw. Arsenal looked happy to hit us on the counter-attack, while Manchester United failed to convert the chances they had.
First Half – Slow Start, Brilliant End For Manchester United
Yet another game, yet another slow start. Our first real chance of the game started from a Wan-Bissaka interception, and Rashford brilliantly nutmegged Xhaka to skip past the Swiss international. He had done everything right until he had to make a decision. Marcus was caught in two minds and delayed his pass to Bruno. The Portuguese was off balance and couldn't do much with the ball.
Luke Shaw's corner was cleared by the Arsenal defense, but only as far as Fred. The Brazilian steadied himself and tried to precisely place the ball in the top corner. The ball seemed destined to be in the back of the net. Manchester United almost got a shock scorer until Leno pulled off a brilliant flying save to deny Fred.
Our fullbacks seemed to be in a mood to attack the opposition. Shaw put in a brilliant cross in the Arsenal box. Wan-Bissaka, not known for his aerial ability, put his header wide of the post. Bruno had a great opportunity to get us ahead after Pogba brilliantly won the ball and put him through. But the Portuguese dragged his shot just wide of Leno's goal. McTominay's "stomach rumbles" couldn't allow him to play a further part in the match and Martial took his place.
Shaw put in yet another brilliant cross in the closing minutes of the first half. Rashford got on the end of it and showed brilliant feet but couldn't sort himself out in the final moment. Maybe he could've taken a first-time shot.
Second Half – A Half Of Rued Opportunities For Manchester United
Arsenal started the second half on the front foot as they did in the first half. Wan-Bissaka put in a brilliant block to deny Willian a goal. Willian's cutback to Pepe called in for a great block from our captain.
Shaw started off yet another magnificent move involving him, Fred and Martial linking up beautifully. The trio's fluid passes absolutely opened up Arsenal. But Cavani couldn't finish off from 5 yds as his shot went wide of a virtually empty goal.
Holding's long ball found Lacazette between both our centre-halves but Maguire did well to stop the Frenchman. Although, the referee deemed his action as illegal and awarded Arsenal a free-kick. Lacazette took the resultant free-kick and hit the crossbar. As Arsenal's attack continued, De Gea pulled off an excellent save to deny Smith-Rowe.
Shaw was easily the best provider in that Manchester United team and he put yet another great ball across the box, alas no one could get to it. Moments later, Rashford hit the side netting from a difficult angle. He had an option in Cavani but chose the harder way. Bruno lost the ball, launching an Arsenal counter-attack resulting in Pepe's shot going just wide of the post.
Wan-Bissaka put in a brilliant cross into the box in the dying minutes of the game. Cavani's acrobatics helped him get a shot but yet again it was frustratingly close and on the wrong side of the post. Martial maybe had a better chance of getting the shot in.
Summary
The only conclusion we can draw from this match is that Manchester United were utterly wasteful, and as Solskjaer mentioned, not clinical enough. While it was good to see us getting a clean sheet, this is certainly not a result that we wanted after our loss to Sheffield United. The Red Devils have ceded significant ground to a rampant Manchester City side. The Cityzens are 3 pts clear of us with a game in hand as well. Meanwhile, Liverpool has come within a point of us and courtesy of a Leicester loss, we're still sitting 2nd in the league. The team needs to look at what we can achieve and start hitting those levels again. Because this is certainly not good enough for a side with title ambitions.