David De Gea. This name used to be a phenomenon at Old Trafford.
Lately, he's been under too much scrutiny due to his form. Showing shades of the nervousness of his first season. Back when people wrote him off as a mediocre keeper.
However, in the last two games. DDG looks more confident. He's back making those crazy insane saves. Pulling off saves that become the stuff of the legends. Against Newcastle & PSG, his contribution enabled United to stay in the games and go on to win them.
Here are the last two games from David De Gea's perspective.
17th October 2020. Newcastle United vs Manchester United.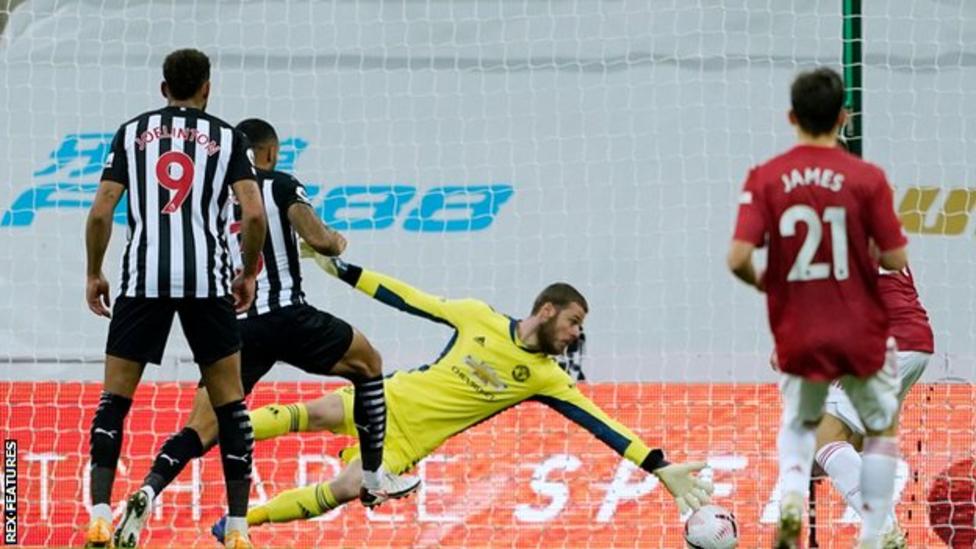 In many ways, this was a defining match for OGS and the United players. Especially after the 1-6 hammering, they received from Tottenham a couple of weeks ago. David De Gea who was a star man at United till a few seasons ago has been under immense scrutiny for the past couple of seasons because of his form. A few eyes are on him every game. Hoping to see him get back to his best.
United had the worst possible start. Conceding an own goal in the opening 2 minutes. David De Gea was caught by surprise and could not do anything about the ball (deflected by Luke Shaw) going into the net.
Sometime around the 30th minute-mark, Allan Saint-Maximin shoots at the United goal but De Gea comes in between. Denying Newcastle an opportunity to take the lead. He hurts himself in the process and however, gets up strong and carries on.
Shortly after the half-time, the score still tied at 1-1, when Allan Saint-Maximin, the star man against Burley, sent a cross to Callum Wilson, who met the ball sweetly and it looked like a certain goal. But David De Gea had different plans! Pulling off probably one of the saves of the season and denies Wilson from a point-blank range.
This save by De Gea would have sent the United fans into a frenzy if they were in the stadium. 'De God' mode was switched on.
De Gea made a couple of more saves to keep United in the game specially parring out Shelvey's attempt in the 68th minute. United finished the match quite comfortably in the end winning it 1-4.
20th October 2020. PSG vs Manchester United.
With Ole still under scrutiny, United went to Paris. Being claimed as the second-best team against PSG. In March 2019, United had waltzed into Paris and defeated PSG. This was their chance to take revenge. However, David De Gea had other plans.
Early on during the 12′ minute, David De Gea made a comfortable save from Di Maria. And from the resulting corner, he made a point-blank save against Layvin Kurzawa. Without knowing too much about it, making sure his positioning was perfect and the ball did not go to anyone else. Like a boss in his six-yard box.
Next couple of occasions, David De Gea used his legs to kick the ball away before PSG could become a threat. And later in the second half made a peach of a save against Mbappe.
Although David De Gea would have loved to keep a clean sheet. He was hardly to blame for Martial's own goal. A clear stand-out performance. De God mode back on again!
United won 1-2 and look like they could really challenge in the Champion League this season. With De Gea at the helm!
How Does The Future Look!
David De Gea has looked like a shadow of his old self recently. However, in the last couple of matches, we see glimpses of his old self coming back. United went on to win their tenth consecutive away game yesterday. A feat that has never been achieved before.
Still, there is a long way to go for United and David De Gea. To be on the top again. To give the fans what they deserve. We're still hopeful. I am still hopeful.
One thing is for certain, United need an in-form De Gea to get back to greatness. The David De Gea that strikers used to fear. I hope he's on his way to being his best again. I will be keeping a close eye out when United play Chelsea next.
Verdict: Last two matches: David De Gea – A solid 9/10.