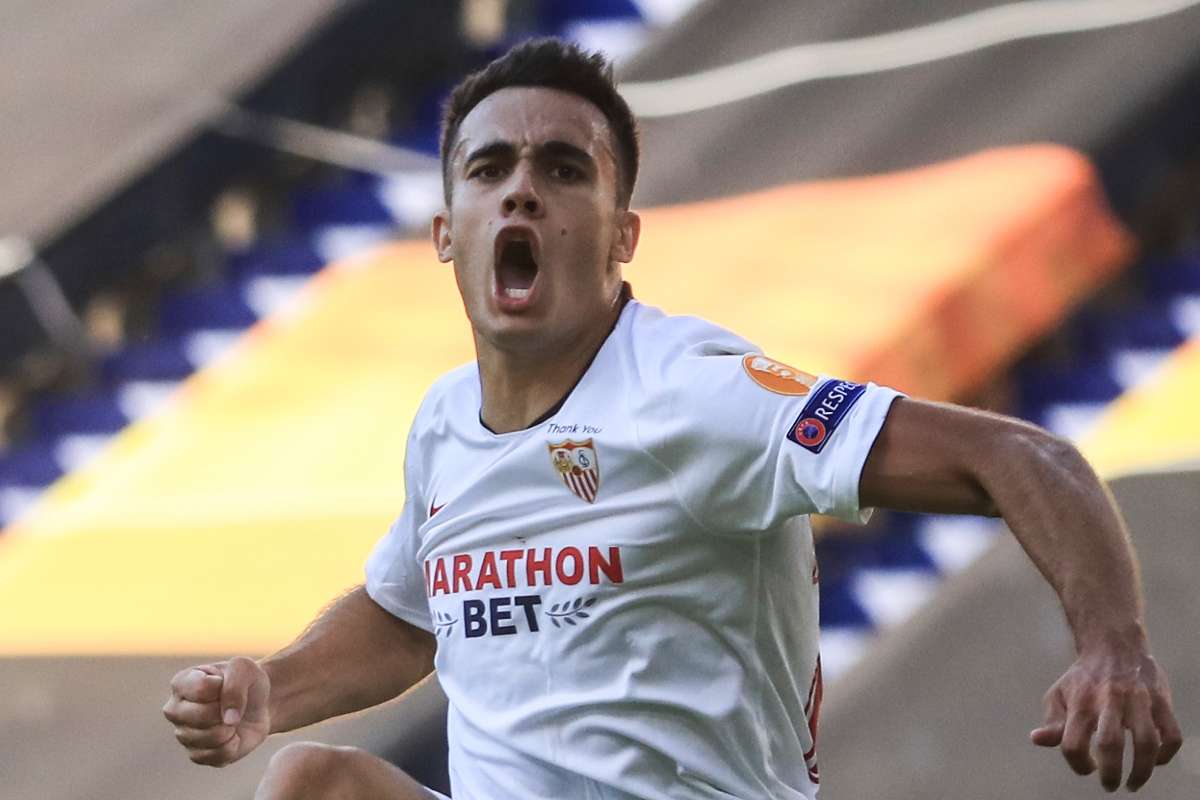 Manchester United have been linked heavily with the Spaniard but can the board bring him to Old Trafford?
Image from Goal.com
As Manchester United's Premier League campaign starts in 10 days, fans will be wondering what they can expect from the Reds this season. The transfer window has been disappointing as of now, with just a single senior-team arrival in the form of Donny van de Beek. Nonetheless, things look like heating up as two players are linked with a move to the club – Jadon Sancho and Sergio Reguilon. 
While the Dortmund winger has been a long-time target of Solskjær, Reguilon has made it into the news recently. 
Why does Reguilon's transfer look sensible?
From Sevilla's Viewpoint – The Spanish international enjoyed success in his first season with the Nervionense club, lifting the Europa League trophy in Cologne just 20 days back. Monchi, the sporting director of the Club, recently said, "Regarding the issue of Reguilon, I already said it, we would love to have him here but it is complicated because there are economically very strong rivals with whom we are not in a position to fight". 
It is as clear as daylight that Sevilla would love to bring him back to the club, BUT only on loan. They are not interested in paying the fee which Real Madrid demands to attain his services permanently. Recently Sergio removed his Instagram bio and profile picture which were related to Sevilla. It might suggest that Sevilla are not in a position to gain his services, and he might know that already. 
From Real Madrid's viewpoint – 
"Sergio Reguilon move to MUFC has momentarily stalled due to United not wanting to include a buy-back clause or right of first refusal. Clubs are willing to pay the €30m with Tottenham, Inter Milan and Juventus on the prowl." – Marca.
The latest report from Spanish papers (AS Marca) suggests that Real Madrid want to include a Buy-back clause in his transfer fee. And Manchester United would not like to be a stepping-stone club for the Madrid outfit. This disagreement is evidently the reason why the deal is being stalled.
But there are some other factors coming into play! Both Reguilon and Real Madrid know that they don't have a future together. Reguilon, a La fàbrica product, made his senior debut for the Los Blancos under Julian Lopetegui in 2018. He went on to make 14 senior appearances in the league for the club. But Zidane's return to Real Madrid, proved to be a blow for the young left back. He wasn't favoured by Zizou. Instead Marcelo was given a pathway back to the squad. And in the last summer he brought in Ferland Mendy from Lyon sending Reguilon out on loan to Sevilla.
The reason for Zidane opting to not play Reguilon, is allegedly due to an issue between his son Luca Zidane, who plays as a GK at the club, and Sergio Reguilon. Furthermore, Real Madrid recently secured the signature of another of their young La Fàbrica left back, Miguel Gutierrez Ortega till 2024.  The highly rated starlet had put pen to paper quite recently – March 2020. 
Evidently Zidane has Ferland Mendy and a young top talent waiting to fill the boots of Marcelo. Why would he need a 4th left back? The buy-back clause is a precautionary measure on the part of Real Madrid. But they as much as the player himself would certainly know that Sergio doesn't have a future with the club. 
With Sevilla also looking less likely, a move to Premier League is the most sensible. And among them Tottenham and Manchester United. Guess we'll have to wait to find out. But it does look very likely!