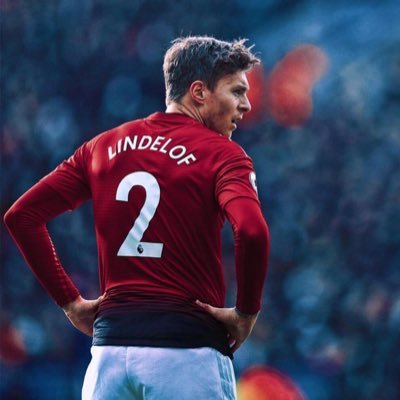 Lindelof has been the main choice for the starting centre-back alongside Harry Maguire this season, how has the Iceman done in his three year spell at the Red Devils?
Image from Twitter
OVERVIEW
Since joining Manchester United from Benfica in July 2017, Victor Lindelof has been a growing structure of the United defence and after his performances in his first season for the Red Devils, there were questions regarding his ability to perform in the highest level. 
In the 2017/18 season he managed 17 league appearances and had his "ability under pressure" questioned throughout the campaign. Mourinho, the then Manchester United manager reassured the United faithfuls that Victor Lindelof needed time to adapt to the Premier League as has been an issue for many players coming from other European leagues into the Premier League. 
According to Samuel Luckhurstin, Manchester Evening News, Mourinho was surprised by how off the pace Lindelof was in pre-season, but he has been assured by Portuguese contacts that the Swede made a similarly slow start at Benfica where he subsequently went on to play a crucial role as Benfica won back-to-back league titles in 2015-16 and 2016-17 and established himself as one of the best young defenders in Europe.
The 26-year-old struggled to adapt to life at United and put in a miserable performance in a game he wouldn't want to remember, as a 23rd-minute substitute for Phil Jones as the Red Devils lost 2-1 to Huddersfield Town in 2017 which sparked the downwards spiral away from the top spot in the Premier League after a bright start to the campaign. 
SMALLING PARTNERSHIP
The 2018/19 Premier League season was a one to hold onto for the Swedish. A total of 45 (35 league starts) appearances in all competition for the Red Devils. Lindelof sealed a partnership with Chris Smalling. Not since Rio Ferdinand and Nemanja Vidic departed Old Trafford have Manchester United had a settled centre-back pairing and they did have that for most the season with Lindelof and Smalling. However it wasn't a happy or impressive partnership:
This pairing saw United concede a total of 54 goals in the league breaking the recorded for the highest goal conceded in the league by a Manchester United team. "It's a disastrous season and things needed to be done" – Gary Neville. 
Eric Bailly, United faithfuls dubbed to be the replacement for Nemanja Vidic has been having concurrent injury crises was always found in the hospital bed and at the end of the 2018/19 season, this was no different and only returned to first team football for United this February. He barely played, and there were rumours he was to he sold if he doesn't get fits or find his way into the starting XI Mourinho kept his faith for the Ivorian. 
"The situation is that we have five central defenders," Mourinho explained. "And it's a little bit difficult to find the best combination, not just related to their qualities but also related with the injury situation."
Mourinho continued. "It's a bit difficult to really go for a couple of players that they are a little bit more open to injures and then they play one or two matches. And you want continuity and a three-match-in-a-row and you have to break the continuity and start everything again." Jose Mourinho on Eric Bailly's absence that saw the Ivorian manage only 10 appearances in all competitions. 
THE CAPTAIN'S ARRIVAL
After the dismissal of Jose Mourinho by the United board, there were uproar on who will be the his first signing of his successor, Ole Gunnar Solskjaer, which position and what difference will it make?
De Ligt of Ajax and Harry Maguire were among the names mentioned during the summer to improve the defensive side of Manchester United's new era. After a failed agreement with Ajax, De Ligt made his trip to Turin and United signed Harry Maguire from Leicester City for a record fee of £80m.
Still, there were questions over  who is to be replaced between the pair of Manchester United central defenders who made their partnership the previous season. The question was quickly answered as Manchester United came out of Old Trafford for their first game of the season against Chelsea which saw a pairing of Victor Lindelof and Harry Maguire.
As Chris Smalling went out on loan to AS Roma to find game time, Harry Maguire and Victor Lindelof built a great partnership between them. Lindelof told United's official website of his pairing with the Red Devils' current captain: 
"Well, yeah, it's been great playing with Harry a lot this season. It's very important to play a lot of games together and you learn a lot from each other."
"The more games you play, the better you get as players and so it's been great as we've been helping each other a lot and getting some good results."
THE STATISTICS
Victor Lindelof was the only Premier League centre backnot to be dribbled past this season. There might be ways in which such stat can be interpreted, but it shows how immersed he's been this season for United.
With his performance on the last game of this season which secured Manchester United a Champions League spot and third place in the League, Lindelof pulled out a 10/10 rating and dealt with the tricky attackers of Vardy, Iheanacho, Barnes, Perez and Gray expertly all game. Lindelof's passing range has been great this season and his consistency in doing so, he has demonstrated his ball-playing qualities and willingness to drive forwards and get moves going quickly when needed. 
Lindelof: "We have one trophy left to win this season and that should always be the mentality, to win trophies. We have another one to win in the Europa League."
• Last season — 78 goals in 53 games (54 Premier League goals in 38 games)
• This season — 48 goals in 58 games (36 Premier League goals in 38 games)
26 – Manchester United have kept the most clean sheets out of any team in Europe top 5 leagues this season across all competitions.
If the rumours that Manchester United has reached a €27m + €2m for Gabriel Magalhães were true, will there be new centre-back pairing next season?
Reports coming out from MEN claimed that Ole Gunnar Solskjaer is happy with his defenders and will not add likely not add any player. Whichever may be the case, Victor Lindelof has earned his spot in the starting XI and the trust of his manager, Ole Gunnar Solskjaer.