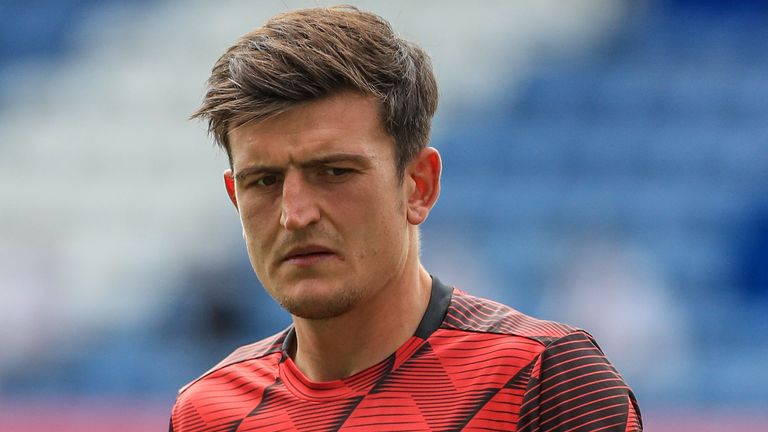 Harry Maguire found guilty on three offences but there's more to it…
Image from Sky News
After being arrested by the Mykonos police after a fight between Maguire and rival fans, United captain, Harry Maguire was accused of committing assault, resisting arrest, assault of a police officer and attempted bribery. He faced a trial today but was not needed in Greece as he returned home to ready his pre-season with Manchester United that begins in eight days.
The trial today found Harry Maguire guilty of aggravated assault, resisting arrest and attempted bribery. It was said in court that Maguire, upon realising a group of men that were harassing his sister, stabbed her with a sharp object that caused her to faint, he stepped in to defend his sister and ended up fighting the men along with two other individuals. He was taken to the police station and his defence reported that while in the station, a police officer (not in uniform) kicked him in the leg and remarked; "Your career is over". He spent two nights in prison and it was claimed he stated to the police, "Don't you know who I am? I am the captain of Manchester United, I am very rich, I can give you money, I can pay you, please let us go."
Despite this report, many people close to Maguire have claimed this is a lie as he would never say such things and this is a story concocted for publicity and perhaps money too. His family, Jamie Carragher and former-teammate David Meyler are some of the many who have defended Maguire.
Despite the circumstances and the certainly shady evidence on which the information was given, Maguire was found guilty of all three claims and was given a suspended sentence of 21 months and 10 days as it was his first offence for the first and the last two were simply misdemeanours. Nevertheless, Maguire and his defence are appealing the judgment and are furious with the decision.
While there have been many to defend Maguire, there have been many criticising him too. But why? These fall under two categories; one being the way the media have portrayed Maguire in comparison to the way the media have portrayed Pogba and Sterling in the past in a negative way and Maguire by sympathising and thus argue that Maguire should be put under the same harsh spotlight. While this is fair, unfortunately the downright shambolic way the English press deal with stories especially with the BAME community is not going to change and fans should not be critical of Maguire because of the way he is portrayed but instead of his acts and they are not worthy of such harsh judgment, especially under the circumstances Maguire was in. 
The second category is because they think Maguire as the captain should not have been in these circumstances and questions remain over his captaincy/England involvement. This is the one where there is no standing for this argument. He was acting in defence of his sister and his family and I do not doubt that anyone would do the same if they were in the same circumstances. Furthermore, the likes of Roy Keane, Steven Gerrard, Eric Cantona and Jamie Carragher have all been charged with similar offences and not convicted. Similarly, how many players in Spain have been found guilty of tax evasion? Including Messi! I think many people have short memories of others who have been in similar situations and I think people should really relax over this as the blunt facts do not tell the whole story which is far more complex. 
I also think it is a true shame that Gareth Southgate has dropped Maguire if the reports are to be believed. It could well be true that Maguire has withdrawn of his own free will but if not that is a truly terrible way to back England's best centre back. I still back the United captain and I hope he can lead us to success in the following season and for many years to come.