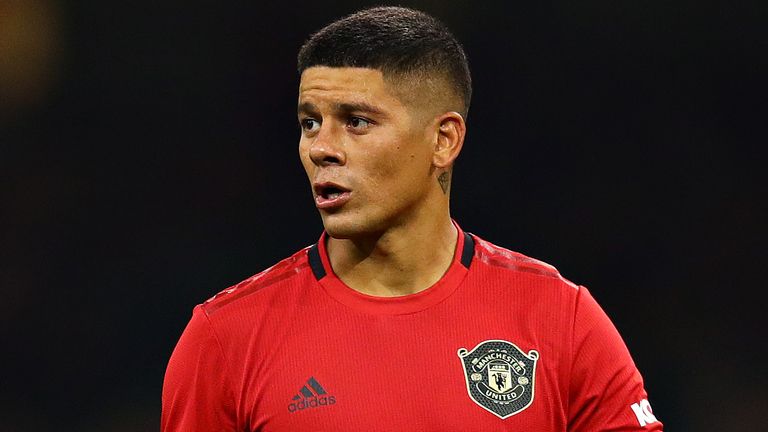 Rojo has barely featured since 2017 and looks set to leave
Image from Sky Sports
Key Stats:
Name: Marcos Rojo 
Date of Birth (Age): Mar 20, 1990 (age 30) 
Signed: August 19, 2014; loaned to Estudiantes 1/30/2020 
Appearances: 76 
Appearances This Season: 3 
Goals: 0 
Assists: 0 
Pass success percentage: 70% 
Contract till: 2021 with option for 2022 
Analysis: 
Marcos Rojo arrived at Manchester United in 2014 and signed a 5-year contract. In 2018, Rojo signed a new contract to keep him a Red through 2021, with an option for 2022. Since 2018, the defender has fallen out of favour at Manchester United. Battling a combination of injuries and lack of form, as well as incoming transfers, Rojo only featured 3 times for the United squad in 2019-20, and at the winter transfer window, was loaned to Estudiantes of the Argentinian League. Estudiantes was Rojo's childhood club, where he started at the age of 10. At the conclusion of his loan, Rojo bid an emotional farewell to his childhood club saying that it was "bittersweet". It is fair to say that the loan to Estudiantes didn't go as expected with Rojo only featuring just one time for his childhood club with injuries combining with the Covid19 pandemic complicating his time in the Argentinian topflight of football. 2019-20 was a very frustrating year for the defender and it remains unlikely that he will be a big part of 2020-21 at United. Overall, he didn't feature enough to warrant a rating. 
Overall: N/A
Ambitions for Next Season: 
There is a pretty good chance that the Argentinian has played his last match in a United shirt and will be a loan or transfer out for 2020. United has tried to sell Rojo unsuccessfully each of the last four years and was hopeful that a loan to his childhood club would help the Argentinian return to form. The plan backfired due to injuries and the ongoing pandemic that made the loan unsuccessful for Rojo and selling him more and more difficult. It is doubtful Rojo features at all for United and the club will likely sell him if possible, but more likely, it will be another loan for the defender.