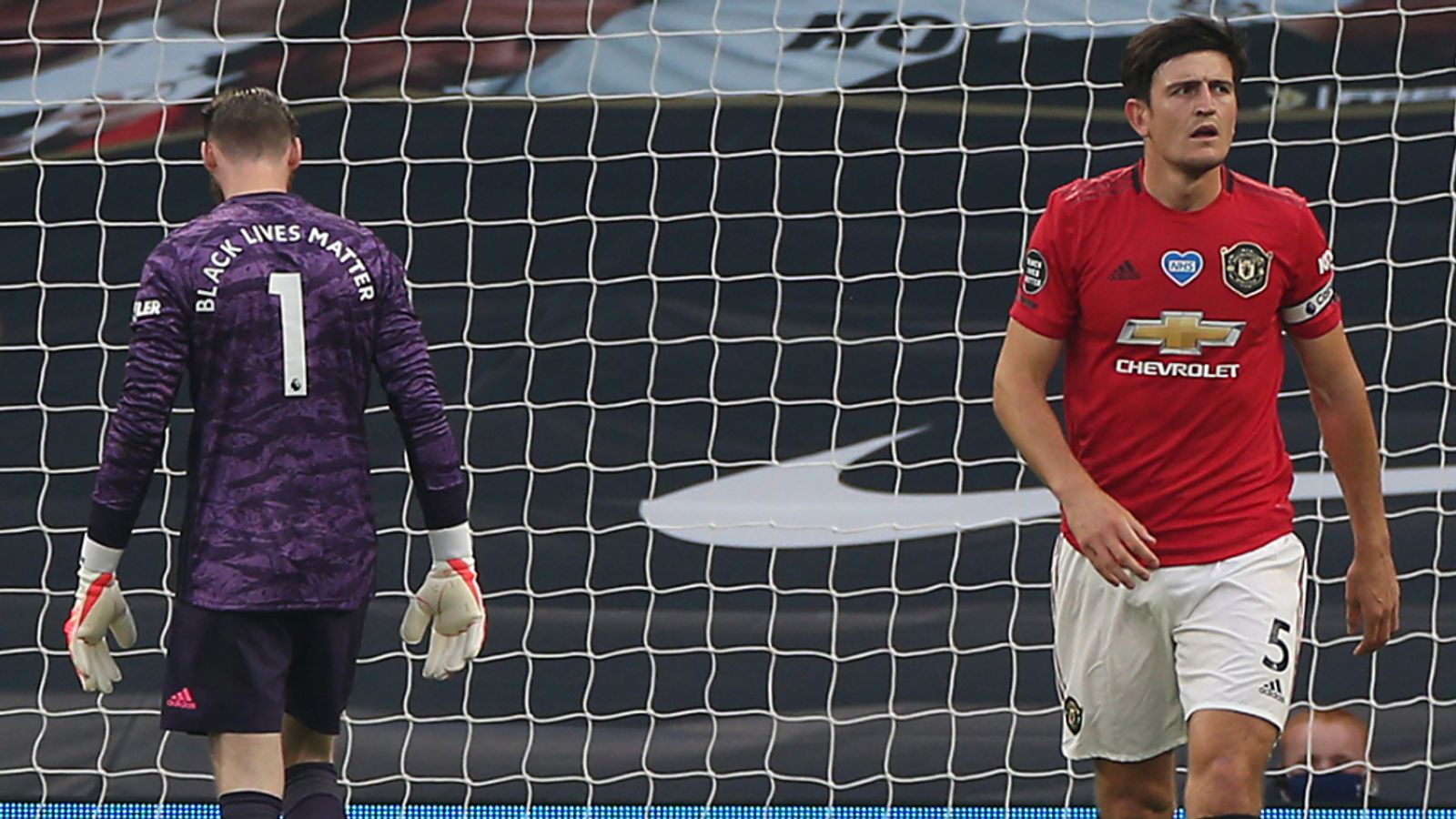 Should David de Gea and Harry Maguire be benched for the final and potentially most crucial game of Manchester United's season?
Image from Sky Sports
With hopes of winning the FA Cup now quashed by Chelsea, United must turn their attention to securing a Champions League place in next season's competition. To do that, ideally, they need to finish in the top four in the Premier League
It all boils down to what happens in their last game of the season when they play Leicester City at the King Power Stadium on Sunday, 26th July. If the Foxes can beat United, and score enough goals in the process, they can snatch that fourth-place finish for themselves. Manager, Ole Gunnar Solskjaer's job is to make sure that cannot happen.
United's semi-final defeat by Chelsea did not really come as a surprise. United made a lot of changes to the side that played against Palace and had only 48 hours to prepare for the game, which is two days fewer than Chelsea, having played on Tuesday night.
Another pointer is the club's forms in previous FA Cup competitions. Statistics show the Blues ahead of United in terms of upsets, by 45.5% vs. 42.9%. So, statistically, Chelsea were favourites, and that is the way it played out on Sunday.
Now, with our FA Cup hopes a fading memory, and the league title being so emphatically claimed by Liverpool, thoughts for the Red Devils now turn to sealing Champions League qualification for next season. They can still do it. However, they cannot afford to leave anything to chance.
Brendan Rogers' men are bound to be fired up, having had a fourth-place finish almost there for the taking earlier this season. But their 4-1 defeat by Bournemouth and their loss against Spurs on Sunday have left them reliant on Manchester United slipping up at home to West Ham tonight. So, not only will the Foxes have the incentive and the home advantage, they will also be more rested than Solskjaer's team. Everything is still to play for.
Ole Gunnar Solskjaer has admitted that his team selection was at fault for United's FA Cup exit. He was keeping players back for their penultimate league game when they entertain West Ham at Old Trafford. But starting without Greenwood, Martial, and Pogba proved costly. That, Maguire's own goal and the mistakes made by goalkeeper, David De Gea.
Regardless of the result of their penultimate game against West Ham, the trick to securing Champions League football next season lies in beating Leicester. A draw might be enough, but Solskjaer cannot afford to give that any thought. If he does, and it all goes topsy-turvy on the day – disaster. United need the win. However, there may be factors to consider for this crucial fixture concerning team selection:
It was De Gea's errors (with the help of an own goal courtesy by Harry Maguire) that allowed Chelsea to dump them out of the competition so close to reaching the final. But is Ole Gunnar Solskjaer brave enough to leave both players out of the final game and more importantly, would it benefit the side?
Let's face it, Harry Maguire had a torrid game against Chelsea, but it wasn't even his own goal that was the embarrassment. There was that awful dithering that ended with him passing the ball to Marcus Alonso – the video of which has gone viral. For an £80m defender and United's captain, you would expect him to do better in such a crucial game for Manchester United and the criticism was heaped upon him for the goals conceded. This man cannot really be dropped despite questions raised over the Englishman as United have no other available options other than Teden Mengi who has yet to play in the Premier League and the stats do not lie that Maguire has improved United's defence overall this season. But he needs to understand that any mistake will be pounced upon under such a harsh and glaring spotlight and he needs to eradicate these from his game as he has been punished for them in recent weeks.
As for De Gea, he was once considered to be the best goalkeeper in the league and maybe even in the world. But his form has gone down since 2018. He has made too many costly errors, and the last ones against Chelsea only serve to prove the point. The man's confidence is shot, and Solskjaer may be wise to leave him out of the spotlight and bring in the very competent, Sergio Romero who has rarely disappointed for Manchester United. Peter Schmeichel stated that a goalkeeper that changes from being one that is constantly in the action to one that is rarely called upon is one of the hardest transitions in football. Clearly, David de Gea is struggling with this transition and, as he is used to constantly being called upon, he is losing focus in games which has cost United valuable points. 
But would it be fair or even deserving to drop the man who has saved United countless times in his nine year stay?There is a strong argument to dropping De Gea, stronger than that for Maguire, but it is ultimately the boss' decision whether to stick or twist with United's number 1 against Leicester and it would be a massive decision either way.