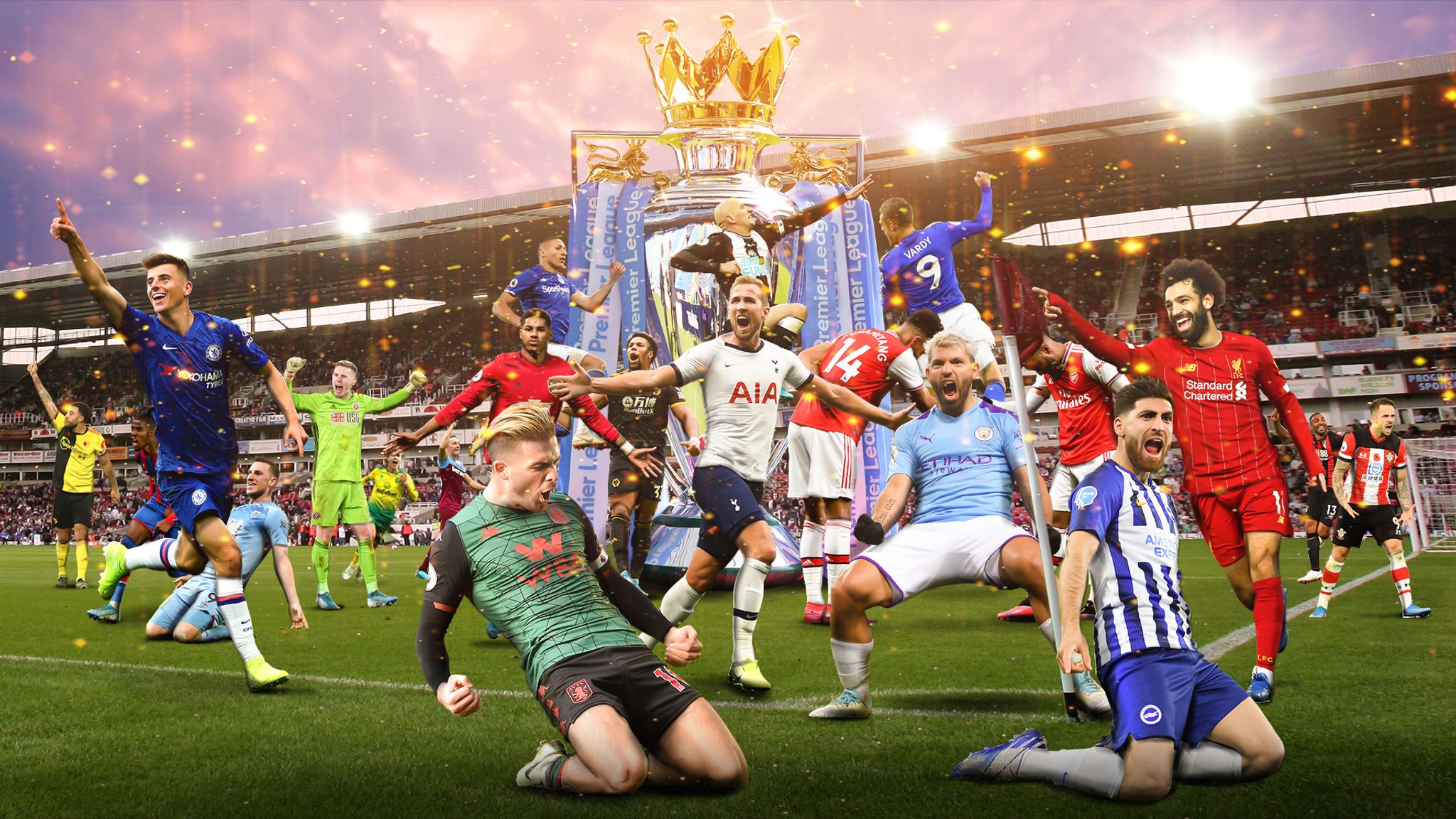 Image from Sky Sports
A lot of Premier League football is being played at the moment as the league is being wrapped up as quickly as possible to make up for lost time during the lockdown. However, many twists and turns lie down the road in the UK. Liverpool may have been crowned Champions last Thursday after Chelsea's win over Manchester City but there's still plenty to look out for in the Premier League. Top Four troubles and triumphs, relegation fights and futilities and plenty more to come in the league. The last seven days have been no different and here are the results from Matchdays 31 and 32:
Matchday 31:
Tottenham vs West Ham 2-0
Leicester City vs Brighton 0-0
Manchester United vs Sheffield United 3-0
Newcastle vs Aston Villa 1-1
Norwich vs Everton 0-1
Wolves vs Bournemouth 1-0
Liverpool vs Crystal Palace 4-0
Burnley vs Watford 1-0
Southampton vs Arsenal 0-2
Chelsea vs Manchester City 2-1

Matchday 32:
Aston Villa vs Wolves 0-1
Watford vs Southampton 1-3
Crystal Palace vs Burnley 0-1
Brighton vs Manchester United 0-3
Bournemouth vs Newcastle 1-4
Arsenal vs Norwich 4-0
Everton vs Leicester City 2-1
West Ham vs Chelsea 3-2
Manchester City vs Liverpool ?

And here are the grades:

LIVERPOOL 10/10 and 0/10 = 10/20
Liverpool's bogey team may have been Palace in 2014 but not in 2020 as they smashed Palace everywhere on the park. The front three were electric after a toothless Merseyside Derby and Fabinho stole the show with a glorious assist and an even better goal. True champions and admittedly they do deserve it but the way they capitulated against Manchester City was dreadful. Not worth a grade. Gomez, Robertson and Trent were all awful defensively, Salah was indecisive (unlucky with one effort), Mane looked like he couldn't score a goal and Firmino was invisible. Some fans have said they don't care because they won the league and the players were 'hungover' or 'drunk' during the pre-match interviews but if that is true that is utterly unprofessional and truly disgraceful as they should be trying to make a statement that they are the best in the UK and beat Manchester City but were humbled instead.
MANCHESTER CITY 2/10 and 9/10 = 11/20
Manchester City looked in a groove against Arsenal and Burnley and I thought they'd batter a defensively weak Chelsea side but, no. Defensive errors cost City yet again this season and for the first goal it was the £110m duo of Laporte and Mendy who clashed and Pulisic burst through and scored and then it was Mr Reliable who got himself sent off for a deliberate handball and Chelsea scored the penalty. They did bounce back against Newcastle at the weekend in the FA Cup and utterly smashed Liverpool apart. No Aguero, no Fernandinho, Garcia and Foden starting and City obliterated the Reds. De Bruyne ran the show again, Foden was exceptional and they were solid defensively too. City have Southampton next and you expect them to make another statement that they are going to challenge much more next season.
LEICESTER CITY 5/10 and 4/10 = 9/20
What has happened to Leicester in 2020?? They were, at a point, second in the league and now they are only three points behind fifth and sixth place United and Wolves. They haven't exactly got easy fixtures left and Vardy's drought isn't helping either. Ricardo's absence is a massive loss and Maddison is their best midfielder for creating chances but hasn't played for a couple of matches. They need to wake up and an out-of-form Palace side could revive them or kill their season.
CHELSEA 9/10 and 2/10 = 11/20
Magnificent one matchday and awful the next! They threw everything at City and it paid off. Abraham, Pulisic and Willian looked sharp and full of quality and they looked competent defensively as they defended deep and countered as we have seen United do this season against City too. However, on the other foot, when in possession of the ball, they look lost without Jorginho as Kante can't dictate play like the Italian and West Ham were unlucky to not score more. Alonso, Rudiger, Christensen and Azpilicueta were Chelsea's back four and they were all outmatched throughout the game. Chelsea have Watford at home and while Watford have been out of form, they turn up for the big games and this could be a tricky one to navigate.
MANCHESTER UNITED 9/10 and 9/10 = 18/20
Magnificent Manchester United. I believe it is the first time since 2017 Manchester United have registered back-to-back Premier League wins with clean sheets and 3+ goals in each match but they have done it now. A beautiful hattrick from Martial saw off a weakened Sheffield United team, Rashford was still a little rusty and should've scored twice but bagged two assists instead and Matic was exceptional. Away to Brighton, United were just as clinical with Shaw and Rashford rampant down the left and Wan-Bissaka and Greenwood equally so down the right but it was our Portguese Magnifico who stole the show with a great brace and was unlucky not to be a hattrick. Pogba x Bruno x Matic has been exceptional so far and should dominate against a sorry Bournemouth side at the weekend. I am expecting nothing less than a thrashing.

WOLVES 8/10 and 8.5/10 = 16.5/20
Wolves have been clinical but not dominant. There is still a weakness but they are winning games and that is what really counts. Back to back wins pushing United, Chelsea and Leicester all the way has shown their growth as a team. They will be one of the Europa League favourites alongside Manchester United and Inter of course but could get to Champions League football the natural route.
SHEFFIELD UNITED 3/10 and 9/10 = 12/20
Woeful against United but I'll put that down to a lack of Egan, O'Connell and Henderson as they were sliced apart and offered very little in attack. In the FA Cup, Henderson was at fault for the Ceballos winner and will be disappointed not to save it.  Credit where credit's due, they were exceptional against Spurs though. While Spurs were defensively atrocious, the Blades still had to score and were clinical in front of goal – a massive win for them as they were on a downwards spiral post-lockdown. They are not out of the fight yet but have some tough games to come and will need some of the early season form to get them through.

ARSENAL 8.5/10 and 9/10 = 17.5/20
Arsenal looked set to finish tenth after that loss to Brighton but Mikel Arteta has picked up his side and dragged them back into the running for European football. A solid win against the Saints and a cruise against Norwich too, not to mention a semi-final in the FA Cup. He has done well to keep two clean sheets in the league with that rabble but he does have Wolves up next and they have deadly forwards and defend deep to prevent the likes of Pepe, Aubameyang and Lacazette from getting space. It could be troublesome and send Arsenal downspiralling again, we'll have to see.

TOTTENHAM 8.5/10 and 1/10 = 9.5/20
Jose Mourinho's first game in charge of Spurs was against West Ham and he won by two goals in a 4-2 win and the same result occurred last week as Spurs won 2-0 with crucial goals from Souceck (OG) and Kane. You would have expected them to keep up their form against Sheffield United who were looking all over the place against United and Arsenal but the Blades battered them and Berge was the best player on the pitch. Defensively, Spurs were dreadful and in attack they were toothless. Yes, you can say that they had a goal disallowed to make it 1-1 but to be honest they were so bad in defence, I doubt they would have built on it. I think Spurs' season was dead in the water before Mourinho came in but it definitely hasn't got better since he's there either. I would expect him to stay through the summer and try and get some stability and players in but I don't think he'll agree with Levy's policies and will leave or be asked to by the end of next season. There was a point where Arsenal were mid-table and everyone was laughing at them, we forgot about Spurs' woeful season too! They have a tricky fixture list to come so will have to keep fit and focused to reach European football.

BURNLEY 7.5/10 and 8/10 = 15.5/20
Two classic Burnley wins and the Clarets are safer than ever! Only Liverpool and Wolves left of the current top six to face for Sean Dyche's side and they'll fancy their chances to push further up.

EVERTON 7.5/10 and 8/10 = 15.5/20
Ancelotti has turned this Everton side around and you can see his strength as a manager and tactician. Calvert Lewin may be on a small drought but is still affecting Everton's play with his hold-up play and pace through the channels and teams up well with Richarlison who is a great forward and a smart player. Gomes is a massive boost and was crucial in the Leicester win. They are still fragile defensively and Pickford was important in making some big saves. Spurs to come and they might fancy their chances but have to respect Spurs' forwards.
CRYSTAL PALACE 2/10 and 4/10 = 6/20
Woeful form at the moment. I thought they had turned a corner but after that Liverpool humbling, they stumbled against Burnley at home and that is not good enough from the Eagles. An out-of-form Leicester to come and then Chelsea, Villa, United, Wolves and Spurs to finish. It looks dangerous for Palace and while they seem safe from relegation, their goal difference could be hit hard.

NEWCASTLE 6/10 and 10/10 = 16/20
A solid draw with Villa but they'd probably expect to win after some good results but were devastating against Bournemouth. Gayle has found a small patch of form and that will be great for Newcastle who need an out-and-out goalscorer, if they can get the takeover deal through it may be worth looking at Edinson Cavani…

SOUTHAMPTON 3/10 and 8.5/10 = 11.5/20
Beaten well by Arsenal and while the goals were scruffy, Southampton's overall play wasn't good enough for the win but they deserved it against Watford. Ings was on fire and capitolised on the defensive errors clinically. A £20m bargain! A tough trio up next with City, Everton and United and I can see them causing trouble but ultimately only getting at most one win from these games, and yes I do mean Everton.

BRIGHTON 7/10 and 2/10 = 9/20
As solid and composed as they were against Leicester, they were as battered and broken by United on Wednesday. They couldn't handle the fullbacks running through and Pogba and Bruno ran the show while Matic soaked up the few attacks Brighton could piece together. Two shots on target against United and De Gea was comfortable for the most part. A massive game against Norwich is up next and they have to win and secure safety as soon as possible because they have Liverpool and City after that and could be battered even more.

WEST HAM 4/10 and 9/10 = 13/20
They defended very well for most the game against Spurs but ultimately the quality showed and West Ham crumbled in the end. Against Chelsea they were far more positive and Antonio was marvellous. He was strong, brave and smart with his play, not to mention his pace on the counter! Souceck was class, Rice did very well in midfield and Ogbonna was immense at the back. The winning finish from Yarmolenko was quality and they preyed on Chelsea's fragilities expertly, so why are they in a relegation battle with the players they have? It is baffling but this is a massive step in the right direction. Newcastle next and they need to keep their form up or it could sink them again but they will be relieved that they only have United from the current top six and have three relegation candidates to face (Watford, Villa and Norwich) and can get vital points if they play like they did against Chelsea.

WATFORD 4/10 and 3/10 = 7/20
Their form has taken a nosedive interestingly since their 3-0 win against Liverpool! No win in four and this is dangerous for the escape artist Nigel Pearson. Sarr, Deeney and Deulofeu have been crucial in their attacking play but their defenders remain error-prone and a yard off the pace, so does the keeper it would seem as age is catching up to Ben Foster. They have a difficult game against Chelsea but a positive performance and perhaps some points on the road could galvinise their run-in with huge games against Norwich, West Ham and Newcastle to come.

ASTON VILLA 6/10 and 4/10 = 10/20
They look done but are still mathmatically able to stay up. They have the joint worse defence in the league with Norwich but they play a back five! Norwich play attacking football and have conceded the same number which shows the lack of quality in their defenders at the moment. Grealish has been outstanding and El Ghazi and Trezeguet have helped but none have done enough. They have a demoralising set of games to come and if memory serves, the last time they were relegated, they lost 0-8 at home to Liverpool and were relegated by United with four games to go in 2016, if history repeats itself it will be a humbling experience for Villa who spent buckets in the summer and could lose their best players to better teams.

BOURNEMOUTH 4/10 and 1/10 = 5/20
Tragic. Lucky not to concede more in both games. No King one week and no Wilson the next. Between the two games, Bournemouth registered one shot on target. One. It is actually embarassing how far they have fallen and more embarassing United lost to this side at Dean Court. Bournemouth will sit deep and try to counter United at Old Trafford but I expect they will lose and badly.
NORWICH CITY 5/10 and 2/10 = 7/20
They held Everton off for as long as possible but fell in the end. In the FA Cup they were much better and I guess the cup tie can boost teams no matter the circumstances but they coudn't hold United off in the end. In the Arsenal match, I am not sure what happened, Godfrey had a superb effort hit the post at 0-0 and then Krul's disasterclass began by conceding a cheap opener from Aubameyang and Xhaka scoring between his legs was poor too. Norwich resume their broken state after a valiant effort against United and could be 10 points clear of safety if they lose to Brighton.
TEAM OF THE GAMEWEEK: MANCHESTER UNITED