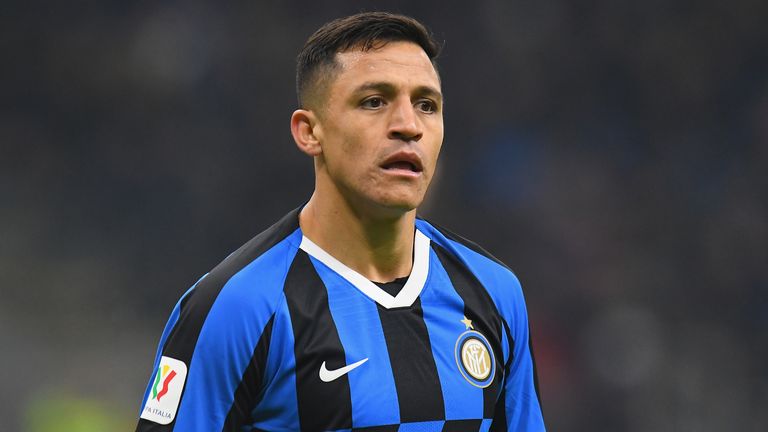 Alexis Sanchez is keen to play for Antonio Conte

Inter Milan are reportedly becoming increasingly confident of completing a move for Manchester United attacker Alexis Sanchez during this summer's transfer window. Sanchez has spent the 2019-20 campaign on loan at San Siro, scoring four times and contributing 10 assists in 28 appearances in all competitions, with the 31-year-old particularly impressing since the lockdown period. Inter recently confirmed that they wanted to sign the attacker on a permanent basis, although Sanchez's wages – thought to be in excess of £500,000 a week – are likely to prove problematic.

With United and Inter expected to meet in the final of the competition, United declined to let Sanchez continue his loan – with UEFA rules allowing players to play against their parent clubs, unlike the Premier League.

CEO Giuseppe Marotta confirmed Inter's desire to keep Sanchez on Tuesday evening, though a deal will be difficult to pull off particularly if United play hardball over a fee. 'It is not easy, he has a two-year contract with Manchester United, a heavy contract,' Marotta told Sky Sport Italia before Inter's 2-0 win over Napoli.

"So we have to evaluate this type of situation, in addition to any negotiation It would be a shame if we couldn't reach an agreement because we would like Sanchez both today and, in the future, he is an excellent guy."

Sanchez signed for United in a swap deal from Arsenal back in 2018 but the move has largely been seen as a failure after he struggled to recapture the form which saw him establish himself as one of the Premier League's best at the Emirates Stadium.

A source told the Daily Star: 

"Alexis doesn't see the point in going back to Manchester. He's happy where he is. It just didn't work out for him at United and he wants the club to accept that he wants to leave."

Inter are reportedly willing to pay in the region of £30m for Sanchez while the player is understood to be ready to take a pay cut in order to secure a move away from United. Inter would not be able to afford such a fee in addition to Sanchez's salary – which is believed to be as much as £500k-a-week – so have reportedly proposed a swap deal involving Ivan Perisic, who has spent the past season on loan at Bayern Munich.