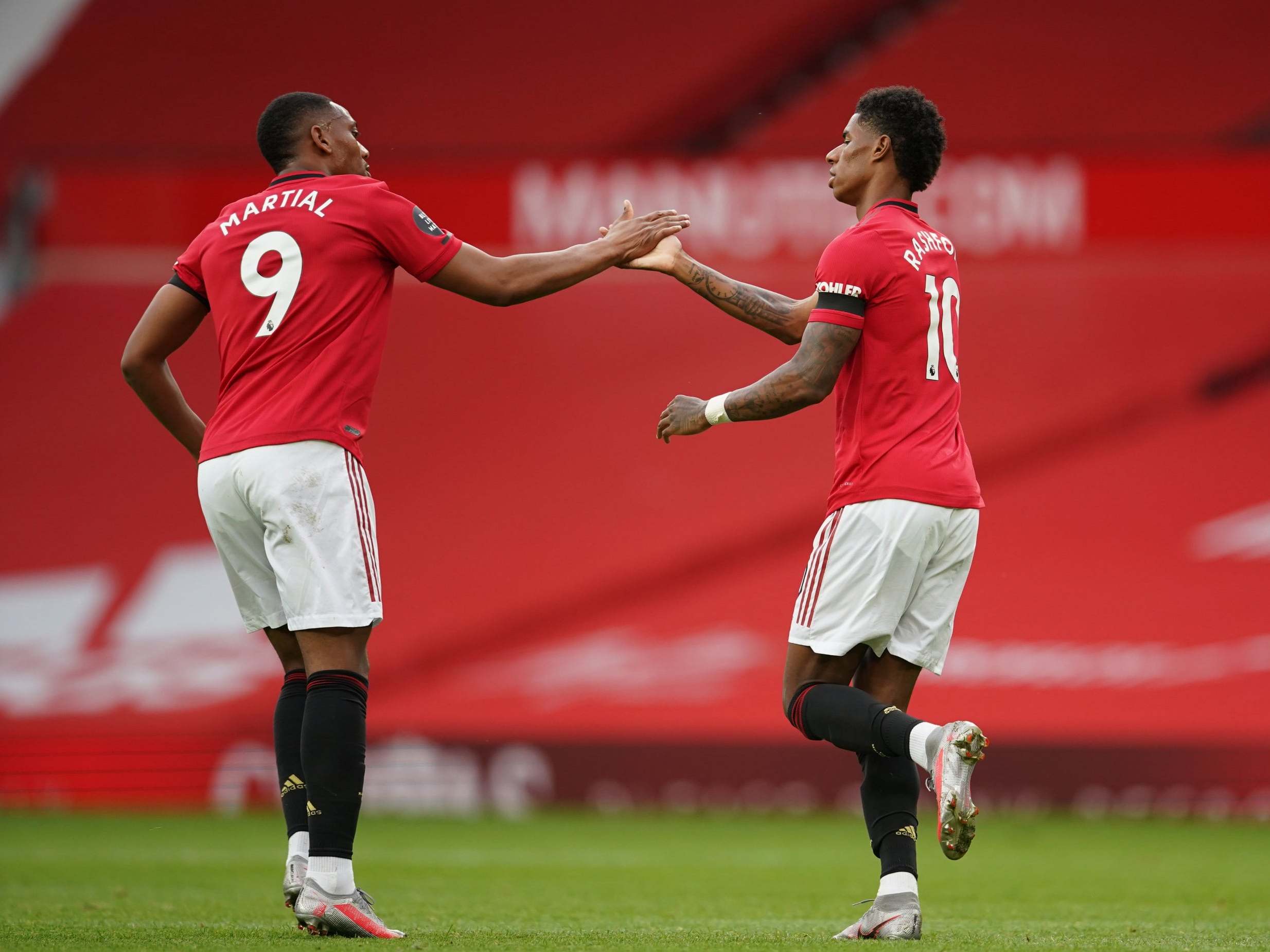 Rashford and Martial both scored but United couldn't prevent Southampton from equalising late on
Image from The Independent
In an intense night of football, Manchester United and Southampton played out a 2-2 draw at Old Trafford with many controversial decisions swinging to the Saints favour.
 The 
Saints started the game brightly and rightfully took the lead through a mistake by Pogba and a good finish by Armstrong but United got back with Rashford and Martial on the scoresheet. Southampton equalised in stoppage time through Obafemi's goal, with United playing with ten men for stoppage time due to a head injury to Brandon Williams and Ole Gunnar Solskjaer unable to make a substitute since he used subs in 3 different intervals.
We pick out top 5 things we learned from the game yesterday :
1. Anthony Martial is an Enigma 
Over the course of last 4-5 years people have always regarded Anthony Martial as an average striker or player owing to lack of consistency and his issues with injury. With all the media hype surrounding Mason Greenwood and Marcus Rashford, the mercurial Frenchman stood up when his attacking counterparts were quite literally invisible in the game.
Martial was on fire from the first minute itself as he was a nightmare for the Southampton defence and caused them problems throughout the game. 
He set up United's equaliser with a stunning bit of hold-up play, a rare combination of power and control to keep the ball before slipping it sideways for Rashford to score.
If this was a bit of brilliance, then Martial had to set the record straight for himself as he tore the left flank wide open and blasted it in the back of the net to show he wasn't going to miss another chance in the game. Some key stats to showcase "inconsistent" Anthony Martial:
Anthony Martial is the seventh French player to score 50 goals in the Premier League:
2. 
VAR monitor ignored 
Chris Kavanagh had a dismal game to say the least as most of his decisions were poor. Kavanagh did not penalise Oriol Romeu for catching Greenwood late on his left ankle and VAR also let the challenge pass. But TV replays showed how poor Romeu's challenge was and he could easily have badly hurt Greenwood.
Could Oriol Romeu seen a red had referee seen the VAR Monitor? Maybe so and then game would have panned out differently.
3. 

Manchester United's regular XI seems jaded
Manchester United are playing much more fluid football thanks to a regular XI which is picked by Ole on a consistent basis. But

 against

 Southampton, barring Matic, the entire midfield was subbed off. Fernandes and Pogba were both taken of and the those coming on have had far less involvement recently, with Fred getting around 20 minutes a game and just an hour or so of play for Scott McTominay since mid-June. 
Earlier after the restart, teams were being rotated regularly and the subs were made in batches because of which there was a more level playing field for the whole squad. Now Solskjaer is effectively banking on eleven players winning him the game because as seen time and again, the players coming on as substitutions have no real impact on the game and sooner or later, this will haunt Manchester United.
4.

 

400 and counting 
It didn't get off to the best of start or finish well either, but David de Gea made his 400th Manchester United appearance. He conceded early on to Stuart Armstrong and was helpless as Obafemi bundled home late on. There have been questions over whether De Gea will remain as United No. 1 next season with Dean Henderson impressing on loan at Sheffield United. But the Spaniard has been key as the Red Devils continue on their unbeaten run.
5. 
Ole Gunnar Solskjaer lacked tactical nuances
Manchester United are obviously on a hell of a run at the moment but the game against Southampton made it clear that whilst they may be the in-form side, they are far from the likes of Liverpool or Manchester City. Make no mistake that this would have been the case even if they had won, but Southampton's equaliser makes the point abundantly clear.
Ole is a great man-manager but when it comes to the finer tactical points of the game, or the ability to build quality and long-lasting attacking structure, he doesn't really have what it takes right now. Letting your players go berserk in attack is all well and good when the players deliver. But when they struggle and need his help or suggestions from the bench he often cannot provide them with anything different and he needs to evolve as a manager to improve in this. Even his substitution was poor last night and he had no answer for the fantastic set-up employed by Southampton.
Someone said on twitter:
It would be ironic if a substitute striker stabbing the ball home at the back-post after a near-post flick from a corner is what costs Ole Gunnar Solskjaer a spot in the Champions League, given how Solskjaer earned his immortal reputation at United. 
Obviously they still have it in their own hands, but given that The Red Devils have once again passed up the opportunity to take advantage of Chelsea slipping up you have to question their ability to perform under pressure and delivering wins when they absolutely must do.
And that might be their most fatal flaw of all.