For Mason Greenwood, the Sky is the limit 
After years of indifference and mediocrity to a certain extent compared to their illustrious recent past, the 'old Manchester United' may just have emerged from their slumber. Bruno Fernandes might take all the plaudits but make no mistake that Mason Greenwood is one of the key men behind this renaissance.
Mason Greenwood is often labelled as the new Robin Van Persie
As he has on several occasions this season, Mason Greenwood stepped up when those more senior around him were struggling. The 18-year-old, who has been compared to Wayne Rooney, Cristiano Ronaldo, and Robin van Persie, at various stages during his debut campaign, continues to rewrite the record books at Old Trafford.
We look at 12  incredible stats of Mason Greenwood from this season
Only two players in United's post-war history have scored more goals in all competitions than Greenwood before turning 19: Norman Whiteside and George Best. Greenwood has until October to score the nine he needs to surpass Whiteside's tally of 26 goals. They came from 108 games; Greenwood has played only 51 so far.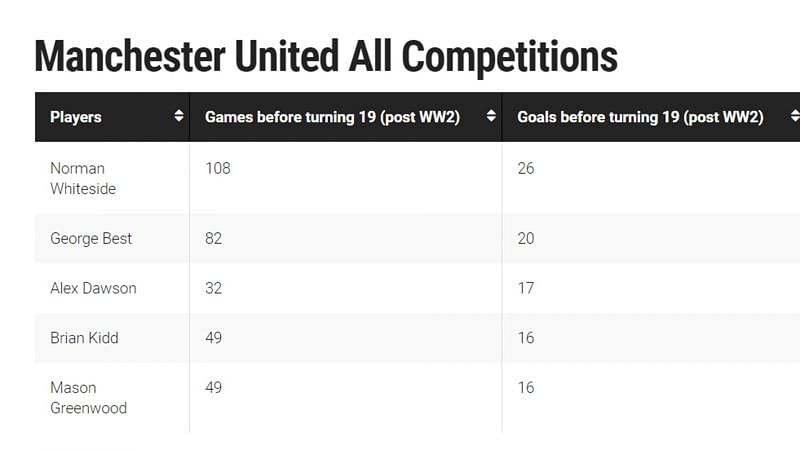 (The above stat was from before United played West Ham)
2. With his goal against West Ham, Greenwood became only the fourth teenager to score 17 goals in a single season for Manchester United, equalling the mark achieved by George Best, Brian Kidd and Wayne Rooney, with plenty of games remaining to beat it
3. 
Greenwood made his United debut as a late substitute against PSG in the Champions League in March 2019, becoming the second-youngest player to represent the club in Europe behind Whiteside.
4. Greenwood is the first player since Michael Owen in 1997-98 to score 10+ goals in a Premier League season aged 18 or under and only the third in history, with Robbie Fowler also managing 10 in 1993-94.
5. Greenwood's goal against West Ham was his 10th in the Premier League for the season, moving him past Wayne Rooney's best season (9) as a teenager back in 2003-04
6. Only two teenagers have played more minutes in the Premier League this season, Bukayo Saka and Max Aarons, who turned 20 in January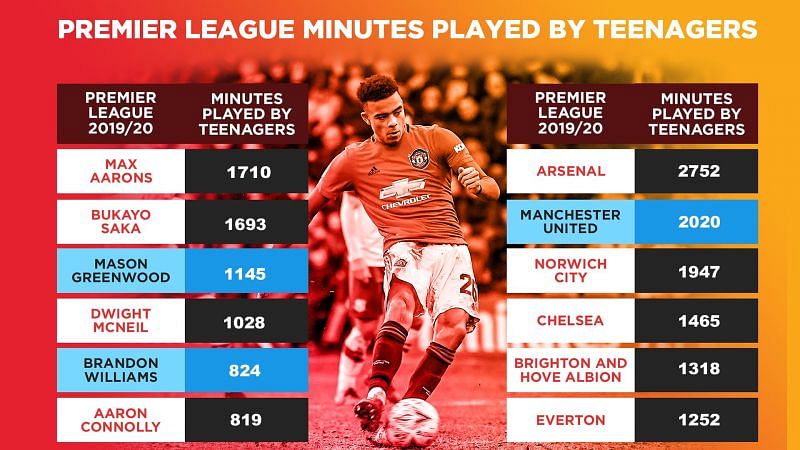 Mason Greenwood and Manchester United showing faith in youth players
7. In September 2019, Greenwood became United's youngest goalscorer in a European competition when he netted against Astana, aged 17 years and 353 days. 
8. 
He also became the first player born in the 2000s to score for the club.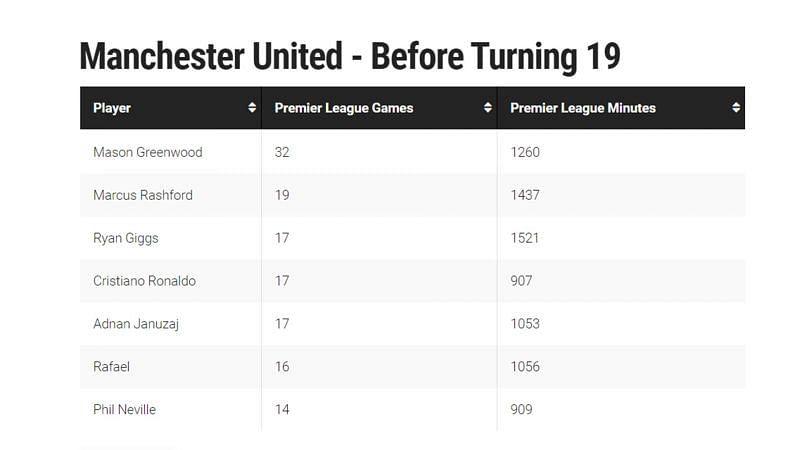 Mason Greenwood beating his teammate Rashford for the record
9. 
He then became their youngest ever Premier League starter on the final day of last season against Cardiff City, aged 17 years and 223 days.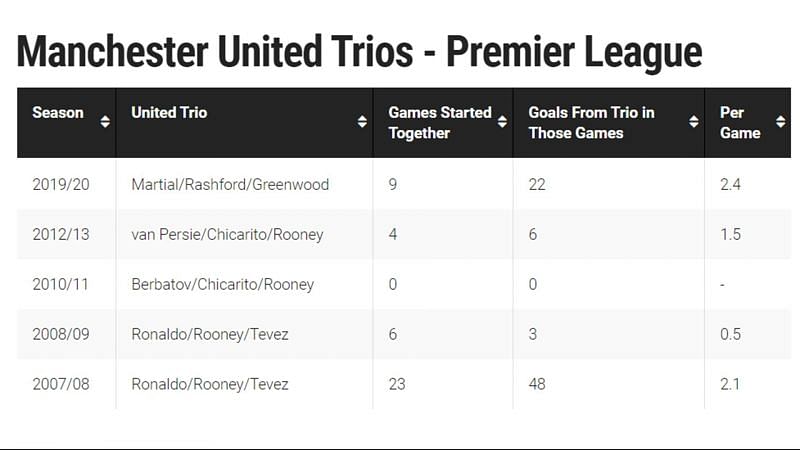 Will this front 3 be as good as Ronaldo, Rooney, and Tevez?
10. 
With Greenwood following in the footsteps of Marcus Rashford and Anthony Martial, this is the first time since 2012-13 that United have had three players score 15+ each in all competitions.
11. 
Greenwood has made 19 Premier League appearances as a substitute this season, more than any other player, putting his goals record into perspective even more. Indeed, only Pierre-Emerick Aubameyang has outperformed his xG more in the league.
12. 
United have at least one game remaining v  LASK, and almost certainly at least one more given they hold a 5-0 advantage from the first leg of the Europa League tie. If Greenwood can score three goals in the remaining games then it'd be the first time United have had three players reach 20 for the season since 1964-65.
The hype around Greenwood seems unreal and to a certain extent unavoidable, especially with the ease in which he's slotted into an attacking trio with Rashford and Martial, both of whom have had the privilege and experience of high expectations early on from the Old Trafford faithful. Greenwood, for all his talent, remains just 18. He cannot be relied on to produce a moment of magic every week, and others will have to step up in crunch moments of the Champions League. There is a different charm in football to watch such a talent take their first steps into elite-level football.  The beauty of such times is that these kids can play without the baggage of failure or consequences.  Maybe, just maybe, we are witnessing someone special. But again, only time will tell what this young lad can achieve.