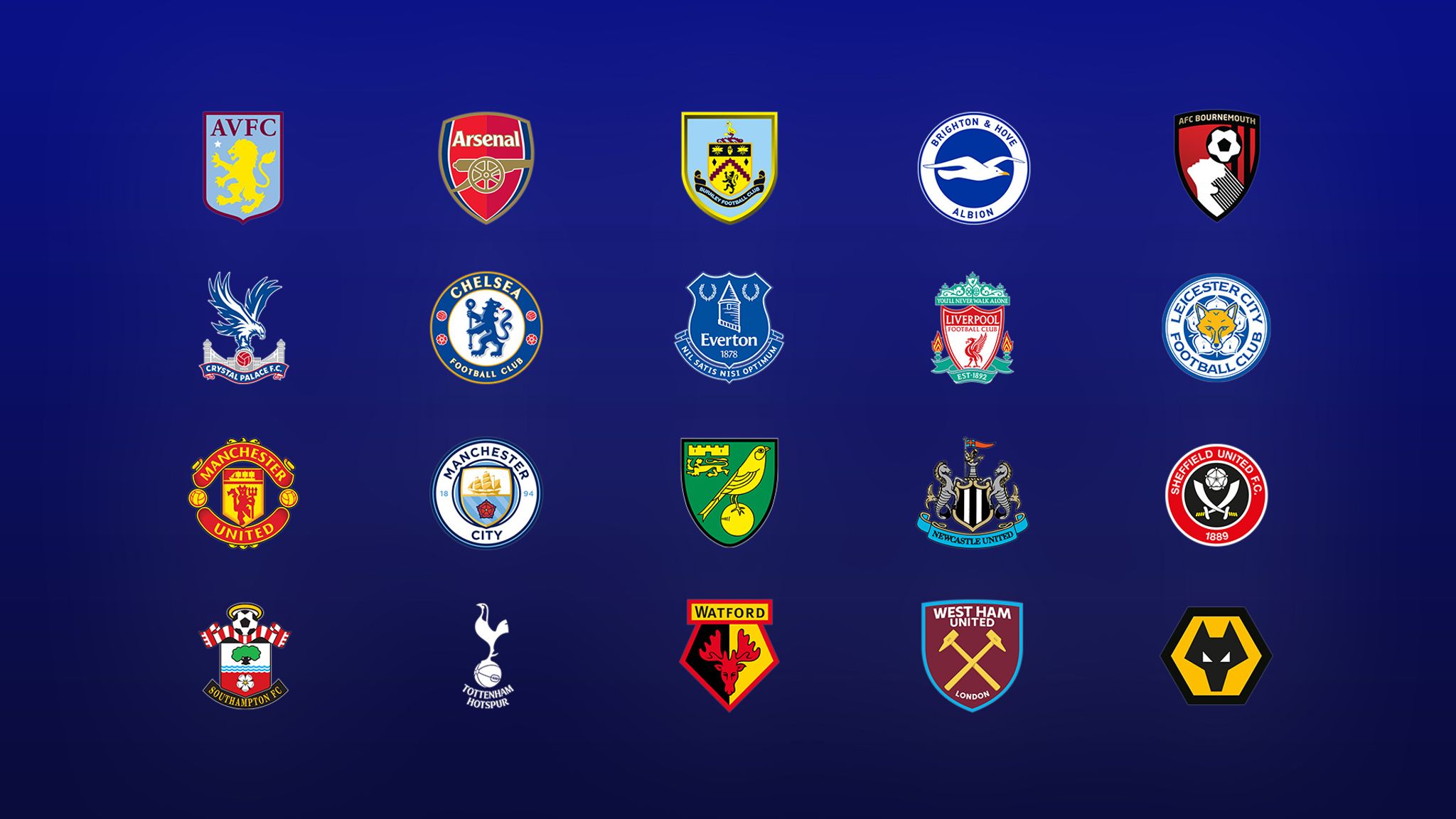 Image from Sky Sports
The return to football gave some teams some great results and gave others a boring and stale match of football demonstrating the impact of the break in both getting players back to match fitness, but also the sluggishness of returning to football after three months out. There were many occasions in which there was no goal until the second half and that demonstrated how some teams needed more time than others, but nonetheless there were some crackers of matches this gameweek and many shifts throughout the table. Here are the 12 results in the last ten days:
Aston Villa vs Sheffield United 0-0
Manchester City vs Arsenal 3-0

Norwich vs Southampton 0-3
Tottenham Hotspur vs Manchester United 1-1
Watford vs Leicester City 1-1
Brighton vs Arsenal 2-1
West Ham vs Wolves 0-2
Bournemouth vs Crystal Palace 0-2
Newcastle vs Sheffield United 3-0
Aston Villa vs Chelsea 1-2
Everton vs Liverpool 0-0
Manchester City vs Burnley 5-0

Here are the grades:
LIVERPOOL 5/10
It was a sluggish game at Goodison. Everton put everyone behind the ball and Liverpool had to try and break them down and ultimately failed. No Salah, no Robertson and Liverpool not only looked shaky at the back as Everton could have won it, but they remained fairly toothless up front as it was mostly a case of Van Dijk or Matip launching the ball up field to Mane and seeing what could happen, which was not a lot. Ultimately I think they have deserved the title but if they are to progress, they need Coutinho back to break teams down and they need much better squad depth to challenge for more than one competition.
MANCHESTER CITY 8/10 and 10/10 = 18/20
This is the perfect example of how class in squad depth wins matches. City battered Arsenal all game long and even when they were not directly creating attacks, Arsenal rarely had the ball and couldn't make attacks when they did. De Bruyne was magnificent and they earned their win. Against Burnley however, Pep made 8 changes and it made no difference, City obliterated Burnley mercilessly. An easy win for the Cityzens who will be looking to restore pride after the Derby Day defeat. Chelsea next and this will show how far they have come defensively as Chelsea are desperately looking to secure fourth place.

LEICESTER CITY 6/10
Leicester looked the team to win the game with Albrighton and Maddison coming close late on but Chilwell's rocket seemed enough to see them over the line. Schmeichel got a glove on the equaliser but I would be harsh to say he should have kept it out as it was point blank. 1 win in the last five games for the Foxes and a resurgent Brighton could cause trouble.

CHELSEA 7.5/10
They found themselves 1-0 down to poor keeping and woeful defending but came back with goals from Pulisic and Giroud in quick succession and found themselves ahead and kept hold of it. I do have to applaud Chelsea, when United and Leicester dropped points they capitalised on it, something United have been failing to do since Sir Alex left.

MANCHESTER UNITED 5/10
While our unbeaten run continues, I think it's fair to say every United fan is disappointed with this result. We expected to batter Tottenham before the break so it's hard to return to the reality that Spurs have a decent starting XI that can withstand our attacks. We did concede for only the third time in twelve games, but it was down to yet another individual error or more like individuals' errors with Shaw, Maguire and De Gea all culpable. United did show fight and eventually clawed the game back to 1-1 after some strong defending from Spurs, and Pogba and Bruno shone throughout. United will expect a result at home to Sheffield United who are severely weakened without O'Connell, Egan and Henderson and should be there for the taking.

WOLVES 8/10
It may have taken a while but Wolves finally punished West Ham with two moments of quality. Traore's and Doherty's crosses were sublime and the finishes from Jimenez and Neto were perfect. Wolves are level on points with United and goal difference separates the clubs. Bournemouth next for Wolves and they will expect to thrash them.
SHEFFIELD UNITED 5/10 and 3/10
Sheffield United have restarted awfully. A goalless draw at Villa Park in which they were the second best side for most the game. Yes, they were unlucky about the goal-line decision but overall they did not deserve to win. Then against Newcastle they were battered left, right and centre. United next and they have three first team players unavailable for different reasons. This could be a tough game.

TOTTENHAM HOTSPUR 6/10
Credit where credit's due. The tactics were solid from Mourinho and he defended deep and asked his side to prey on mistakes by the United players and got the goal from exactly that. Dier in defence was always going to end one of two ways; a masterclass or a clumsy and error-prone evening. Who knew it could be both as Dier was exceptional bar one moment of clumsiness in conceding the penalty to Pogba. This will be a massive boost as they were likely to lose if they had played in March and with West Ham next, they will want to win well.

CRYSTAL PALACE 8/10
Another great performance from Palace who have picked up from where they left off with their fourth win in a row. Ayew has been crucial for them as Zaha has not been at his best this season and Milivojevic maintains his set-piece mastery with another great free-kick. Palace are tenth now and safe from relegation. It would be interesting to see whether they can push for Europe as it is not out of reach…

ARSENAL 3/10 and 3/10 = 6/20
Well, Arsenal may have returned on the back of three wins in a row but it's back to normal with two defeats on the bounce. David Luiz can be blamed for the City result as 20 minutes in they seemed ok with City's pressure until Luiz came in but the Brighton game, that is all the players' faults. Poor in attack as they should be more clinical and woeful in defence yet again as they conceded twice after taking the lead. Pepe and Saka were great on the day but in the end it was Brighton's day. Southampton next and I am unsure whether Arsenal will win or not but I think Southampton are far more clinical and only need a few chances to score, which they will get.

BURNLEY 1/10
Smashed apart by City and never looked like recovering. Winless in their last three but I do expect them to cause problems against Watford in their next match. It will be interesting to see whether they can get a win because defensively they were all over the place and the likes of Deeney, Sarr and Deulofeu could use this to their advantage.

EVERTON 8/10
Everton were the better side on the day and should have won the game late on. They had the better chances but couldn't put them away. This is a promising result as they are winless in four games now but against Norwich next, Richarlison and Calvert-Lewin will be chomping at the bit ready for this game.

NEWCASTLE 9/10
Brilliant performance from Newcastle. No one gave them any hope this season and they have been brilliant. Maybe not brilliant to watch all season but that day they were. I do expect them to get a result against Villa next as they have much more quality defensively and in attack too. A massive boost for Joelinton to score again and so I do expect him to start scoring more regularly.
SOUTHAMPTON 9/10
A great win away from home. Clinical performance from Southampton as they scythed through Norwich and scored three times easily. I am glad Southampton have risen from the dead this season as they are a good team to watch and have great players in their side. I expect them to aim for a win against Arsenal with the Gunners weakened defence but this could cause them to be susceptible to the counter and Arsenal's attackers are dangerous despite the defensive fragilities of the side. I expect this to be a high scoring game.

BRIGHTON 8/10
Great performance. What a way to win your first game in 2020 and against Arsenal too. Maupay and Bissouma were brilliant and carried the side at times. It will be interesting to see if they can keep it up against Leicester who are far more competent in defence.

WATFORD 6/10
They were alright. Nothing more, nothing less. A great equaliser but were sluggish throughout the game. They may be out of the relegation zone but are certainly not done yet. They have a big game against Burnley and if they can win, it will be massive.

WEST HAM 5/10
They were much better but still poor. It's hard not to feel sorry at times for West Ham but on paper they have a decent side that should be challenging for Europe, not sitting outside of the relegation zone on goal difference! A London Derby that they never fail to disappoint in approaches and I do expect West Ham to cause trouble.

BOURNEMOUTH 4/10
It has been a sad season for Bournemouth who look genuinely broken in defence. They have been excellent since the 2015/16 season and have been a good team to watch at times but the frustrations of Fraser and King may have got to them and the injury to David Brookes cannot have helped. They do have Wolves next and I think this will be messy for the Cherries as Wolves are devastating on their day.

ASTON VILLA 6/10 and 4/10 = 10/20
Two big games for Villa and they were the better side against the Blades and if not for Dean Henderson, Villa would have earned a massive three points. As for the Chelsea game, it demonstrated their lack of quality as they could not hold onto their lead. Grealish cannot save Villa all on his own and they need their other attacking players to be more involved. Newcastle will be tricky as they have a lot of quality whereas Villa lack it. I can't see Villa winning and I can't see them staying up either.

NORWICH 3/10
Nothing has changed after the break, even with all their players back. Norwich are still defensively limited and do not have the attacking quality to break through teams. I expect a humbling result against Everton and then Manchester United in the FA Cup as Norwich don't have the squad or the quality to hold off such teams at full strength.