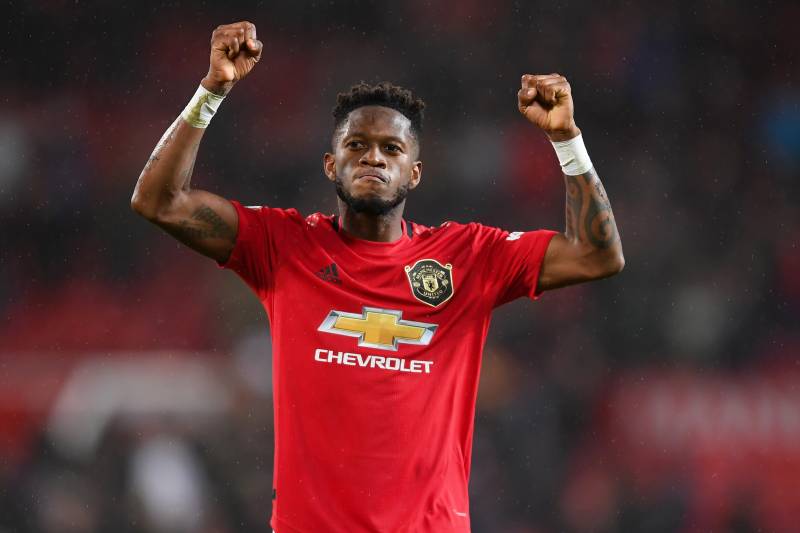 Image from Bleacher Report
Manchester United, like every gargantuan club, expect nothing but best out of their players, and with Football leagues set to start again, it's high time that they focus on using the best lineup. Today's article is going to focus on Fred, a player that has emerged as one of the most consistent performers in the last few months for the team after a rough patch, and proved why he deserves a place in the squad. Fantastic Fred's performances have won him the tag of 'Pastor Fred' from fans, and a good number of them expect to see him in the list of nominees for Sir Matt Busby Player of the Year award. But with Paul Pogba set to make his return, and solid performances from Matic, McTominay, and new arrival Fernandes, does Fred find a place in starting midfield of Manchester United? Let's find out.
Image from Bleacher Report
To start with the argument, the first point that speaks in favour of Fred is the fact that he has been the engine of Manchester United team in the absence of Paul Pogba and partnered well with Scott McTominay as well as Nemanja Matic to screen the defence. His well-rounded streak of performances saw him win January Player of the Month for Manchester United, and the Brazilian midfielder has barely let his guard down since then.
Adding to this, Fred ranks 4th in playing time for Manchester United in 2019-20 season, with only Harry Maguire, Victor Lindelof, and Aaron Wan Bissaka ahead of him in the list. All three ahead of him are defenders, and therefore, it is safe to say that he has played most minutes for a midfielder in the team, proving his supremacy in delivering power-packed performances week in and week out.
Moreover, a recent analysis from the official Manchester United website has also displayed how Fred is the most two-footed player in the team (yes, even ahead of Greenwood), making him one of the most versatile players in the squad.
With the arrival of Bruno Fernandes and the return of Paul Pogba, most fans are expecting Solskjaer to play both of them, be it in 4-2-3-1 formation or 4-3-3 formation. Now, how does Fred fit in these formations? Should he start over the academy lad McTominay? Or even Matic, who had most possession regains per 90 this season for Manchester United? Answer to these questions lie in comparing Fred to each of them and see what fits the best –
Starting with Fred vs. Matic (2019-20 PL Season), this is how the performance radar appears –
Image from Understat
Radar clearly displays the dominance of Fred over Matic in all areas except for Assists per 90 minutes. The analysis shows how Fred contributes more to the transition of the team from defence to offence and has a more significant part in the making of goals than Matic. Hence, Fred is a clear winner over Matic when it comes to transition passes, build up for goals, development of the game, and being the engine of the team. Only part of Matic's game that currently ranks over Fred is possession regains per 90, making him more of a defensive powerhouse than Fred.
Now, fans might argue that Matic has always been a more defensive-minded midfielder, and the real competitor to Fred in terms of offensive output should be McTominay. So here is the radar comparing Fred vs. McTominay –
Image from Understat
This radar shows how McTominay is ahead of Fred in scoring goals and getting assists, and even further in expected goals per 90 minutes. But does that make him a superior midfielder? No. While goals and assists might be the most decisive stats, it needs to be understood that with Bruno and Pogba on the pitch, the team needs a player that helps in carrying the ball from midfield to forward. Bruno and Pogba are going to add enough creativity and produce more goal-scoring chances.
With all things said, should Fred start ahead of Matic and McTominay if we are talking about the best starting lineup? The answer will depend on how Solskjaer sets up his team. If it's going to be a 4-3-3 formation with two central midfielders and one defensive midfielder, the team will be better with Matic, and if Solskjaer sticks to his classic 4-2-3-1, Fred certainly deserves a place in the starting lineup.