Image from the Guardian
Louis Van Gaal had a trialling period at Old Trafford with his debut season showing promise with a fourth place finish and some sparkling form in the latter stages of the Premier League with strong performances against City, Liverpool and Spurs. While a trophyless first season, Van Gaal splashed the cash in the 2015 summer window for Darmian, Schneiderlin, Schweinsteiger, Memphis and Martial but struggled to get the team going. Poor form, sluggish and boring performances and a massive injury list throughout the season caused many problems for Van Gaal as Jose Mourinho was constantly linked with the Dutchman's job since his dismissal from Chelsea in December 2015. Despite all of this Van Gaal guided his team to their first FA Cup final in nine years and aimed to win their first since 2004. Manchester United came up against Crystal Palace who had knocked out four Premier League sides including a 1-0 win at White Hart Lane but had only won twice in their last ten Premier League matches before the Final.
Manchester United went behind in the match to a sublime rocket by Jason Puncheon after hitting the woodwork twice from Fellaini and Martial. After a cringy Alan Pardew celebratory dance, United levelled the game again after a bullish run from Rooney found Fellaini who chested it down for Mata to equalise. Mata disappointedly came off for Jesse Lingard at the end of full time before extra time began and the Englishman found the winner with ten minutes to go as he volleyed Valencia's deflected cross into the roof of Wayne Hennessey's net and celebrated as emphatically as he hit the ball. United lifted the trophy for the 12th time but despite this, Van Gaal lost his job the day after and was swiftly replaced with Jose Mourinho and another manager left Old Trafford in a controversial manner.
Many changes have been made to the side that won the trophy four years ago but what has happened to the 18 players that made the squad and how many have survived two more managers?
GOALKEEPER: DAVID DE GEA (Manchester United)
Image from The Times
David de Gea continued his good form in the 2014/15 season into the 2015/16 season and had established himself as one of the best goalkeepers in the world after signing his new deal due to Fax-gate. De Gea has remained as United's number 1 between the sticks for Van Gaal, Jose and Ole and despite calls for Dean Henderson to replace the Spaniard, he is likely to remain the number 1 for the foreseeable future, provided he stops making the silly errors he has been culpable to of late.
RIGHT BACK: ANTONIO VALENCIA (L.D.U Quito)
Antonio Valencia fully transformed into a right back in the 2015/16 season after a half-change the season before and with Luke Shaw's injury and Darmian's form dropping off, Valencia came in and did well that season and performed even better under Jose Mourinho for the first two seasons under the Portugese manager. His final season at United was a poor one as he only featured nine times before remaining in Ecuador as Solskjaer used Young or Dalot as a right back for the remainder of the season. He is now back in Ecuador and playing for L.D.U. Quito and has made 25 appearances so far for them.

RIGHT CENTRE BACK: CHRIS SMALLING (Manchester United – Loaned to AS Roma)
Mike Smalling had a monstrous year under Louis Van Gaal and was probably Jose's most trusted defender throughout his United tenure. Under Solskjaer, Smalling paired Lindelof for most the season but was deemed not starting material and so Maguire was bought and Smalling was loaned out last summer to AS Roma for more game time. Smalling has been a rock for Roma this season and although there are suggestions Smalling will return to Old Trafford it is more than likely that he will leave this summer.

LEFT CENTRE BACK: DALEY BLIND (Ajax)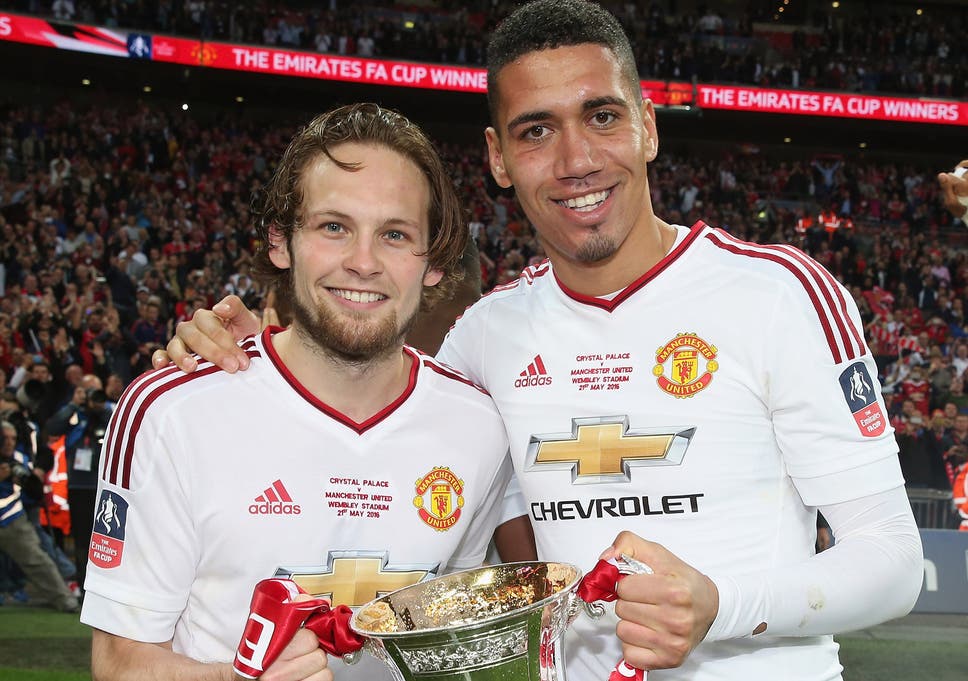 Image from The Independent
Daley Blind was one of United's most versatile players and had played 55 games before the final as a centre back despite being under 6ft. He returned to a left back under Jose Mourinho and competed with Shaw and Young at left back until the latter two were deemed necessary and Blind was not in the 2018 summer as the Dutch international returned to Ajax and starred as they reached the Champions League Semi-Finals. Earlier this season Blind was found having Myocarditis and returned to the team earlier this year and made 29 appearances so far this season.

LEFT BACK: MARCOS ROJO (Manchester United – Loaned to Estudiantes)
Rojo was a madman at times at United but had been doing well this season at left back in Shaw's absence and Darmian's drop of form. Under Jose he returned to the starting XI as a centre back and played 41 times under Mourinho that season but then failed to make 30 in the next three combined. Injuries denied him opportunities to shine and he was eventually moved on by Ole Gunnar Solskjaer on loan to Estudiantes where he has only made one appearance since joining in January. It is likely he will leave United at the end of his loan deal.

CENTRAL DEFENSIVE MIDFIELDER: MICHAEL CARRICK (Retired)
Perhaps one of the most underrated players in any United side. Carrick was influential in this team as even though Schneiderlin, Schweinsteiger and Herrera were brought in, Carrick was still the first choice as he did what the others could not and bring the defence into attack with composure, precision and pace. He retired at the end of the 2017/18 season having made 464 appearances for United and 706 overall. He is now an integral part of Solskjaer's coaching staff.

RIGHT CENTRAL MIDFIELDER: MAROUANE FELLAINI (Shandong Luneng Taishan)
Image from Metro.com
Fellaini provided the assist for the equaliser in the FA Cup final and was a crucial player for Van Gaal and Mourinho during his spell at Old Trafford. Fellaini was a massively important player for United as he won games and even when he didn't directly affect the game, he brought others into the game and was superior to almost anyone in the air. Under Solskjaer, his qualities were not deemed to be necessary and he was moved to Shandong Luneng where he has made 34 appearances and scored 13 goals. He tested positive for COVID-19 in late March but has thankfully since recovered. 

LEFT CENTRAL MIDFIELDER: WAYNE ROONEY (Derby County)
Captain, leader, legend. Wayne Rooney ended this season as a central midfielder. Something his next manager, Jose Mourinho refused to do and Rooney returned to a number 9 or 10 in his final season at United in which he became Manchester United's all-time leading goalscorer with 253 goals and lifted the Carabao Cup and Europa League in his final season. He was swapped with Romelu Lukaku in the 2017 summer and returned to his boyhood club, Everton, in which he scored 11 goals in a dire season for the Toffees but managed to score his 200th Premier League goal under Sam Allardyce. He left Everton for DC United in 2018 and scored 25 goals in 52 games as their star player before becoming a player-coach for Derby County in January 2020. He has been playing as a central midfielder/number 10 and has scored four goals in 15 games for the Rams. He made his third appearance against United since leaving them in 2017 last month in a 0-3 loss to the Red Devils.

RIGHT WINGER: JUAN MATA (Manchester United)
After scoring the equaliser for United, Mata was subbed off for the match winner, Lingard and was less than pleased. He would be even more unhappy after being subbed off after coming off the bench in the Community Shield win against Leicester under Jose Mourinho which looked to end his United career. Despite this he started against Bournemouth in the first game of the season and scored the opener and notched 10 goals for the season for the third season in a row. Under Mourinho he was a crucial player and Solskjaer deemed Mata as important enough to keep around as he signed a new deal in 2019 until 2021 and has made 249 appearances for United, scoring 48 and assisting 42. He will probably have a reduced role next season but will be an important role as an experienced player with a huge voice in the dressing room.

LEFT WINGER: ANTHONY MARTIAL (Manchester United)
Martial's first season for United ended impressively with 17 goals and a trip back to France for the Euro 2016. After an indifferent spell under Jose Mourinho, Martial has picked up his form under Ole with his number 9 shirt returned after a three year absence he has scored 16 goals in 34 appearances this season and is developing into one of the most clinical strikers in the Premier League.
Image from The Sun

STRIKER: MARCUS RASHFORD (Manchester United)
He came off injured in this game but was rewarded for his explosive run of form with a place in England's Euro 2016 squad. He has flirted with the idea of returning to being a number 9 but always finds himself back on the left wing and doing the most damage from there. He grew a lot under Mourinho and developed even further under Solskjaer and is now one of United's most crucial players and one of the best forwards out there right now.

SUBSTITUTES:
SERGIO ROMERO (Manchester United)
One of the best sub keepers around. Came on a free and has done exceptionally well when called upon by every manager he has played under. 38 clean sheets in 58 matches is exceptional and even with Dean Henderson breathing down his neck, I reckon he will be United's deputy for another season before leaving the club with respect and gratitude from every United fan.

PHIL JONES (Manchester United)
Phil Jones had a rough start to the 2015/16 season with a blood clot and did not get much game time with Smalling and Blind performing very well in defence. HIs injury concerns have haunted his United career and when he is playing, the clumsiness and error-prone performances have left his place at United in doubt. Despite this he remains at the club but with Maguire, Lindelof, Bailly and Tuanzebe above Jones in the pecking order, the former-Blackburn man may leave this summer with West Ham, Newcastle and Crystal Palace looking to sign him.

MATTEO DARMIAN (Parma)
Matteo Darmian started his United career well and was United's POTM for August in which United registered three clean sheets out of four and Darmian was crucial for these sturdy defensive performances. However, after being ripped apart by Alexis Sanchez in a 3-0 loss at the Emirates, Darmian was never the same and Valencia came into his own, relegating the Italian to second string under both Van Gaal and Mourinho. Darmian played a few times in a back five under Ole before being shipped out to Parma for around £2.5m. A solid squad player but nothing more at United.

MORGAN SCHNEIDERLIN (Everton)
I think it's fair to say most United fans were excited to see Schneiderlin at United but the Frenchman never quite settled at the club. He did make 39 appearances for United in his first season but with Herrera, Fellaini and the new-signing Pogba preferred under Mourinho, Schneiderlin was deemed as a squad player and allowed to leave after 18 months at United with Everton signing him for the same fee he left Southampton for (£25m). Since then, Schneiderlin has had some serious injury issues at the Toffees and was not the same player he was at St Mary's making only 70 appearances in three and a half seasons.

ANDER HERRERA (Paris Saint-Germain)
Herrera was a fan favourite at United from getting Gerrard sent off at Anfield on his debut season to spitting on City's badge on Derby Day. Over his five seasons at United he made 189 appearances and was a good attacking player under Van Gaal and an even better defensive player under Jose and Ole with a standout performance against Chelsea as he expertly man-marked Eden Hazard in a 2-0 win in which he also registered a goal and assist. He decided not to renew his contract in 2019 and elected to move to PSG for free as he would play Champions League football at the Parc des Princes. He has been used as a squad player behind the likes of Verratti, Gueye and Sarabia and has only made 18 appearances this season, scoring once. Would probably have had more joy if he had stayed.

ASHLEY YOUNG (Inter Milan)
At the end of Van Gaal's final season, Ashley Young was bizarrely used as a striker despite Rashford, Rooney and Martial all fit. When Rashford was injured in the final, Young came on as a striker but swapped to a left back when Smalling was dismissed. He was used throughout Mourinho's tenure as both a left and right back when Valencia, Shaw and Blind were unavailable, becoming the starting left back in the latter stages of the 2017/18 season and then the starting right back in the 2018/19 season. With the signing of Aaron Wan-Bissaka and the promotion of Brandon Williams, Young was pushed further down the list and eventually left United this January for £1.5m for Inter Milan and is used a wing back in Conte's rejuvinated Inter side.

JESSE LINGARD (Manchester United)
Image from The National
The match winner came from a relatively unexpected source out of context but the 2015/16 season was Lingard's big break for United as he started the first game of the season before but had a horrible injury and was subsequently loaned out. He scored six goals in his first full season and despite scoring one less the next season under Jose Mourinho but found crucial goals against Leicester in the Community Shield and Southampton in the Carabao Cup Final but the season after was his best so far and he scored 13 goals and earned a starting position at the 2018 World Cup. The last two seasons have been less fruitful as his goals have dried up since 2018 and so has his form. His decision to change agents to Mino Raiola has been a clear sign that he is ready to move on from Old Trafford and many if not all United fans would be relatively happy if/when Lingard departs.