Manchester United vs PSG Combined XI
Image from Football365
The Champions League returns after a lengthy break as the Round of Sixteen returns to BT Sport with one of the headline games being Manchester United hosting Paris Saint-Germain on Tuesday night. PSG are suffering from an injury crisis with star player Neymar guaranteed to be injured for the first leg at least and with Edinson Cavani coming off injured at half time against Bordeaux on Saturday after scoring the only goal of the game from the spot. Manchester United only have two injuries with Matteo Darmian and Marcos Rojo sidelined. United have a lot of depth in their side and excellent form under Ole Gunnar Solskjaer whereas, in their last three games, PSG have lost to Lyon, struggled to score against third-tier side Villefranche-Beaujolais until extra time and scraped a 1-0 win against Bordeaux. Nevertheless there is quality in both teams and the significant attacking prowess of both teams make this to be an exciting game. As a result, I think the best formation for the combined XI is a 3-3-4:
GOALKEEPER: DAVID DE GEA
The best goalkeeper in the world at the moment and showing it week-in week-out. Buffon is an excellent 'keeper and has been throughout his long and successful career but the Spaniard has overthrown the Italian as the best in the world and looks likely to remain at the top for the foreseeable future.
Image from Folha PE
CENTRE BACKS: VICTOR LINDELOF, THIAGO SILVA (C) AND MARQUINHOS
Lindelof has been one of United's star performers this season and is virtually undroppable in the big games for United since his excellent performances against Juventus. He will be pivotal in stopping Edinson Cavani from scoring at Old Trafford on Tuesday. Thiago Silva is a warrior of a defender and has been for PSG, AC Milan and Brazil for so long now. He will be difficult to get past and so it may be in United's best interests to play down the wings. Since David Luiz's departure in 2016, Marquinhos has really shone and stepped up, looking like the long-term replacement for his Brazilian partner, Thiago Silva.
MIDFIELD THREE: MARCO VERATTI, ANDER HERRERA AND PAUL POGBA
Image from ITV.com
Veratti was supposed to be injured for the game at Old Trafford but made his return for PSG against Bordeaux and played just under an hour for the French champions before being allowed to rest for the trip to United on Tuesday. He is an excellent midfielder who turns defence into attack with ease. He has an average of 89.8% passing accuracy in Ligue 1 (whoscored.com) and his low centre of gravity allows him to dribble into space and play the ball forward with ease. The decision between Adrien Rabiot and Ander Herrera was a difficult one but if you watch Ander Herrera for a whole game, you see that the Spaniard has to be in the squad. The pure energy that Herrera has as well as his determination to put his body on the line to win the ball and create attacks is outstanding. He wears his heart on his sleeve and desperately needs a new contract as he could be a candidate for the next club captain alongside Ashley Young, Paul Pogba and David de Gea. Speaking of Paul Pogba, the Frenchman has excelled under Solskjaer scoring eight goals and five assists in his nine Premier League games under the Norwegian and could put on a show for PSG at Old Trafford.
WINGERS: ANGEL DI MARIA AND ANTHONY MARTIAL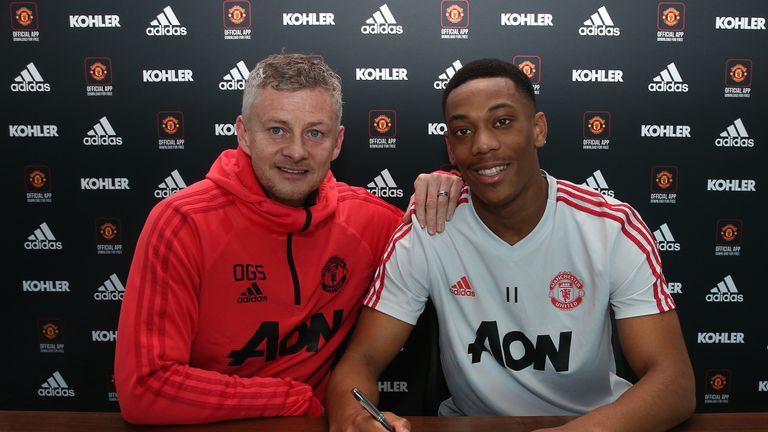 Image from Sky Sports
It pains me to say that Angel Di Maria should be in this lineup but the Argentine has done very well since slithering away from Louis Van Gaal's army and this season is no different as Di Maria has scored five goals so far and made seven assists despite being lower in the pecking order with the introductions of Neymar and Mbappe. Despite turning 31 in February, Di Maria has still got a dangerous amount of pace and trickery and can whip in a magnificent cross on his day. He will probably start on the wing with Cavani injured and Mbappe will lead the line for PSG. Tony Martial was probably allowed to come to United for such a price tag as a result of the sale of Di Maria and for that, every United fan is thankful. Anthony Martial has been a big hit at Old Trafford from day one and will be so until at least 2024 after signing a new contract under Solskjaer that he rejected under Mourinho earlier in the season. The pace, strength, skill and composed finishing of the Frenchman makes him a handful for any defender as he once again demonstrated with an excellent solo goal against Fulham. With horrific rumours that Arsenal were interested in signing Martial, I am glad they have tied him down with a long-term contract that would mean only an extravagant transfer fee would prise him away from the Red Devils.
STRIKERS: MARCUS RASHFORD AND KYLIAN MBAPPE
What a strike force this would be! The youngsters broke onto the scene around the same time and while Rashford helped United win the FA Cup, Community Shield, Carabao Cup and Europa League so far with United, Kylian Mbappe has won two Ligue 1 titles (one with Monaco and another with PSG), 2 French domestic trophies and a World Cup last summer with France. Mbappe boasts a higher scoring tally than Rashford with the Frenchman scoring 70 goals in 131 appearances for Monaco and PSG having his highest scoring season during Monaco's title winning season as the then eighteen year-old bagged 26 goals in all competitions. Rashford has a respectable but inferior tally of 42 goals in 153 appearances roughly scoring a goal every 3.6 games. Both of these players have raw pace, natural skill and could be the next big competitors for the Ballon D'Or if they continue the way they are.
Image from Buildlineup.com