Chelsea vs Manchester United Player Ratings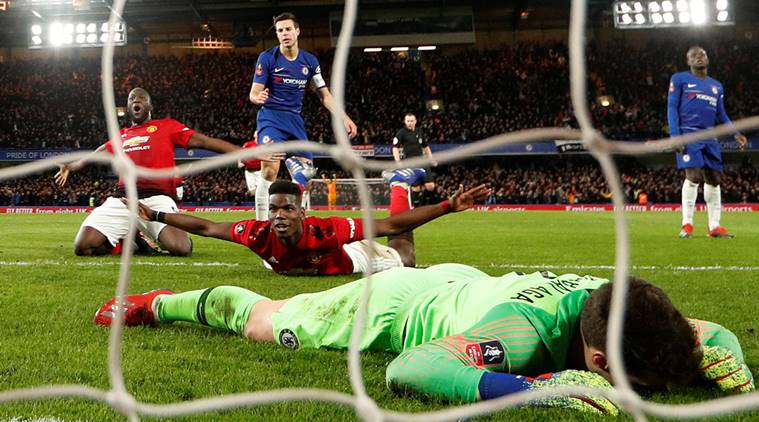 Image from the Indian Express

Two. Yes, two. That's the exact number of times before Monday Manchester United had won at Stamford Bridge since 2002. So it would be quite acceptable for United fans to be  skeptical about their chances to progress into the Quarter Finals of the FA Cup when the draw for the 5th round was made last month. 

Legendary United teams of yesteryears with the likes of Ronaldo, Rooney, Scholes, Giggs, Vidic, Ferdinand, Evra etc had failed to win at Chelsea. Van Gaal's United came within 90 seconds of a historic win in 2016 and Jose Mourinho came within 10 seconds of yet another comeback win earlier this season. But Solksjaer's men finally did the unthinkable and beat the Blues 2-0 to progress into the next round.


Starting Lineup
Romero, Young, Smalling, Lindelof, Shaw, Matic, Herrera, Pogba, Mata, Rashford, Lukaku


Player Ratings
Sergio Romero(GK): 7/10

Romero proved yet again why he is considered to be the best No.2 in the world with his smart saves in the first half. He kept out Luiz and Pedro and was quite decisive with his handling of crosses as well. A well earned clean sheet for the Argentine at the Bridge.


Ashley Young(RB): 7/10

Young got booked early in the game for a challenge on Pedro but kept his cool to see out the whole of 90 minutes. He had to take care of double threat of Marcos Alonso and Eden Hazard and with help from Herrera, he did a pretty good job.  


Chris Smalling(CB): 8/10

The only appalling thing about Chris Smalling on Monday night was his weird hairstyle. Apart from that, he totally bossed Chelsea's new No.9 Gonzalo Higuain. The Argentine couldn't shake him off, neither in the box nor when he went short to press the ball in the midfield. 


Victor Lindelof(CB): 9/10

The Iceman struck again like he has been doing it for the past 6 months. Lindelof was immense on the night against tricky opponents. His positioning was spot on for the entire 90 minutes as he was able to block almost all the crosses that came into the box. His composure on the ball also helped United to build good counter-attacks whenever the team won the ball.


Luke Shaw(LB): 8/10

Shaw didn't get forward enough as he would love to but the lack of support from Lukaku meant that the Englishman had his hands full with Pedro and Azpilicueta. Shaw dealt with the danger quite well and his last-ditch sliding tackle inside the box to deny Pedro from 10 yards was probably his highlight of the second half.


Nemanja Matic(CDM): 6/10

Matic didn't make a great start to the game as he was being pickpocketed at the center of the park often in the opening stages and this was followed by his booking for a foul on Eden Hazard. Things got tough for the Serbian when he fouled Kante on the 51st-minute mark and was lucky to not get a second yellow. His red card would have been disastrous for United, not only for the remainder of the Chelsea game but also that we would be suspended for the Liverpool game this weekend.


Ander Herrera(RCM): 10/10

It was two years ago, on that very ground, that Ander Herrera was sent off within the first 35 minutes of the exact tie and United went on to lose that game 1-0. But the Spaniard got his perfect revenge this time around when he made a brilliant late run into the box to head home an inviting Pogba cross into the goal. It wasn't just his goal that made life difficult for Chelsea fans, it was also his constant interceptions, tackling and quick passing that made United dominate the midfield and create chances down United's right flank. He cut off several dangerous runs from his usual nemesis Hazard and even made 6 successful tackles in the match, highest by any United player.


Paul Pogba(LCM): 9/10

Paul Pogba was quite anonymous for the first half an hour of the game but then sprung into life with a delightful cross from the left-hand side which directly led to United's opener. Then, as the half was reaching for rather a boring tight finish, Pogba shook off Jorginho near the center circle to release Rashford down the right-hand channel and the World Cup winner then ran more than 40 yards to attack the Chelsea box to head home from 6 yards. That goal, then and there, effectively killed the tie. He also kept trying to create chances from counter-attacks and defended well when needing to. 


Juan Mata(CAM): 7/10

When the team sheets arrived, everyone thought that Mata would play as a right winger in a 4-3-3 but the clever Spaniard was deployed in a false nine role by Solskjaer. This allowed Mata to play in his preferred position and constantly find runners like Lukaku, Rashford, and Pogba with his passes. He also helped United by pressing on Jorginho when the Reds didn't have the ball and won the ball from the Italian more than he didn't. 


Marcus Rashford(RW/ST): 8/10

His usual mates, Martial and Lingard were injured but that didn't stop Rashford from having yet another spectacular performance under Ole Gunnar Solskjaer. He ran his socks off, harassing and pressing Marcos Alonso and David Luiz all night. His telling contribution came in the closing stages of the first half when he put in a perfect cross for Pogba to head home. Even in the second half, he led United's counter-attacks on several occasions which helped ease the pressure off the defense.


Romelu Lukaku(LW/ST): 6/10

Lukaku worked hard off the ball as he pressed Azpilicueta, Kepa and Rudiger to play out from the back. He had a tough chance early in the first half when Pogba's bouncing ball came to him but the Belgian couldn't keep the effort down. 


Man of the Match: Ander Herrera
Image from the Metro